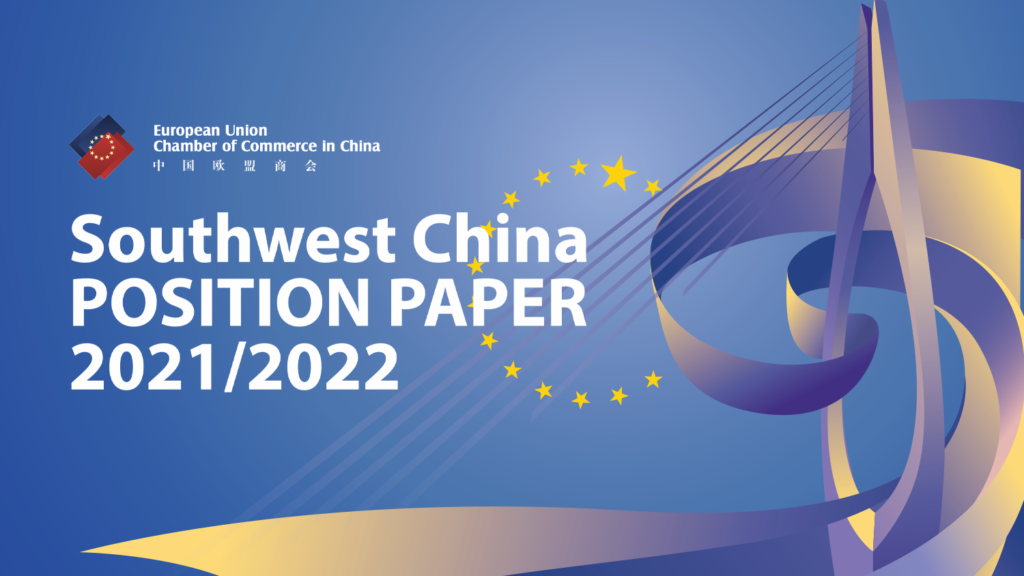 Southwest China Position Paper 2021/2022
In recent years, the Chinese Government has announced several plans aimed at developing the Southwest China region, with the cities of Chengdu and Chongqing designated as key players. These plans include making the two cities and their hinterlands China's fourth city cluster and setting up logistics hubs for the Belt and Road Initiative. These developments have led the European Chamber Southwest China Chapter to launch its third local position paper, outlining how European businesses can contribute to the region, and the difficulties they encounter when trying to do so.
---
Chengdu-Chongqing Economic Circle
The two cities' most important development goals are intertwined through the Chengdu-Chongqing Economic Circle: a plan to develop a massive urban agglomeration in Southwest China that will provide high-quality living for millions of people, and serve as a high-technology innovation hub.
If the Economic Circle is to succeed in becoming a centre for science and technology with national influence, as well as a more innovation-driven economy—two aims of the initiative—local leaders will need to reform their approach to governance, which tends to favour local companies and especially state-owned enterprises (SOEs). Members of the European Chamber Southwest China Chapter indicate that not only are business opportunities for foreign small and medium-sized enterprises (SMEs) and start-ups scarce, but also that obtaining financing from domestic Chinese banks, though possible in theory, remains extremely difficult as larger companies are seen as less risky investments. This approach may have negative repercussions, as SMEs and start-ups are generally at the forefront of innovation.
Policymakers would also be well advised to provide foreign companies with fair and equal access to public procurement tenders within the framework of the Economic Circle, to ensure that projects are both sustainable and competitive.
In addition to hard infrastructure, the success of the Economic Circle will also require 'soft' infrastructure related to education, healthcare and social insurance. Without investment in these areas, it will be almost impossible to develop new communities around industrial clusters within the Economic Circle that can attract the high-skilled talent deemed central to the initiative.
Chengdu
While the development of the Economic Circle will present numerous business opportunities, challenges remain across all sectors of Chengdu's economy that need to be addressed. These include: increasing the involvement of foreign enterprises in policymaking; ensuring they have open and easily accessible lines of communication with the government; enhancing regulatory reform; boosting the internationalisation of Chengdu through policies that facilitate the attraction and retention of foreign talent; and laying the groundwork for a practical and implementable decarbonisation strategy.
Many of these challenges can be overcome by creating a more internationalised and diverse business environment, in which competition is encouraged to thrive. Key to this will be allowing private foreign companies, and particularly SMEs, to play a more pivotal role in Chengdu's economy. The government has already taken steps in this direction, with the State Council announcing in January 2022 that Chengdu will build a park city demonstration area for the new development concept.
Cultivating an active and engaged international community will also be crucial. However, although Chengdu is considered one of the top destinations for foreign nationals to live in China, there is plenty of anecdotal evidence that their numbers in the city are declining, particularly since China introduced strict pandemic-related travel restrictions.
The creation of a high-quality living environment in Chengdu will provide another attraction for foreign talent. While Chengdu has improved the overall standard of its air quality—previously a major deterrent to foreign talent—more can still be done to ensure that foreign nationals have better access to healthcare and education. Introducing a holistic approach to decarbonisation, with a comprehensive roadmap, will also be key. Including local foreign enterprises in this process in a coordinated and proactive approach will help to ensure positive momentum, as they have the technology and expertise that can help Chengdu to become carbon neutral by 2060.
Chongqing
Chongqing remains a significant investment destination for European Chamber members, particularly given the comparatively rapid recovery of both the local and national economy from the impact of COVID-19. In addition, Chongqing—together with the cities of Shanghai, Beijing, Guangzhou and Tianjin—has been selected to lead in an international consumption centre.
The overall perception of Chongqing's business environment among Southwest China Chapter members remains positive, and 53 per cent reported revenue increases in 2020, according to data collected for the European Chamber's Business Confidence Survey (BCS) 2021. However, only 68 per cent of local member companies reported positive business earnings before interest and tax (EBIT), which is below the national average. Member companies cite administrative barriers and inefficiencies in the local business environment as reasons for this lower rate. In fact, 89 per cent of local member companies report that conducting business in Chongqing is difficult, and 94 per cent do not believe that current regulatory and administrative obstacles will decrease over the next five years.
One of the difficulties European companies in Chongqing face is a lack of accurate and transparent English-language information on government policies that impact business. Southwest China Chapter members report that information provided on municipal government websites often does not match with that distributed on district-level government websites.
An additional, long-term challenge that could harm Chongqing's innovation ambitions is the problems businesses have in attracting and retaining staff, again compounded by the COVID-19 travel restrictions. It is therefore recommended that the local government find ways to engage with the business community to further develop and implement both training programmes that can provide junior talent with on-the-job skills, and preferential policies to attract suitable high-end talent.
Among the Chongqing Government's outstanding achievements in recent years has been the gradual improvements to local air and water quality. While this has boosted the city's liveability, the promulgation of China's 2030/2060 decarbonisation pledge means Chongqing must step up its environmental protection efforts and move towards a sustainable economy. Policies that focus on the sustainability aspect of industrial upgrading are required, with a concrete roadmap and timeline for implementation. Reliable infrastructure for green energy must also be developed, and a clear plan to transition away from fossil fuels generated.
Conclusion
The recommendations put forward in this local position paper are based on survey results, in-depth interviews and workshops that uncovered the main issues European firms currently face when conducting business in Southwest China. By addressing these recommendations, Chengdu, Chongqing and the Southwest China region as a whole will be better positioned to attract more international investment and talent with the knowledge, skills and technologies necessary to stimulate innovation and sustainable economic development. European business in Southwest China stands ready and willing to help the region achieve its goals.