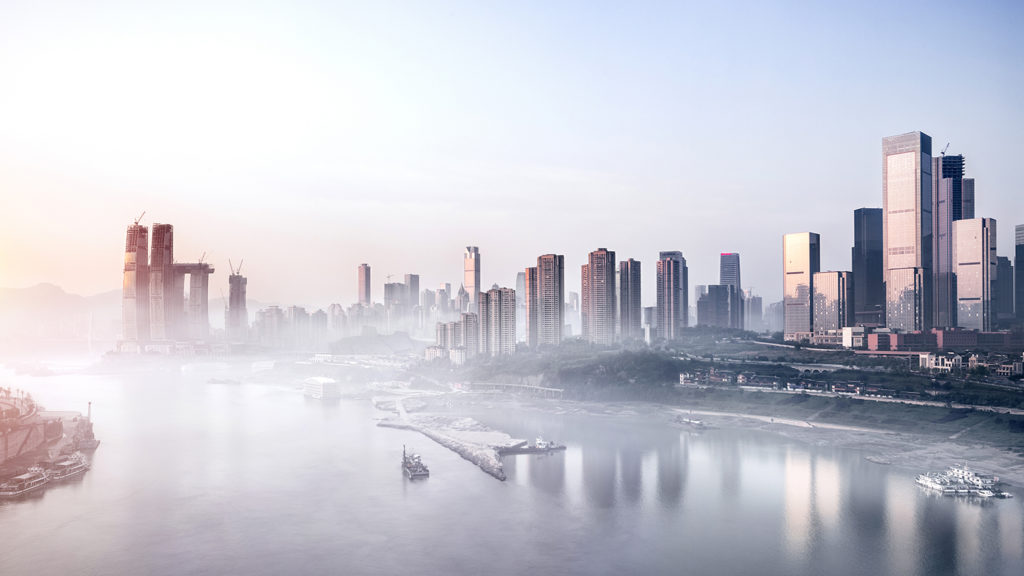 The achievements of the European Chamber Southwest Chapter
Paul Sives
In 2004, I was invited to an event hosted by Xavier Maurey in Chengdu. At the time, I was chair of the British Chamber of Commerce in Southwest China, so I was very interested in this meeting, which was an exploratory discussion to determine if the European Chamber of Commerce in China would set up an office in the southwest. That was the start of a long and very positive relationship for both myself and my company with the European Chamber.
For me, the European Chamber can be considered an anchor of reason and common-sense in a world that sometimes lacks both. The Chamber continuously manages to stay relevant through its sensible and intelligent investigation and presentation of the issues affecting its members in China. I am very proud to have been part of the Chamber through my activities as board member and currently as vice president, and chair of the Southwest Chapter.
I wish the Chamber a wonderful 20th birthday.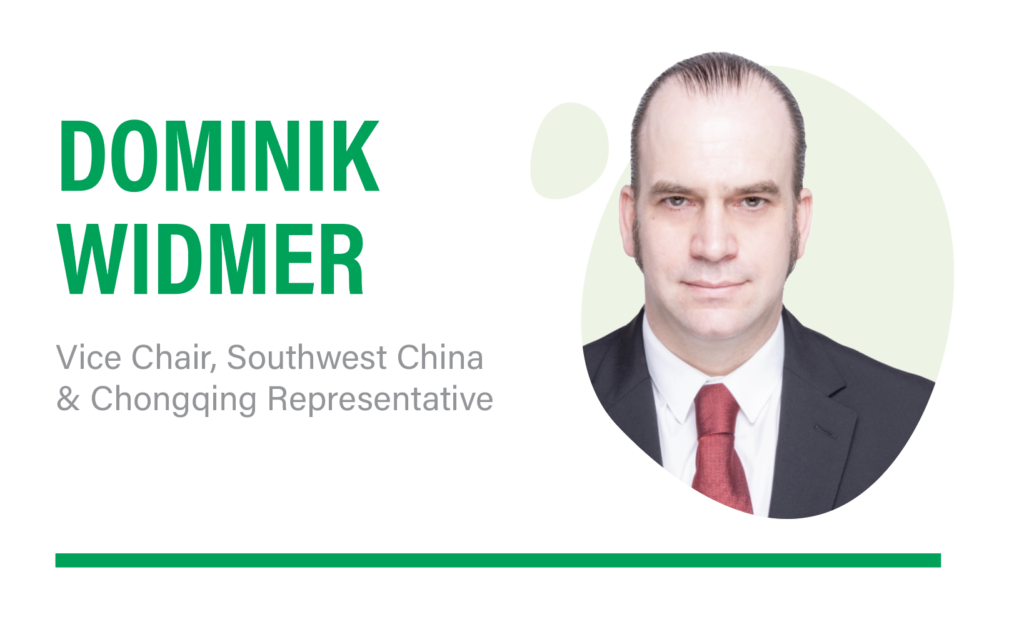 Dominik Widmer
Q: What's your best memory of the European Chamber experience?
DW: My best memory is my participation in the Chamber's annual European Tour to Brussels in 2020. After having spent many hours of hard work with my colleagues on the research for and write-up of our local position paper in 2018, it felt great to bring its messaging and content to key stakeholders in Brussels and share a local perspective of Southwest China's business environment with the European Commission, the European Parliament, think tanks, and other industry and business associations.
What's the difference between China's business/regulatory environment in your industry today vs. 20 years ago?
20 years ago, when China announced its accession to the World Trade Organization, the hopes among European/international businesses of China further opening its economy were much higher than today. Over the past two decades, many foreign-invested enterprises (FIEs) increased their contributions to domestic investment and manufacturing output. The Chinese Communist Party's 2013 pledge under President Xi's then new administration to let the market play a decisive role in the economy, and Xi's famous speech in Davos on economic globalisation, revitalised the hopes of foreign companies and international associations pushing for reform.
However, a lack of follow-through over the past several years on repeated State Council vows to open the market to the world have left foreign businesses with 'promise fatigue'. Hoped-for market liberalisation is increasingly being viewed as secondary to Xi's state-centred approach to economic policy and his focus on domestic stability; and unfortunately, there are no signals indicating a change in his priorities.
While China remains a compulsory market for any multinational company, it is very unlikely that an 'exodus' scenario will unfold. However, underlying fundamental differences to and distancing from western values nurture governmental and non-governmental strategies to decrease dependence on China much more than 20 years ago.
What role do you expect the European Chamber to take in the next 20 years?
The European Chamber will continue to effectively influence policymaking in China and Europe, and publish high quality materials that bring clear and significant value to its members and other stakeholders. While, in the past 20 years, this has already been achieved very successfully on a national level, I believe there will also be increased engagement on a local level, such as the initiative from five years ago to start publishing local editions of position papers.
What value has the European Chamber brought to you/your company/your industry?
Besides being a very valuable institution for networking, I see the European Chamber's advocacy capabilities as its biggest asset. The European Chamber is a unique, independent, multinational and renown channel, where European businesses and institutions are able to address anonymously sensitive issues for greater market access and improved operating conditions in China.
European Chamber Chengdu Local Chapter
Serge Janssens, president of the European Chamber and lan Kay, Chamber advisor, met up in Chengdu on 12th November 2004 for the pre-inauguration event to form a local European Chamber chapter in Chengdu. That evening, networking drinks were planned and 39 people had gathered…There was overwhelming support to establish the Chapter and by the end of the evening, the first application form was completed by Thomas Pietsch of Bayer Healthcare.

EURObiz, January 2005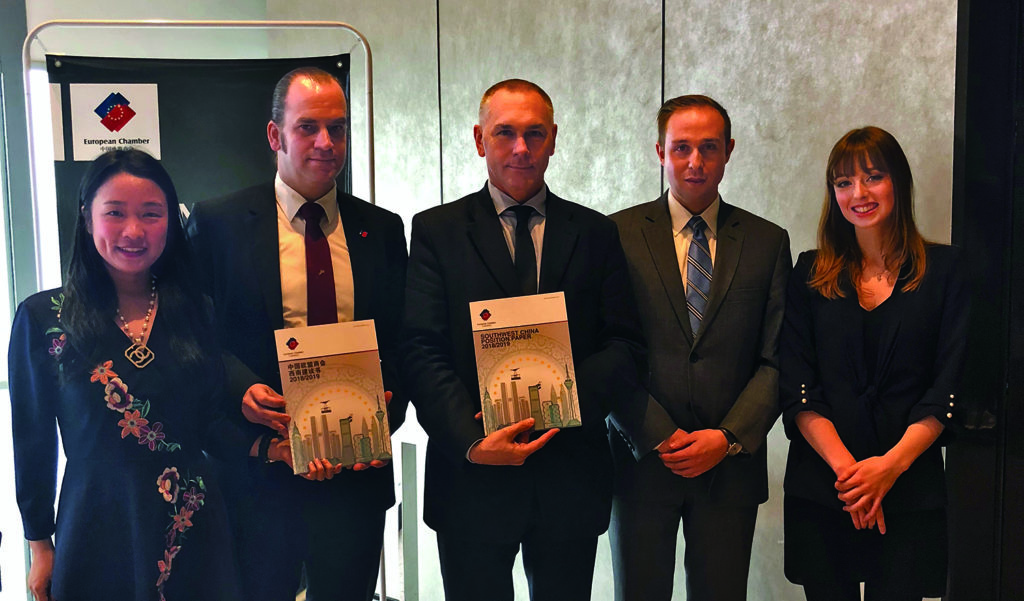 Southwest China Local Position Papers
The European Chamber's Southwest China Chapter has published two local position papers, the first in 2015/2016 and the second in 2018/2019, with a third in the pipeline for 2021. The Southwest China Chapter is the Chamber's most westward and landlocked chapter, and therefore a standalone position paper is vital for addressing issues specific to the members operating in this region.
As a first step towards building media relationships, the launch of the Southwest China Position Paper 2015/2016 event marked the first time for the Southwest China Chapter's Chongqing Office to invite several media to attend a major launch event. Most of the media in attendance showed great interest in understanding more about the European Chamber itself and its member companies. The media took a very positive view of the three Chongqing key recommendations presented in the Position Paper and indicated that they looked forward to seeing how the Chongqing Government will respond to them.