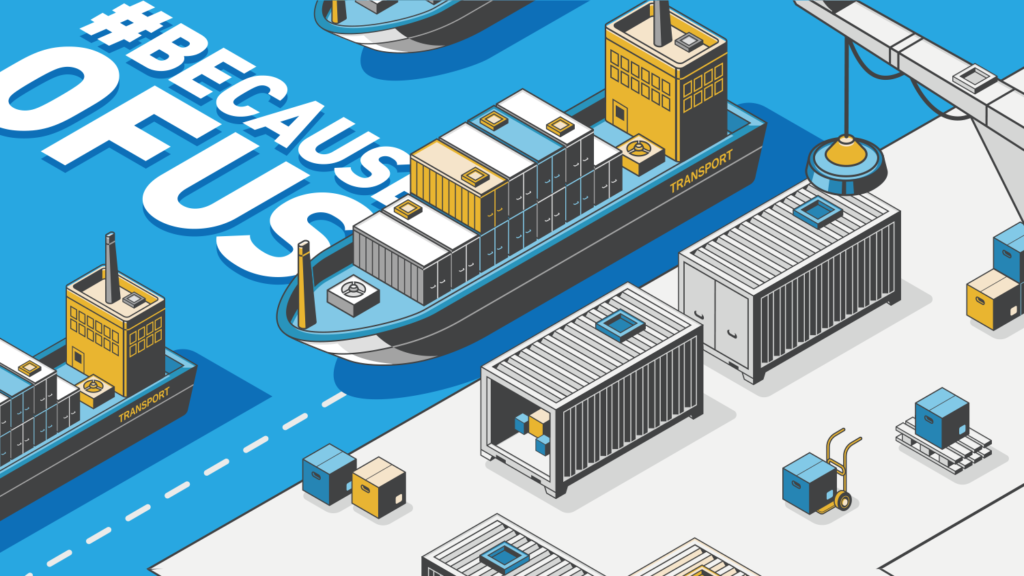 International cargo relay reduces costs and carbon footprint
Background
Ocean shipping plays a crucial role in ensuring the smooth flow of international supply chains, and promoting trade and prosperity among nations. In China, 95 per cent of the total volume of inbound and outbound goods is carried by sea.
The network of international shipping routes is complex, yet designed to maximise global efficiency of sea freight, and reduce both costs and the overall carbon footprint of the shipping industry. A key part of optimising the efficiency of shipping routes is the ability for companies to conduct international cargo relay.
What is international cargo relay?
In short, international cargo relay is the ability for a shipping company to transport international cargo from one port to another in the same country or market (a practice known as 'trans-shipment'), and to then transfer some or all of the cargo to a different ship that they own before shipping it to its final destination.
Export: cargo is shipped from one domestic port to another before being moved onto a different vessel (owned by the same shipping company) for a different destination and then being shipped on to an international destination.
Import: cargo coming from an overseas port arrives at one domestic port and is then moved to a different vessel (owned by the same shipping company) before being shipped to another domestic port.
An export example is provided below:
InDalian Port, a container to be transported to Africa is loaded onto a Europe-bound vessel.
The Europe-bound vessel departs from Dalian and sails to Shanghai.
In Shanghai, the same container is moved from the Europe-bound vessel onto an Africa-bound vessel owned by the same shipping company, which then departs to Africa to deliver its cargo.
The international cargo relay situation in China
Historically, in China, international relay has only been permitted for vessels operated by wholly Chinese-owned companies. This is because cargo relay is considered 'domestic transportation', which is prohibited in the Foreign Investment Negative List,[1] even when the cargo's final destination is overseas.
This represents a market access barrier for the foreign liner shipping community in China and results in higher costs, inefficiency and greater carbon emissions.
Foreign shipping companies operating in China must choose between two expensive and inefficient options: 1) cargo originating in China and bound for international destinations has to be trans-shipped in other international ports, such as Busan in South Korean or Singapore; or 2) Chinese shipping services have to be used for trans-shipping in domestic ports.
By contrast, the European Union (EU), as a single market, permits unrestricted transport of cargo between its major container ports, and many individual member states are fully open to Chinese-flagged ships carrying out international cargo relay.
2. Advocacy efforts
The European Chamber's International Liner Shipping Sub-working Group—originally the Maritime Transport Working Group and the Transportation Industry Working Group—was established in 2000. Its recommendation to "allow foreign-owned shipping lines to undertake transportation of international cargo between Chinese ports" was included in the Chamber's first Position Paper, and remained in the Position Paper for the next 20 years.
Over that time, the working group communicated regularly with relevant authorities—including the Ministry of Transport, the State Administration of Market Regulation, the Ministry of Commerce, and the Shanghai Municipal Transportation Commission, among others—about members' concerns and recommendations. The feasibility of launching a pilot programme to allow foreign carriers to engage in international cargo relay in Shanghai was discussed at a meeting with the Shanghai Municipal Transportation Commission in September 2019.
3. Results
On 18th November 2021, the State Council announced the launch of a cargo relay pilot at Yangshan Port in Shanghai. Under the pilot scheme, cargo relay is now allowed on a trial basis until 31st December 2024. During that period, foreign-, Hong Kong- and Macao-flagged vessels are allowed to carry out international cargo relay at Yangshan for containers originating from or destined for Dalian, Tianjin and Qingdao.
This is a significant policy breakthrough and will provide greater flexibility for carriers to optimise their networks, thereby reducing transit times and fuel consumption, enabling a better utilisation of assets and allowing carriers to offer a better product to customers in China.
According to one European Chamber member in the shipping industry, based on trials carried out so far, transit times have been reduced by a week to an average of 20 days.
4. Looking forward
There is still a need to address certain restrictions that are preventing foreign carriers from fully utilising this opportunity. The Chamber's recently published European Business in China Position Paper 2022/2023 details the difficulties for foreign carriers to engage in international relay as well as the sub-working group's recommendations. Download the paper to understand more.

---
[1] Special Administrative Measures for Foreign Investment Access (Negative List) (2021 Edition), National Development and Reform Commission, viewed 5th December 2022, <https://www.ndrc.gov.cn/xxgk/zcfb/fzggwl/202112/P020211227540591870254.pdf>