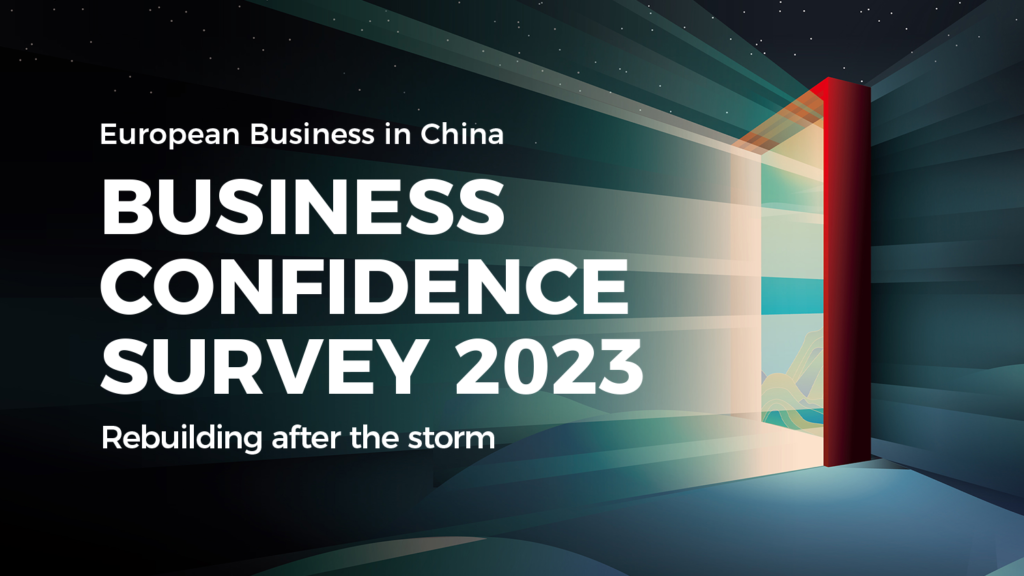 Rebuilding after the storm
After China abruptly ended its 'zero-COVID' strategy in late 2022, Chinese officials have been on a charm offensive in an attempt to restore the country's allure as an investment destination. However, as the results of the Business Confidence Survey 2023 illustrate, this will be no easy task. The deterioration of business sentiment that has taken place over the last three years has been significant and cannot be reversed overnight.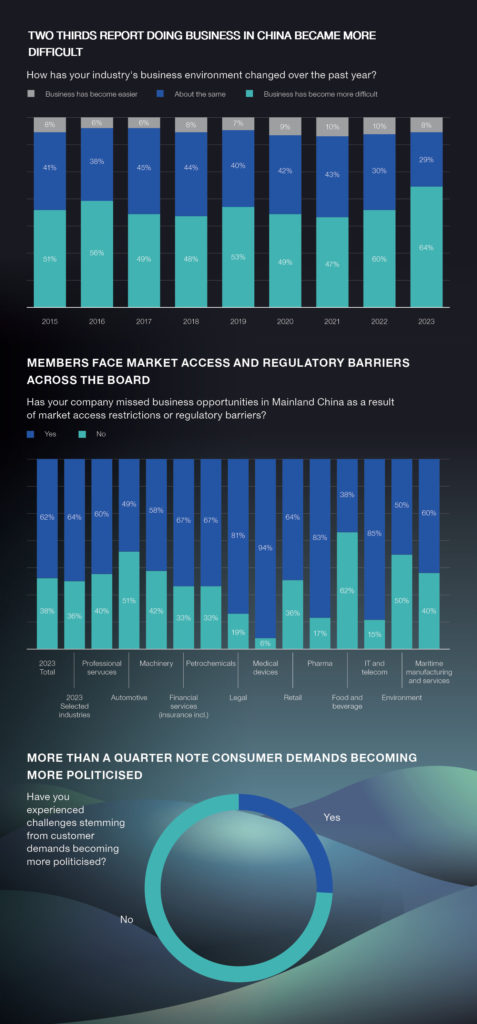 European companies have already shifted some China investments overseas: 11% of respondents—the same number that said they were considering shifting some existing investments from China a year ago—report they have done so; and a tenth of Chamber members have already relocated, or plan to relocate, their Asia headquarters (HQ) away from the country. With business running on cycles, these investments are not likely to return any time soon.
Faced with growing risks and a more volatile operating environment (64% of respondents reported that doing business in China become more difficult in 2022), European companies are reassessing how many eggs to keep in their China basket. While few are leaving the country altogether, there is a 13-percentage point (pp) year-on-year (y-o-y) decrease in the proportion of respondents that rank China as a top-three destination for future investments (55%, the lowest figure on record). In addition, 53% of respondents have no plans to expand their China operations in 2023.
Long-standing challenges persist and continue to weigh on business confidence. Market access and regulatory barriers remain widespread, with 62% of respondents (+20pp y-o-y) reporting having missed business opportunities in 2022 as a result. Marginal progress was made in some areas, including in the number that reported a level playing field between foreign and Chinese enterprises (+7pp y-o-y). However, backwards steps were taken elsewhere. There were increases in the number that reported both experiencing market closing (+5pp) and being compelled to transfer technology (+3pp) compared to the 2022 survey.
Politics also continues to impact business. Nearly six out of 10 (59%, +9pp y-o-y) respondents reported that the business environment in China became more politicised over the past 12 months, and a quarter have faced challenges stemming from consumer demands becoming politicised. These include conflicting calls to maintain/cease operations in politically sensitive regions of China, and requests to produce goods containing either no China- or no US-made components. Russia's invasion of Ukraine has also changed how many view the China market, forcing businesses to consider if/how they may be impacted by an escalation of tensions in the Taiwan Strait.
As a result of China's more challenging and unpredictable business environment, European companies' investment and operational strategies are being adjusted accordingly. There is now an increasing focus on making operations more durable, through localisation or diversification of supply chains, as opposed to capturing greater market share.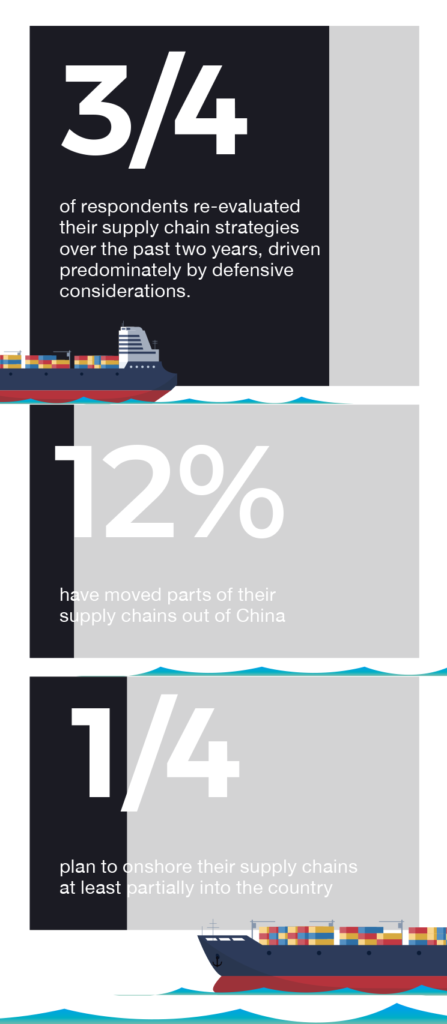 Three out of four respondents re-evaluated their supply chain strategies over the past two years, driven predominately by defensive considerations. A sizeable proportion are taking steps to decouple their China supply chains from the rest of world: while 12% have moved parts of them out of China, a quarter plan to onshore their supply chains at least partially into the country.
With new and forthcoming European and United States legislation set to compel many companies to demonstrate greater transparency in their China operations—a challenge given it is not possible to conduct independent, third-party audits in the country—and with businesses having to carefully monitor a growing list of sanctions and export controls, the trend of supply chain diversification and divestment is likely to intensify.
In tandem, the exodus of foreign nationals continued throughout 2022. One in six respondents report having no foreign nationals working in their China operations, a figure that jumps to 21% for SMEs. This has been accompanied by an erosion of soft infrastructure vital for maintaining a vibrant foreign community in China, with many international schools and medical clinics subsequently closing.
These factors all come at a considerable cost, with members reporting a reduced transfer of know-how, communication difficulties and even a need to defer investments. The disconnect between company HQs and China operations risks further damaging confidence in the China market, precipitating a negative cycle of disengagement. They are also challenging the efficiency of multinational companies' traditional operating models, as businesses are pushed to localise and create divergent systems for China and the rest of the world, often at great expense.
Nevertheless, despite mounting challenges, it would be premature to rule out China's ability to respond. Two-thirds report they would be willing to increase their China investments if market and regulatory barriers were removed. There also remains huge scope for strengthening European Union (EU)-China ties in areas such as trade in services, which is significantly below its potential.
China could benefit enormously from taking further steps to make its business environment more favourable to private enterprises, much as it did by implementing previous market-orientated economic reforms. At the same time, European companies are forging ahead in strategically important areas, such as decarbonisation, and can be key partners to facilitate China's carbon neutrality goals, if given the chance.
With China now 'reopening' following three years of isolation, its leadership has the opportunity to demonstrate that recent pro-business promises are more than just words. Deepening cooperation with the international business community in China could help to swiftly restore the Chinese market's efficiency, reliability and predictability, and provide a strong foundation for sustainable, long-term economic recovery.
To download the report, please visit the European Chamber website: https://www.europeanchamber.com.cn/en/publications-business-confidence-survey