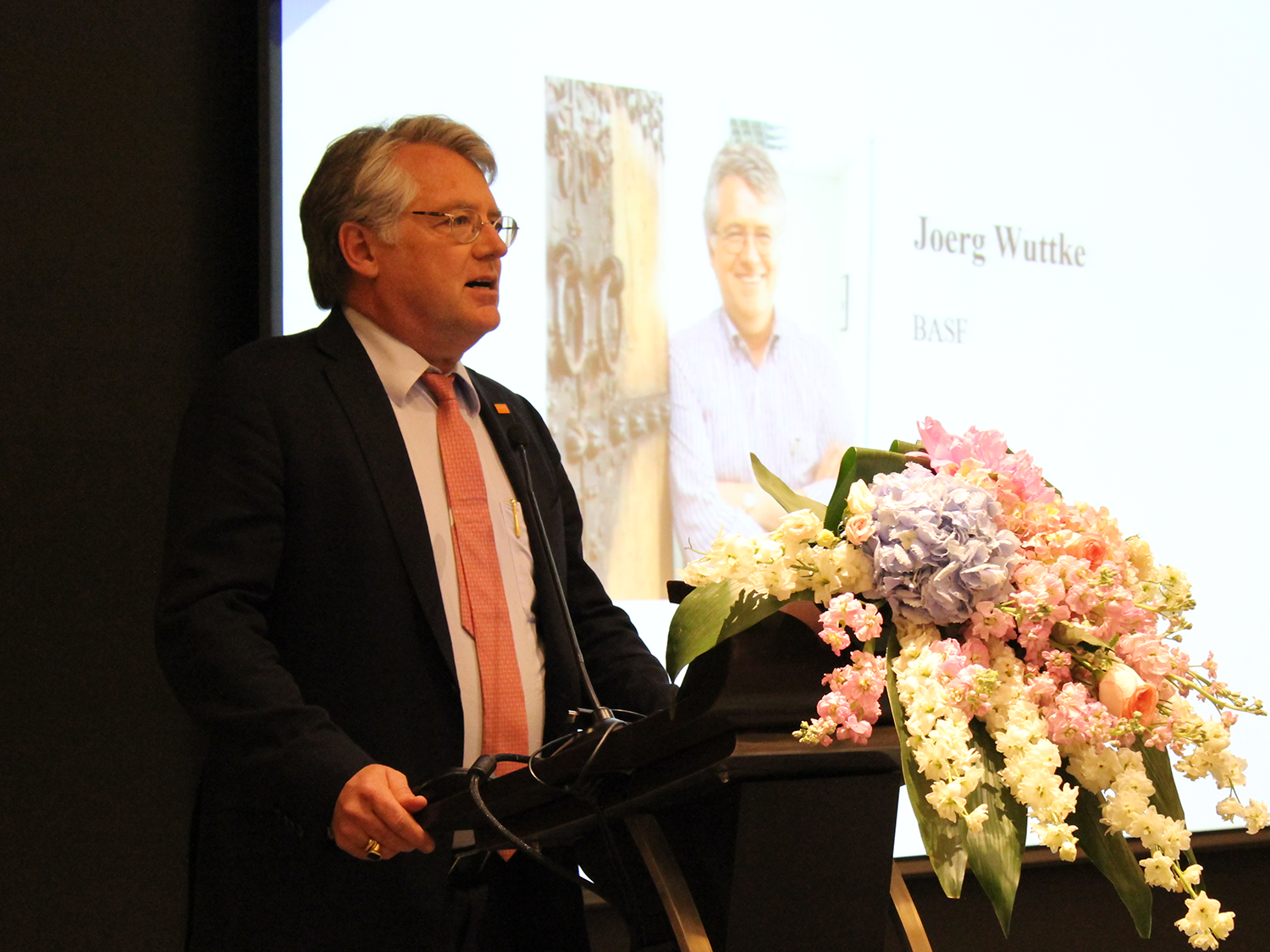 The European Chamber held elections for our Executive Committee and local chapter boards from 28th March to 6th June 2019.
Beijing
The elections for the Chamber's president, three vice presidents and treasurer took place during the Annual General Meeting (AGM) at the Four Seasons Hotel on 28th May. While nearly 200 people chose to vote online, another 60 turned out on the day to have their say on the Chamber's leadership.
We are pleased to announce that member company representatives elected Jörg Wuttke as the new president. As president, Jörg will chair the Executive Committee, which is responsible for providing strategic direction for the Chamber and representing our 1,600 member companies. Jörg is a German national and has been vice president and chief representative of BASF China since 1997. This will be his third stint as president of the European Chamber, after having previously served for six years in total, from 2007 to 2010 and again from 2014 to 2017. He replaces the outgoing president, Mats Harborn, in the role.
The three elected vice presidents—Charlotte Roule, Jens Eskelund and Massimo Bagnasco—and a treasurer, Rudolf Basson, will also be part of the Chamber's Executive Committee. In the weeks leading up to the AGM in Beijing, local board elections were also held in the European Chamber's six other chapters across China (see below). In their respective capacities as the elected chairs of the Shanghai and South China chapters, Carlo D'Andrea and George Lau have also been appointed as vice presidents of the Executive Committee.
The States Representatives were selected by the Supervisory Board on 6th June, after presentations were given by three potential candidates. The three representatives for 2019 are Sara Marchetta, Bruno Weill and Matthias Goebel.
President
Jörg Wuttke, BASF
Vice Presidents
Charlotte Roule, ENGIE
Jens Eskelund, Maersk
Massimo Bagnasco, Progetto CMR
Treasurer
Rudolf Basson, Siemens
States Representatives
Sara Marchetta, Chiomenti
Bruno, Weill, BNP Paribas
Matthias Goebel, Lufthansa
Nanjing
The local board elections for the Chamber's Nanjing Chapter were held on 22nd April 2019, with the following results:
Chair
Bernhard Weber, Baden-Württemberg International Economic and Scientific Cooperation (Nanjing)
Vice Chair
Andreas Risch, Fette Compacting (China)
Board Members
Christophe Hebette, BASF YPC Company Ltd
Pierre Puskarczyk, Saint-Gobain PAM China
Zeljko Ivkovic, DB Schenker Technology Solution Center (Nanjing)
Shanghai
The Shanghai Chapter completed its elections on 23rd May 2019, with the following results:
Chair
Carlos D'Andrea, D'Andrea & Partners
Vice Chairs
Dirk Lubig, Deutsche Bank
Serafino Bartolozzi, Mahle
Board members
Holly Lei, Covestro Polymers Co Ltd
Jens Ewert, Deloitte
Clarissa Shen Yanrong, Sanofi
Marcus Wassmuth, UniCredit S.p.A
Shenyang
Taking place on 28th March 2019, the elections for the Shenyang Chapter returned the following results:
Chair
Harald Kumpfert, Dechong Green City
Board Members
Stephane Gonnetand, Dalian ODC Marine Manufacture Co Ltd
Thierry Aubry, Renault Brilliance Jinbei
Hermann Stoegmeier, BMW Brilliance Automotive Ltd.
Martin Verpoorten, Sofitel Shenyang Lido
South China
The South China Chapter local board elections were held in Guangzhou on 22th April 2019, returned the following results:
Chair
George Lau, TÜV Rheinland (Guangdong) Ltd
Vice Chairs
Chee Keong Lai, ERM Guangzhou
Klaus Zenkel, Imedco Technology (Shenzhen) Co Ltd
Board members
Maarten Bijl, SHV Energy China
Kirsty Hulston, Hays Specialist Recruitment
Tristan Roquette, Teamacting Co Ltd Guangzhou
Maurizio Zanatta, Miele Hong Da Electronic Products Co Ltd
Southwest China
The local board elections for the Southwest Chapter took place on 18th April 2019, returning the following results:
Chair
Paul Sives, Proton Products Chengdu Ltd.
Vice Chairs
Joachim Kässmodel, Ferrante & Partners
Dominik Widmer, Sino Swiss Holding
Board Members
Anna Facchinetti, Galileo Galilei Italian Institute
Michael Schmitt, Waldorf Astoria Chengdu
Tianjin
The local board elections for Tianjin were held on 22nd May 2019, returning the following results:
Chair
Yup Fan Cheung, Standard Chartered Global Business
Vice Chair
Frank Schreiber, Airbus
Board Members
Jurgen Hasenpusch, Volkswagen
Julian Jeffrey, Wellington International School
Wang Xin, Deloitte