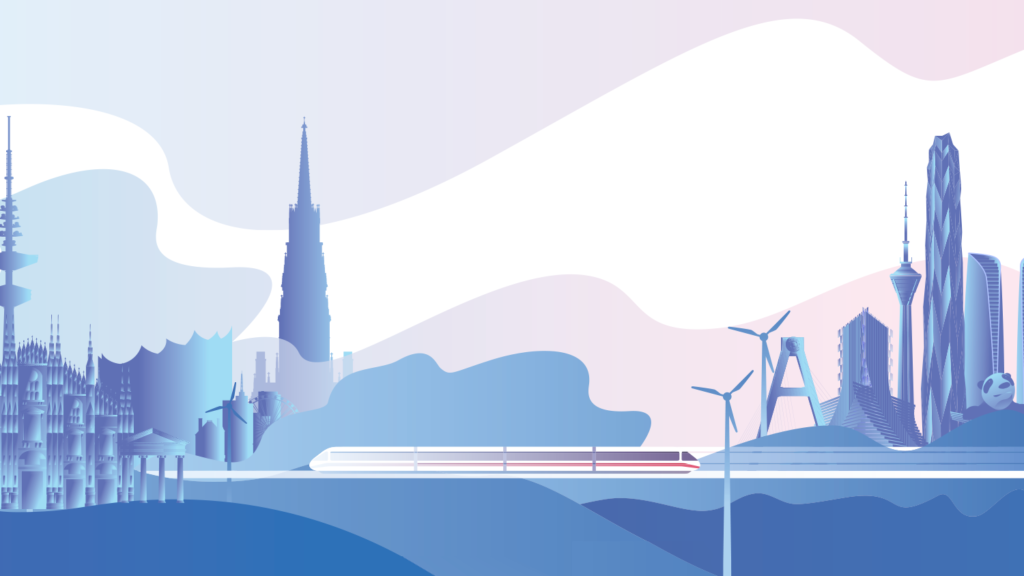 How can international testing, inspection and certification bodies contribute?
The China-Europe rail routes at the heart of China's Belt and Road Initiative (BRI) provide direct trade links from Chengdu in southwest China to as far west as Hamburg in Germany and Milan in Italy. However, along the route, freight trains must switch between standard gauge tracks in China to wide gauge tracks in Russia and Belarus, and then back to standard gauge in Poland for most European Union Member States. It is this lack of consistency among standards that international testing, inspection and certification (TIC) bodies strive to eliminate. Lily Zhang of Bureau Veritas takes a look at how the BRI can benefit from the involvement of international TIC organisations in coordinating standards among participating countries.
---
The world economy is undergoing a long period of adjustment and recovery due to the impact of the international financial crisis and, more recently, the pandemic. Scientific and technological progress, increases in population, economic globalisation and other major engines of economic growth over the past decades are now shifting gears, with their role in driving the world economy weakening significantly. A new round of growth drivers is still being fostered, and future economic development points have not yet formed.
China's BRI has closely linked the economies of the participating countries and regions, and strengthened their internal driving forces and risk resilience. The initiative has also promoted infrastructure development and institutional innovation, as well as creating new economic and job creation growth points.
Although the BRI has been moving forward smoothly with the support of China's economy and technology, there are still risks involved, which are reflected in three main aspects: political risk, economic risk and social risk.
Economic risks arising from the lack of sufficient attention to or awareness of quality management problems can result in huge losses for BRI projects. The root cause of this problem is that the parties involved may have different standards for recognising or evaluating the quality of a service or product. This can lead to opposing views that prevent them from reaching a consensus, and ultimately hinder the project from being delivered on schedule.
As the prevailing international system of conveying trust in the economic and social realms, as well as enhancing mutual recognition, the TIC industry has played an important role in improving quality, building up brands, promoting international cooperation, and establishing market and social order.
International TIC bodies in particular, due to their long historical development based on the concepts of fairness, integrity and objectivity, are recognised worldwide and have earned their credibility. Their reputation makes it easier for them to gain recognition from both sides in resolving disputes and frictions arising from quality problems.
In addition to the settlement of disputes and reducing project quality and safety management risks—and perhaps more importantly—international TIC bodies can promote mutual recognition of conformity assessment results of countries along the Belt and Road through core technical means such as technical regulations, standards and TIC. These services further facilitate international trade while ensuring safety and quality, and facilitate Chinese products and services in going global.
BRI projects with a reputation for high quality that utilised such international TIC services include Russia's Yamal liquid natural gas project, Turkey's Hunutlu coal-fired unit project, Indonesia's Batam coal-fired power plant project, and the hydropower transmission and transformation project in Equatorial Guinea.
In view of the key role and importance of international TIC bodies, it is recommended that the Chinese authorities formulate and enact relevant policies and measures that will encourage these bodies to participate throughout BRI projects. Taking infrastructure construction projects as an example, integrated quality technical services should be encouraged, from the project planning and design stage to the construction, acceptance and operation stage, to better control the quality and safety risks of the project in all aspects. The earlier the professional service organisations are involved, the greater the capacity to avoid technical barriers and identifying problems, and thereby preventing economic losses caused by quality and safety standard problems later in the project.
---
Bureau Veritas is well-known globally in testing, inspection, certification and technical consulting services. Created in 1828 and headquartered in Paris, France, it now has around 1,500 offices and labs, and more than 75,000 staff members, in 140 countries. Bureau Veritas delivers professional services and innovative solutions to its 400,000 clients in multiple key industries, to ensure their products, facilities and production flows meet the required codes and standards of quality, health, safety, environmental protection and social responsibility. Restarting its China operation in 1993, Bureau Veritas has over 130 offices and labs, and more than 17,000 professional staff members in 55 cities across the country.