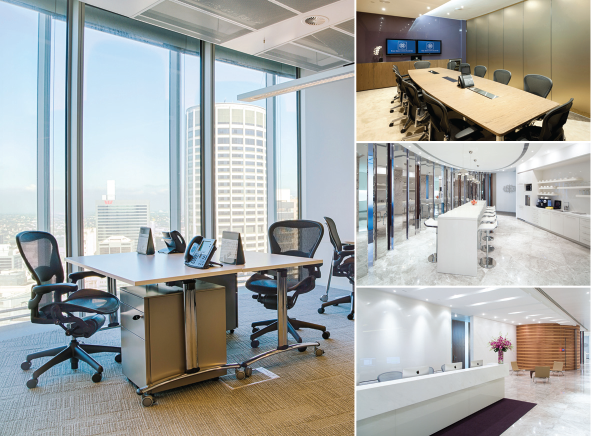 China's serviced office market is the largest in Asia, with a network of more than 150 quality serviced offices across 12 cities. Gigi Liu, Corporate Director, Marketing and Communications, at The Executive Centre says that due to the development of China's tertiary industry—stimulated by favourable government policies—the demand for premium serviced office space in first-tier cities is expected to remain robust in the second half of 2014.
Economic overview
Although there are clear indications of recovery the global economy still remains fragile. According to International Monetary Fund's (IMF's) World Economic Outlook Report, released in April 2014, global activity has broadly strengthened and is expected to improve further over the next two years, with much of the impetus for growth coming from advanced economies. During this period, the growth in advanced economies is expected to increase to about 2.25 per cent, an improvement of about one percentage point compared to 2013. Yet despite these improved prospects challenges remain: lower-than-expected inflation poses risks for advanced economies; there is also increased financial volatility in emerging market economies, and increases in the cost of capital will likely dampen investment and weigh on growth.
In terms China's economy, the IMF report reveals that growth is projected to remain at about 7.5 per cent in 2014, as the authorities seek to rein in credit and advance reforms while ensuring a gradual transition to a more balanced and sustainable growth path. According to the latest datareleased by the Chinese Government, foreign direct investment (FDI) into China increased 5.5 per cent in the first quarter of 2014 with FDI (excluding investment in financial sectors) totalling USD 32 billion. Gross domestic product (GDP) grew by 7.4 per cent in the first quarter of 2014, slowing from 7.7 per cent recorded from October to December of 2013 and marking the slowest expansion in 18 months.
"With the potential risks to the global recovery and economic slowdown in China, companies remain cautious when they come to the decision of investment and business expansion. Therefore, an effective office space solution which allows them to flexibly allocate their capital is what they are looking for," says Jane Ding, The Executive Centre's Regional Director for China.
Stable office space demand
With market sentiment looking favourably on China, the price of prime office space in the central business districts (CBDs) of China's first-tier cities has been rising in the past 12 months, and is expected to remain stable, due to limited supply and prevailing dynamic business conditions.
According to the latest data released by CBRE, a global leader in real estate services and investment, nationwide measures of new office supply showed a 33.9 per cent quarter-on-quarter decrease to 1,265,000 square metres in the first quarter of 2014. A 4.4 per cent quarter-on-quarter increase in net absorption was tracked, mainly from domestic companies, as multinational corporations (MNCs) remained cautious about expansion. First-tier cities should see resilient demand and steady-to-mild rental growth in 2014.
As a result of high rental prices for offices in CBD locations in China, there have been an increasing number of MNCs adopting a more cautious approach to office expansion. Many have adopted the strategy of renting serviced offices in order to meet the challenges of the changing economic conditions.
Whereas traditional offices offer empty spaces on long-term leases, serviced offices provide flexible workplace solutions that are fully furnished and include meeting facilities and complete business administrative services, supported by the state-of-the-art technology infrastructure. These solutions can benefit companies for a number of reasons.
Setting up new offices can be extremely time consuming, normally from four to six months with the possibility of additional delays, whereas serviced offices can take as little as one week to be operational. Flexible lease terms and the option to customise office spaces are also advantages, and existing infrastructure means that start-up overheads can be kept relatively low, which is appealing in times of economic uncertainty. Some serviced offices even offer virtual office products meaning that businesses can be established with no need to have a physical presence.
First-tier city boom
A favourable market environment and an intense prime office building market are driving the demand for serviced offices in China. Over the past 10 years, China's serviced office sector has experienced a boom, making it the largest market in the Asia Pacific region.
"The fast-growth of the serviced office market is propelled by continued investment from overseas economies and development of domestic Chinese companies. It is also driven by the fast-growing tertiary industry in China stimulated by favourable government policies," says Ding.
Despite the slow-down of national GDP growth in China, the tertiary industry is growing at 0.6 per cent ahead of primary industry and accounts for 45.5 per cent of the overall GDP. This can be attributed in part to several favourable government policies, such as the replacement of business tax with value-added tax, and the Regulation on Commercial Registration which stated that commercial registration authorities no longer collect registration fees. The tertiary industry, acknowledged as the major customer base for the serviced office industry, is creating tremendous opportunities.
In the past, international companies were considered as the major customer base in China's serviced office sector, as the concept of serviced offices is more commonly accepted abroad. However, the trend has seen gradual change, as domestic Chinese companies are beginning to show a strong demand for serviced offices. We are witnessing a growing number of local small- and medium-sized enterprises (SMEs) in the IT, consulting and logistics sectors adopting serviced offices, as the flexibility and cost-effectiveness they offer are a key factor to the success of these businesses.
The challenge of second-tier cities
Serviced office providers experienced challenges last year in second- and third-tier cities, partially due to the global economic downturn. Though the overall climate is improving, investors are still in wait-and-see mode before moving into these cities. In second-tier cities in particular, such as Chengdu and Tianjin, the serviced office market is facing more fierce market conditions, as customers have more bargaining power.
2014 forecast
In 2014, the serviced office market is expected to continue balanced growth propped up by both moderate economic growth and continued demand. The first-tier cities continue to dominate this growth, due to tight supply.
It is anticipated that the Chinese economy will remain healthy and the socio-political environment will remain stable in the medium to long term. On that basis, more companies, both foreign and domestic, are expected to look at expanding their business in China's key cities, which should provide solid ground for further development in the serviced office market, especially in CBD areas. With a steady global growth rate of 73 per cent since 2005, and limited vacant office space in China, the serviced office sector in China will continue its growth momentum over the coming year.
The Executive Centre is the leading premium serviced office provider in Asia Pacific with 64 offices in 20 cities. Founded in 1994, it operates in Hong Kong, Beijing, Chengdu, Guangzhou, Shanghai, Shenzhen, Tianjin, Macau, Bangalore, Chennai, Gurgaon, Mumbai, Jakarta, Tokyo, Seoul, Singapore, Taipei, Brisbane, Perth and Sydney. The Executive Centre provides serviced offices, virtual office representation services, meeting and conference facilities, and business concierge services to multinational corporations, small- and medium-sized enterprises, and start-ups locally, regionally and internationally. Please visit our web site at www.executivecentre.com.cn
[i] http://www.businessspectator.com.au/news/2014/4/21/china/rise-foreign-direct-investment-china