Mainland Chinese organisations could do more to harness D&I's power
Less than half of organisations in Mainland China have formal diversity and inclusion (D&I) policies and practices in place, a slight decrease from last year. Among those that do, there has been reduced adherence to such policies. Hays discusses this and further key findings from a recent survey conducted across Asia.
The Hays Asia Salary Guide 2019 report reveals that, incrementally, fewer companies in Mainland China (51 per cent in 2018 versus 47 per cent in 2019) have been putting diversity policies into place. In addition, the number of employers stating that these policies are 'well' and 'fairly well' adhered to has fallen from 52 per cent in 2018 to 43 per cent in 2019.
As the diversity of a company is known to translate to greater creativity and innovation, it is alarming to see that the adherence of D&I policies is falling. It is also essential that employers look into tactics to ensure that their policies are not only implemented but also followed.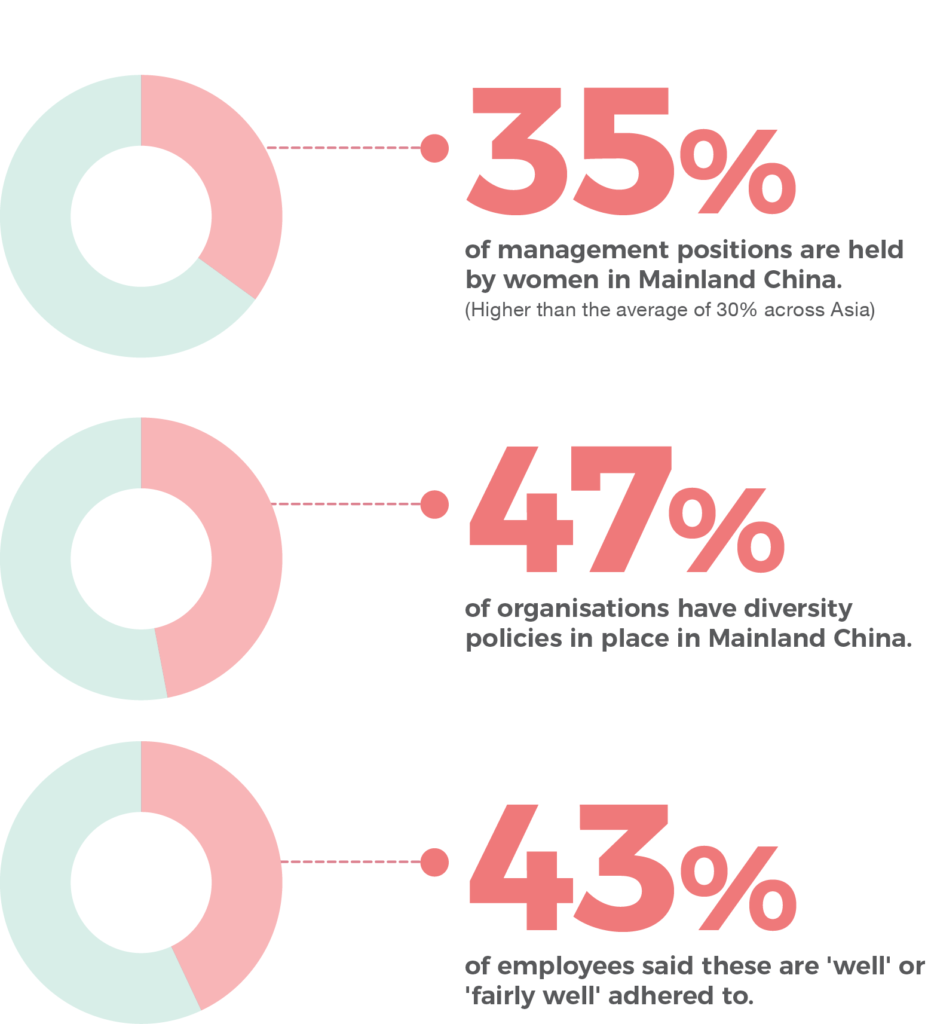 Overseas hires and gender diversity
Mainland China has seen a decline in overseas candidates employed in its companies, with a decrease from 10 per cent in 2018 to six per cent in 2019. Yet, when it comes to organisations stating that they would employ or sponsor qualified overseas candidates for skills-short areas, this trend is reversed, at 60 and 67 per cent respectively.
Similarly, the number has dropped from 37 per cent to 35 per cent when it comes to the percentage of women in management positions. However, Mainland China leads the way in having female business leaders when compared to the Asia-wide average of 30 per cent.
Flexible options
In Mainland China, slightly more than three in five (64 per cent) employers offer some form of flexible working options. Flexi-time (selected by 41 per cent of respondents) is the most common option provided by employers, followed by home or remote working (30 per cent), and informal flexible working at a line manager's discretion (18 per cent).
Correspondingly, employees are making use of the options available to them, with 34 per cent taking advantage of the work-from-home option and 20 per cent the informal flexible working option. However, only 19 per cent are opting for the flexi-time arrangement.
While flexible working practices can be enjoyed by all staff, regardless of gender, the ability to work from home and flexible working hours are particularly advantageous for working mothers, enabling them to balance family obligations with their careers.
By extending these options further, employers could see even greater improvement in diversity in the upper echelons of organisations, thus enhancing innovation, improving staff retention and attraction rates, as well as encouraging new role models for the next generation of a diverse profile of managers.
Comparing with Asia
According to the survey, slightly more than half (52 per cent) of Asian companies currently implement diversity policies, a marginal rise from 2018 (51 per cent). Singaporean companies are most likely to have such practices in place, while the highest number of companies (57 per cent) saying they had no such policies are located in Hong Kong (34 per cent). In addition, 56 per cent of Japanese companies, 49 per cent of Malaysian companies and 47 per cent of companies in Mainland China claim to implement diversity policies.
Employers in Asia have noted a decline in the adherence to diversity practices, with those saying that they are adhered to 'well' falling from 22 per cent in 2018 to 15 per cent in 2019. Companies in Japan see the greatest level of adherence with a combined 59 per cent saying policies were adhered to either 'well' or 'fairly well'. Only 43 per cent of employers in Mainland China could say the same.
Conversely, these positions are reversed when it comes to women holding managerial positions: females constitute 35 per cent of leaders for Mainland China and Malaysia, and just 19 per cent for Japan. Companies in Hong Kong saw a rise of women in management in 2019 with 33 per cent, up from 29 per cent the year before, while companies in Singapore fell one point to 29 per cent.
The proportion of foreign employees rose overall across Asia from 13 to 15 per cent in 2019. These statistics are somewhat skewed by Singapore's increase from 19 to 28 per cent and Hong Kong rising from 14 to 18 per cent. One in ten (13 per cent) of Malaysian employees [OD1] [GH2] are from overseas, while the proportion of foreigners in companies in Japan fell to 10 per cent from 13 per cent, and in Mainland China to six per cent from 10 per cent.
Despite the fall in the number of foreign employees operating in Japan and Mainland China, the proportion of companies stating they would consider oversees candidates to deal with skills shortages increased. For instance, 67 per cent of employers in Mainland China and 65 per cent in Japan would do so. Furthermore, almost half (49 per cent) of employers in Malaysia would also employ overseas staff, while companies in Hong Kong (44 per cent) and Singapore (35 per cent) saw a greater proportion saying that they would not consider hiring from abroad.
---
About Hays
Hays is a leading global professional recruiting group with 262 offices in 34 markets across 20 specialisms. We are experts at recruiting qualified, professional and skilled people worldwide. Across Mainland China, we operate in five offices: Beijing, Guangzhou, Shanghai, Shenzhen and Suzhou. Email: Guangzhou@hays.cn. WeChat: hays-china