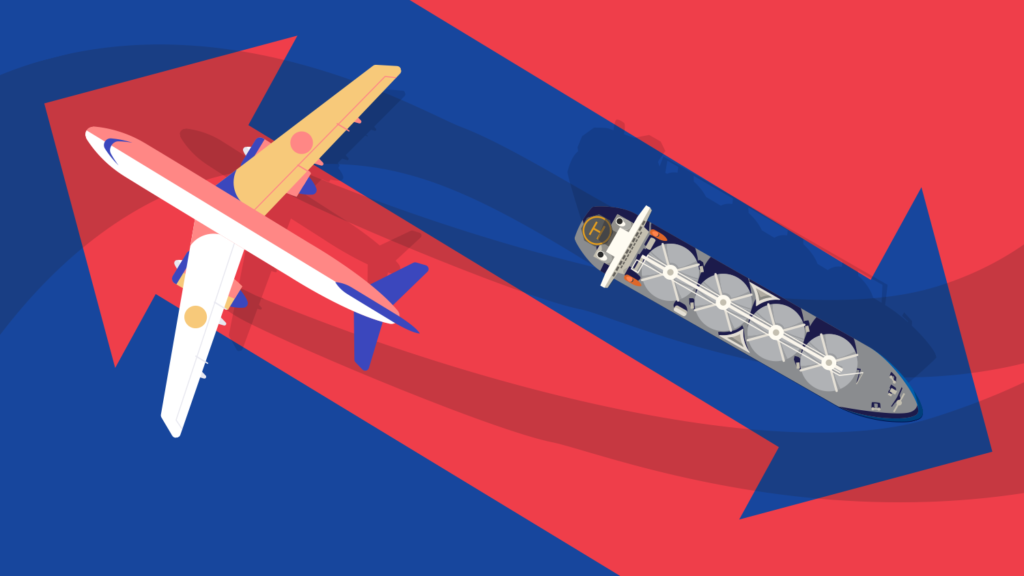 The implications of China's dual circulation strategy for international trade
Since first being announced in late 2020, China's 'dual circulation' strategy for building up its domestic economy while maintaining its pivotal role in the international market has generated much concern in European business circles. Will they be able to continue to circulate their goods in the Chinese marketplace? Will the outer loop of global trade keep spinning smoothly? Freda Zhang and Anthony Marchese of APCO Worldwide give us an overview of the thinking behind 'dual circulation' and where the best opportunities lie for European firms.
---
In July 2020, China's senior leadership convened to review the economic challenges created by COVID-19. While the domestic epidemic had stabilised, Party officials recognised the immense difficulties the country's economy will face in recovery – with further complications from rising global economic uncertainty and escalating tensions with the rest of the world. Invoking Mao, the Politburo Standing Committee likened the task ahead to fighting "a protracted war".[1]
The resulting communique introduced 'dual circulation' – the development strategy underpinning China's 14th Five-year Plan (FYP) (2021–2025). First mentioned during a Politburo Standing Committee meeting in May 2020,[2] the concept aims to "take domestic circulation as the main body, with domestic and international circulation reinforcing each other".
Dual circulation initially drove fears that China would isolate itself from the international trade system. However, a deeper look into the origins and intentions of dual circulation suggest a strategic effort to reposition China ever closer to the centre of global trade. In fact, Yu Yongding, director of the Chinese Academy of Social Sciences' Institute of World Economics and Politics, has argued that China should work to prevent capital outflow by "treating Chinese and foreign companies equally".[3] This presents both opportunities and challenges for foreign business.
The origins of dual circulation
Dual circulation stems from two key vulnerabilities underwriting the Party's perception that China may succumb to the 'middle-income trap'. First, while China has experienced declining economic growth for years, COVID-19 accelerated Beijing's efforts to rebalance its economy away from high quantity to high quality growth. At the same time, China faces growing scepticism from the international community, driven by greater geopolitical competition with the United States (US). These tensions heightened long-standing fears among officials that China is over-reliant on foreign critical supplies.
Dual circulation, however, is not an entirely new concept. Attempts to bolster domestic production and distribution represent a doubling down on existing industrial strategies, such as Made in China 2025, and efforts to mitigate external shocks to Chinese businesses. To weather global headwinds, China is also recommitting the focus of the 14th FYP to unlock the untapped potential of domestic consumption[4] – a policy objective included in the past three FYPs that remains unfulfilled.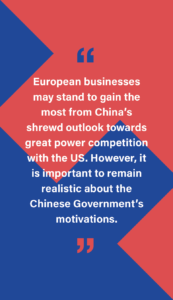 The role of the 'international cycle'
Foreign trade may no longer be driving China's economic strategy, but it remains essential if the Party is to realise its ambitious objectives to optimise industry, improve product quality and encourage discretionary spending. As a result, President Xi has repeatedly reaffirmed the importance of foreign trade and investment.[5]
Recent Chinese trade and investment agreements highlight this continued importance. Since dual circulation was announced, China completed negotiations on the Regional Comprehensive Economic Partnership and the EU-China Comprehensive Agreement on Investment (CAI). In many ways, dual circulation is both a solution for the short-term economic storm of COVID-19 and a way to ensure Xi's goal of positioning China as the economic centre of gravity for international trade.[6]
Understanding challenges and opportunities for European businesses
European businesses may stand to gain the most from China's shrewd outlook towards great power competition with the US. However, it is important to remain realistic about the Chinese Government's motivations. Foreign capital will only be called upon to advance areas of strategic importance where the government recognises the need for foreign input. For European businesses, four areas pose the greatest advantages and risks.
Technology
Dual circulation aims to empower China's efforts to achieve technological self-reliance in core technologies, such as semiconductors, 5G and cloud computing. The main tenets of Made in China 2025 have been revived as efforts to leverage 'new infrastructure' development and to advance the digitalisation of traditional industries. In the 2021 Government Work Report, Premier Li Keqiang announced that China will increase research and development (R&D) investment by seven per cent annually over the next five years, as well as a 10.6 per cent increase in basic research in 2021.[7]
European businesses with advanced technologies will likely continue to find a welcome home in China for their R&D centres, and a keen market focussed on industrial upgrading. However, the long-term prospects for European companies are likely to remain clouded by high market access barriers and incentive schemes that favour the "secure and controllable" technologies of domestic champions. This trend is likely to worsen as high-tech commercial flows become increasingly 'securitised' in both China and the US.[8]
Manufacturing
Securing domestic supply chains is another key area of both potential risk and opportunity, with the prospects for individual European businesses dependent on their position in global value chains. For example, Beijing's attempts to stimulate consumption may also increase competition to upgrade existing manufacturing facilities, presenting a massive opportunity for growth.
Beijing's attempt to direct international circulation to further supply-side upgrading is already evident in the CAI's preliminary commitments. Currently, 50 per cent of European investment in China is in manufacturing. In terms of industries, 28 per cent of total European investment is in automobiles and 22 per cent in basic materials.[9] To attract and facilitate high-quality investment in advanced manufacturing, the Chinese Government has pledged to level the playing field for European investment and to ensure reciprocal market access and opening in most manufacturing industries, eliminating restrictions for automobiles (traditional and new energy vehicles), transport and health equipment.
Services
Services are central to Beijing's efforts to reorientate the economy towards consumption. While services now account for 54.5 per cent of China's gross domestic product (GDP),[10] the sector still significantly lags that of the EU. To advance consumption, the Chinese Government is pushing for the development of a new, 'Internet Plus' model for offline services, including in medical services, education and hospitality.[11]
In the financial sector, dual circulation aims to increase foreign capital flowing into China and deepen financial supply-side reform. Joint venture caps for foreign firms in futures, mutual funds and securities have already been removed, and further opening up is likely. By attracting foreign financial players, the government aims to maximise its financial market capacity to support the real economy, bring financial standards in line with global capital markets and minimise financial risk.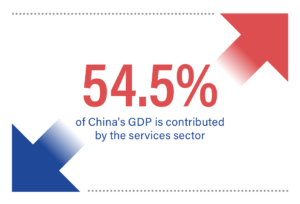 Financial sector opening is also intrinsically linked to another long-term objective of dual circulation: the internationalisation of the renminbi. As the desire to increase capital inflows becomes a greater priority, European companies may benefit from the selective removal of equity caps in banking, trading in securities and asset management.
Environmental sustainability
While environmental sustainability is not an explicit component of dual circulation, it is closely connected. With Xi promising to establish an ecological civilisation and achieve carbon neutrality by 2060, sustainability is at the forefront of China's ambitious industrial upgrading strategies. As a result, dual circulation will necessarily include a drive to reduce the negative environmental consequences of economic production, underlined by commitments in the 14th FYP to reduce carbon intensity by 18 per cent from 2020 levels.
Many European businesses have a significant competitive advantage in sustainability as a result of already adapting to some of their domestic markets' strict environmental standards. Political pressure may also propel European businesses over the line: despite disagreements in other areas, the CAI aligned the EU and China on tackling climate change by furthering sustainable development principles. This alignment included China pledging to not lower environmental protections standards to attract investment and to promote responsible corporate practices. European businesses may therefore be uniquely positioned to showcase their value-add on a critical issue for China.
Conclusion
While dual circulation has officially been enshrined in the 14th FYP, it will likely take years for the government to successfully rebalance trade. The gap between the announcement of dual circulation and its successful execution offers an important opportunity for European companies to leverage current demand for foreign products and services, and solidify their position in the Chinese market.
__________________
APCO Worldwide is a global advisory and advocacy communications consultancy helping leading public and private sector organisations navigate the challenges of today, act with agility, anticipate social risk, and build organisational reputations, relationships and solutions to succeed. APCO is an independent and majority women-owned business.

---
[1] The Political Bureau of the CPC Central Committee decided to convene the Fifth Plenary Session of the 19th CPC Central Committee to analyse and study the current economic situation and economic work, with Xi Jinping, General Secretary of the CPC Central Committee, presiding (in Chinese), Xinhua, 30th July 2020, viewed 15th March 2021, <http://www.xinhuanet.com/politics/leaders/2020-07/30/c_1126306023.htm>
[2] The Standing Committee of the Political Bureau of the CPC Central Committee held a meeting chaired by Xi Jinping, General Secretary of the CPC Central Committee (in Chinese), cpcnews.cn, 15th May 2020, viewed 15th March 2021, <http://cpc.people.com.cn/n1/2020/0515/c64094-31709627.html?mc_cid=28966ada58&mc_eid=902fe70bde>
[3] Yu Yongding: How to realise the transition from 'international cycle' to 'dual circulation'? (in Chinese), aisixiang.cn, 22nd August 2020, viewed 15th March 2021, <http://www.aisixiang.com/data/122588.html>
[4] 14th Five-year Plan Document
[5] Promoting dual circulation based on domestic economic cycle – The profound meaning behind China's plan for a new development pattern (in Chinese), China News, 5th August 2020, viewed 16th March 2021, <http://www.chinanews.com/cj/2020/08-05/9256630.shtml>
[6] The new development pattern is an open domestic and international double cycle – Wang Yiming, member of the Economic Committee of the 13th National Committee of the CPPCC, Xinhua, 26th September 2020, viewed 16th March 2021, <http://www.xinhuanet.com/fortune/2020-09/26/c_1126542669.htm>
[7] Government Work Report, State Council, 5th March 2021, 16th March 2021, <http://www.gov.cn/zhuanti/2021lhzfgzbg/index.htm>
[8] Decoupling: Severed Ties and Patchwork Globalisation, MERICS, 14th January 2021, viewed 19th March 2021, <https://merics.org/sites/default/files/2021-01/Decoupling_EN.pdf>
[9] 201229 China investment factsheet_final, European Commission, 30th December 2020, viewed 16th March 2021, <https://ec.europa.eu/commission/presscorner/detail/en/FS_20_2544>
[10] Preliminary Accounting Results of GDP for the Fourth Quarter and the Whole Year of 2020, National Bureau of Statistics, 20th January 2021, viewed 16th March 2021, <http://www.stats.gov.cn/english/PressRelease/202101/t20210120_1812680.html>
[11] Regarding the issuance of 'Recent expansion of domestic demand to promote consumption'. Notice of work programme, NDRC, viewed 16th March 2021, <https://www.ndrc.gov.cn/xxgk/zcfb/tz/202010/t20201029_1249273.html>