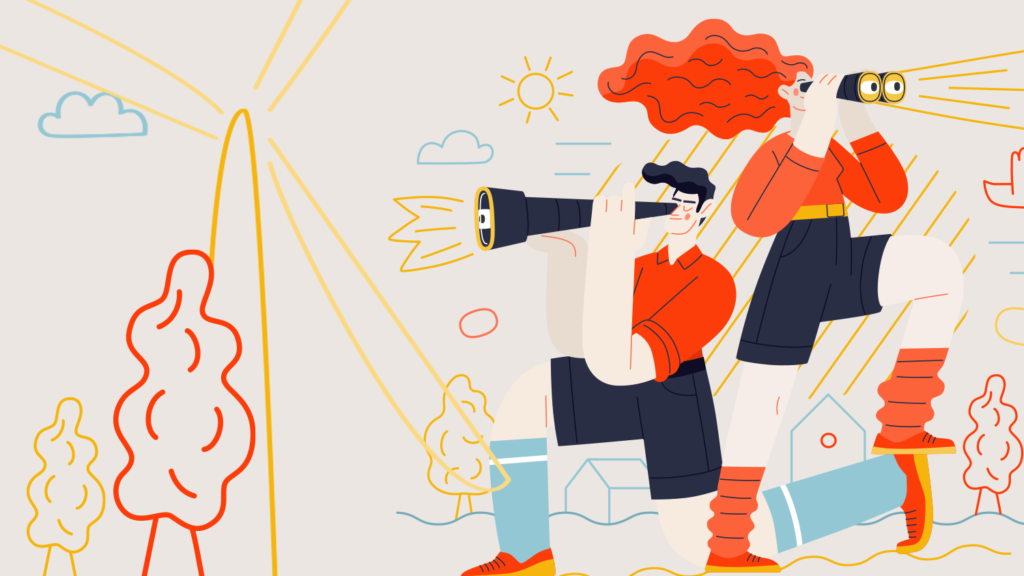 From a Chinese industrial perspective
China is committed to hitting peak emissions by 2030 and carbon neutrality by 2060. In order to do so and address the responsibilities it faces as the world's largest carbon emitter, it will need to mobilise all its resources. China's carbon emissions should start declining seven years from now in 2030, and reach net zero in the next 30 years. TÜV Rheinland Greater China recently conducted a survey across several industries in China on the theme of carbon neutrality to understand how local enterprises are preparing to reduce their carbon footprint.
---
Around three-quarters of the 650 respondents from the industrial, automobile, electronic and electrical products, and consumer goods sectors in Mainland China say they are aware of the sources, scale and nature of corporate greenhouse gas emissions. Of that three quarters, half have either set up a carbon asset management department or are engaging with third-party institutions in this area.
Although 73 per cent of respondents say that China's goal to become carbon neutral by 2060 has had an impact on their businesses, only 40 per cent have defined or are working on specific net-zero emission targets or timetables. Approximately 45 per cent of the companies surveyed have not determined a time limit for achieving carbon neutrality.
Many enterprises are carrying out measures to curb their carbon footprint, but face multiple challenges, mirroring the need for a governing framework on how China will accomplish its ambitious 2060 objective. Moreover, the inevitable time-lag between becoming mindful of the issue and investing the time and resources to take action is a concern.
Embracing the carbon reduction opportunity
Enterprises need time to design systems and build teams to get clarity on the implications of carbon neutrality, as well as to set targets, screen pathways and build capacity. Many enterprises are quite concerned about the reputational risks of publishing a decarbonisation roadmap.
In response to the proposed 'dual carbon' goals, 17 per cent of surveyed enterprises indicate that they aspire to become "pioneers in carbon reduction", while 42 per cent and 32 per cent say they intend to reach the industry's average level in the carbon peaking and carbon neutrality categories respectively.
Uncertainty about policies and market trends, a lack of expertise and ability, and identifying cost-effective solutions are some of the biggest challenges cited by respondents. The lack of management support and complex execution procedures within enterprises are also highlighted as difficulties by many.
Surveyed enterprises cite carbon reduction, energy conservation, consumption reduction and efficiency improvement as preferred methods for achieving China's 30/60 Goals. In addition, energy substitution, saving or replacing raw materials, and creating a long-term plan for a sustainable energy management system are also favoured approaches to reduce carbon emissions.
In terms of funding their carbon reduction efforts, 60 per cent of surveyed enterprises plan to invest one to five per cent of net profits in the next decade to achieve carbon neutrality, 20 per cent plan to invest 6–10 per cent of net profits, and 10 per cent plan to invest more than 10 per cent of net profits. Participants cite gear upgrading, investments in renewable energy, and investments in research and development, supply chains, materials, and so on, as the most important aspects.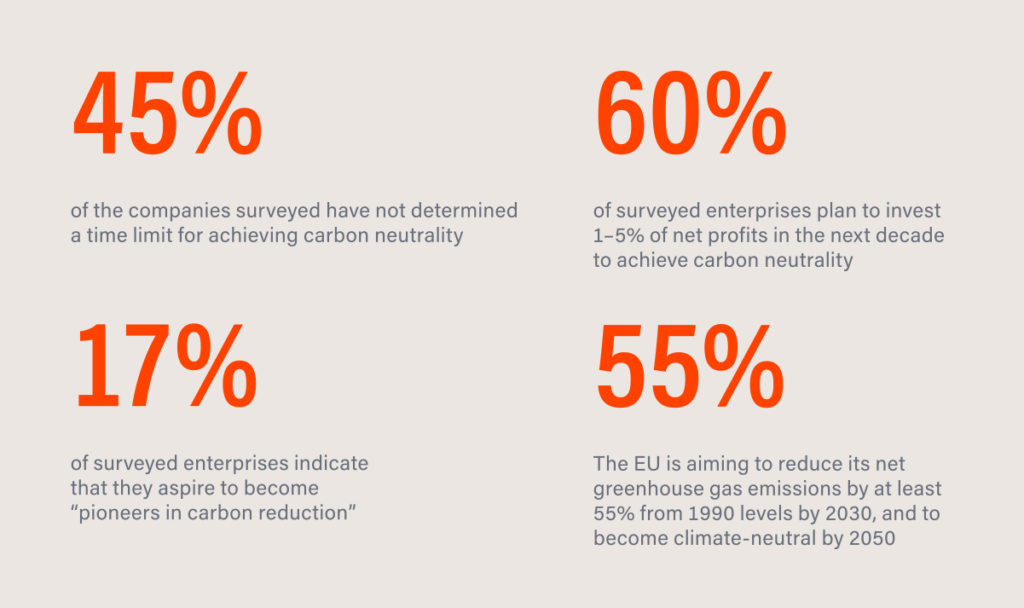 In July 2021, the European Commission released its 'Fit for 55' comprehensive roadmap for realising the European Union's (EU's) ambitious target of reducing its net greenhouse gas emissions by at least 55 per cent from 1990 levels by 2030, and to become climate-neutral by 2050. The EU is working on the revision of its climate, energy, and transport-related legislation under Fit for 55, in order to align current laws with its 2030 and 2050 ambitions. A number of new initiatives are also included in the package.
Chinese enterprises should similarly start planning their targets and pathways for carbon neutrality, to give themselves more time for a smooth transition. It will take time for decarbonisation methods to be decided upon, put in place and implemented properly before any results will be seen. Enterprises should take a top-down approach for the road-mapping of their net-zero ambitions: the commitment of top management will be critical to their carbon neutrality strategy development and implementation.
Steps to Corporate Carbon Management
Companies must adopt a multi-step solution for carbon neutrality, in which the company sets its target and chooses a path before implementing its decarbonisation action plan. Neglecting to set goals and timetables may result in the company going in the wrong direction and wasting valuable time and resources. In addition, the training of professional talent in carbon management is essential for effective corporate carbon reduction and low-carbon transformation.
---
In 2022, TÜV Rheinland Group celebrates its 150th anniversary in delivering safety and quality in virtually all areas of business and life. Since 1872, TÜV Rheinland has been a world leader in developing solutions to ensure safety and quality in the interaction between humans, technology and the environment, and the company remains committed to a sustainable future.
TÜV Rheinland boasts many years of experience in helping companies calculate their carbon footprint. It is accredited by the American National Standards Institutes (ANSI) and the Deutsche Akkreditierungsstelle GmbH (DAkkS), and is a greenhouse gas emission verifier accredited or authorised by DakkS, the German Emissions Trading Authority (DEHSt), and the EU Emissions Trading System (ETS). Its experts perform certifications and verification in accordance with all internationally recognised standards.