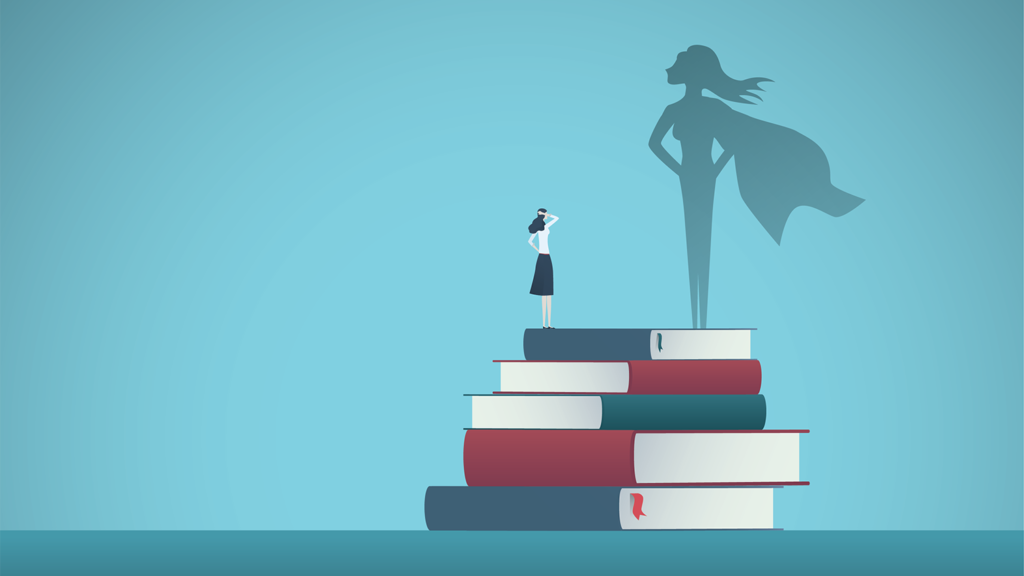 Assessment Centres and Development Centres for fair and accurate recruitment, talent development and succession plans
In the area of AI and digitalisation, there is a clear target to simplify and automate everything we do. This also refers to a majority of human resources (HR) processes, including selection and talent development. Whereas digital instruments might help in selecting CVs and other documents and diagnosing employee competence gaps, both the final recruitment decision and development plans should, wherever possible, be based on personal interaction with the individual and assessment of their competences observed in action. How to make sure then that your talent selection and development are robust, fair and accurate? Magdalena Krzyzanowska-Celmer of DucoPoint says Assessment Centres (AC) and Development Centres (DC) may be the solutions.  
What is an AC? What is a DC?
An AC is a standardised evaluation of technical skills and behaviours across a group of candidates, and can be used for multiple purposes. It can help in reaching decisions about which external applicants to bring into the organisation, or promotion decisions about people already employed.[1] ACs are popular, not only for pure recruitment, but also in cases of organisational restructuring when decisions have to be made on who will fit the new structure and stay on board, and who will leave the company.
A DC is like an AC but focused upon talent development. It's not only their purpose but also the way DCs are constructed that distinguish them from ACs. AC/DCs apply the same fundamental principles but differ in the way they are utilised (see diagram).
In both cases, assessors use a set of individual and group exercises and tests that measure assessees (who undergo assessments) against prior, predefined standards. Smaller organisations (501–5,000 employees) tend to use assessments for selection purposes, whereas larger ones (10,000–20,000) tend to use them for development purposes.[2]
Table.1. Differences between AC and DC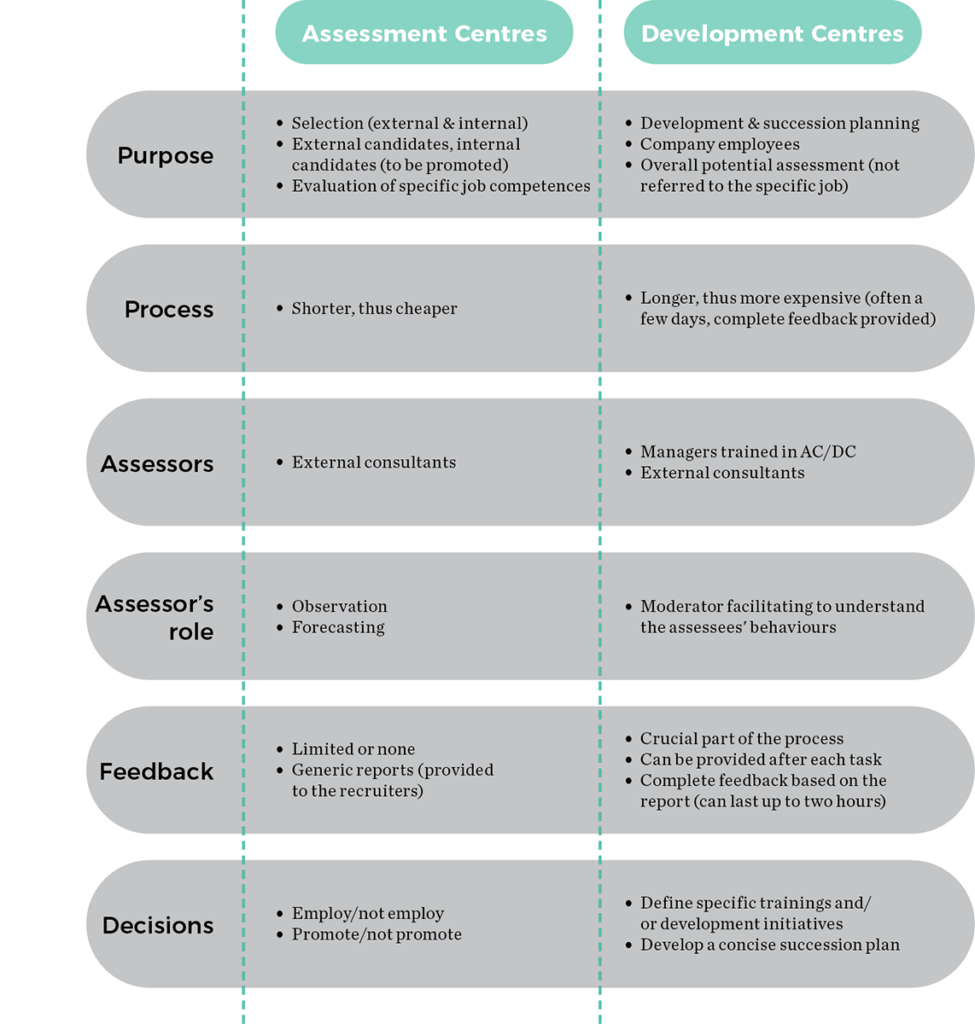 Assessment methods have a long history in China
Using assessment as a selection method is strongly rooted in Chinese history. A current selection process in the public sector, based on assessment, reflects the practices applied in ancient China when government officials were selected as a result of thorough assessments. As Carl Liang says:
"The exams were based on Confucian books, sources of ruling ideology, and had many sections including interviews, writing from memory, answering questions, composition writing, and ode writing. Other subjects, such as history, law, calligraphy, and math, were used as a gauge to test professional knowledge."[3]
In their modern form, assessments were used to select German officers during World War I. The method was later applied by the United States' Office of Strategic Services to help objectively select both military and civilian recruits for espionage activities during World War II.
The industrial form of assessments came into existence in the early 1950s with the pioneering research work of Robert K. Greenleaf and Douglas W. Bray of the American Telephone & Telegraph Company (AT&T). D.W. Bray, as HR director at AT&T, launched a study that lasted over 20 years, following the careers of several young managers as they progressed. All new entry managers at AT&T were assessed against precisely defined criteria. "The dimensions assessed included managerial functions like organising, planning, decision-making, general ability such as intellectual ability, personal impression, sensitivity, and values and attitudes, both work-related and social."[4]
Application of AC/DC
There are many examples of successful applications of AC/DC. However, the intense effort, the considerable amount of time necessary for both preparation and actual execution, the number of people involved and, finally, the significant financial cost make companies very careful to identify when AC/DC is the best way to evaluate candidates or plan long-term career paths."
Organisations mostly use assessment centres for selection or promotion purposes. Managerial positions are the usual targets for assessment centres, partly because the value of selecting successful job incumbents and avoiding the cost of failures is sufficiently high to justify the outlay.
AC/DC can also be used to diagnose the training needs of the individuals that are either considered talented or core to the operations of the organisation. Diagnostic AC/DCs are commonly used to assess: information technology (IT) workers, whose jobs are rapidly changing; and sales people who, to be successful, need to acquire new skills to respond effectively to changing consumer needs and market requirements. This is specifically important in growing economies such as China.
Developmental ACs, on the other hand, aim not to assess overall potential or to diagnose, but stand for an actual training experience. In these cases, they can be incorporated into programmes—such as for comprehensive leadership development—and often not called AC.
Assessment Centre – how does it works?
There is nothing like a typical or universal scenario for AC/DC. However, there are certain basic prerequisites that AC/DCs follow.
AC/DC may range from a half-day session to five-day workouts. However, one-day sessions are the most popular. The example below illustrates how the AC may be constructed and conducted.    
On Monday morning at 8:45 a.m., 12 AC assessees come to the venue outside of the manufacturing plant they work at. The participants (four production supervisors, two
quality leaders, two maintenance leaders, two Lean leaders, and two engineering
leaders) are potential candidates for a newly created opening – Production Manager.

Six assessors had arrived earlier to set up the room and get ready for the assessment.
They include: the current production manager (who is going on retirement and will be
replaced by the best AC performer), four N+1 or line managers (peers), and an external consultant (administrator). The in-house assessors are trained to conduct the
assessments.  

The AC session starts at 9:00 a.m. sharp. The administrator debriefs the assessees on
the schedule, makes introductions, defines the roles, explains the activities and answers any questions raised. Over the course of the day, the assessees participate in a series of individual and group exercises.  

The assessors rotate from exercise to exercises, observe the assessees and make
detailed notes. Each assessor rates each dimension for each assessee. The administrator collects and combines standardised reports from assessors for the integration session at the end of the day.  The assessors stay until they reach a consensus on the rating of
each competence for each assessee.    
Exemplar exercises applied in AC/DC
AC/DC involve multiple evaluation techniques, including various types of job-related simulations, interviews, psychological tests. The exercises, either individual or group, elicit a sample of overt behaviour resembling that the assessee would demonstrate in a work setting. It has been proved that the more exercises conducted and the wider their variety, the more accurate the assessments. A survey of 200 assessment centres showed that approximately five exercises was the typical situation, but some used 10 or 11 exercises.[5]
Table 2. Examples of AC/DC exercises (selected)
Name
Description
Dimensions
assessed
In-basket
Assessees are provided with numerous memos, letters, announcements, minutes of the meetings, e-mails, reports, voice mail messages that present personnel, financial, accounting, or procedural problems. Assessees are expected to get aquatinted with these materials, write out instructions, draft letters, make decisions, set up meetings, and outline their strategies for solving problems, making decisions, developing plans, evaluating progress, delegating responsibilities, setting priorities and informing others. All within a relatively short time period and in writing.
delegation, planning, organising, management control, judgement, administrative abilities
Case study (analysis)
Assessees are given material to read that describes an organisational problem and then asked to prepare a set of recommendations on how the problem should be addressed. The problem may require financial, people, system, or process analysis. The output from this exercise is typically a written report.
Analytical thinking, assimilation of information, organisation, decisiveness and judgement, or specific skills, such as calculating a rate of return on investment, commercial awareness and innovation
Fact-finding
Assessees are given a small amount of information about some problem (e.g. non-compliant product). They are expected to provide their recommendations on how the problem shall be addressed and solved. They can acquire additional information by questioning a resource person.
analytical thinking, practical judgment, social awareness, soliciting info from customers, peers, decision-making skills, tolerance for stress.
Oral presentation
Asessess are asked to make a short, extemporaneous speech about a simple topic or a longer, formal presentation about a case study like those described earlier. The presentation is usually given to an assessor who then asks questions intended to challenge the participant.
the ability to make formal or semi-formal presentations
Competence interview
Assessees are asked questions verifying the specific competences (dimensions). They are expected to provide answers that back up with concrete examples from the past and describe behaviours they demonstrated in specific circumstances.
Many dimensions but usually "soft dimensions" such as stress management, problem-solving, people management
Discussion without a role
All assessees work together on a problem. They might be asked to: develop Q2 sales strategy plan; plan next year's budget; develop an orientation and on-boarding programme for new recruits.
Teamwork, the ability to contribute good ideas, the ability to guide the discussion process, problem analysis, communication skills
Discussion with a role
All assessees work on a problem (like above) but in this case, instead of the common description of the problem, they receive different instructions on how the problem shall be addressed according to the role they play. The scenario of this exercise can be highly competitive.
Decision-making, generating ideas, communication skills, persuasion skills, problem analysis, organisation, planning
Assigned-leader group task
One of the assessees is assigned to act as the leader of the group and give the group a task to accomplish. Each assessee shall have a chance to be assigned leader. Thus, if there are six assessees, there shall be six exercises to give everyone a turn in the leader role.
Leadership, communication, persuasion
Scenes
This is a role play exercise but 1:1 'with an actor'. Assessees receive an instruction with a description of the role they play, e.g. assessee plays the leader who talks to his problematic employee on their lack of commitment and insufficient results.
Employee motivation and engagement, problem-solving, oral communication, empathy,
Tests
Assessees are asked to fulfill various tests, questionnaires, surveys verifying their compatibility with the position. These can be psychological, personality, cognitive questionnaires and tests.
Leadership style, communication style, sales skills, customer orientation, personality type
Why AC/DC?
A standard CV and a simple job interview may give a good first impression and convey some information on a candidate's technical skills. However, ACs operate on the principle of a 'cross reference' system – there are multiple assessors evaluating multiple competencies in multiple exercises.[6] This ensures the accuracy and validity of the process and its results. AC/DC can measure complex attributes through the various simulated situations, and predict various criteria such as performance, potential, and career advancement. The process is also perceived as fair and 'face valid' by the assessees and hardly ever shows any adverse impact. Recent technological innovations help to make AC/DCs compliant with the modern work environment. This is reflected in computer-based simulations, software programmes for scoring writing, voice tone, and other relevant attributes.
DucoPoint
Magdalena Krzyzanowska-Celmer is the founder of DucoPoint Business Consulting Company LTI (www.ducopoint.com). She's an international HRM expert with 20 years' industrial experience in various executive positions in global organisations, a certified Assessor in Assessment & Development Centre (CAADC), certified ICC coach, and licensed Extended Disc practitioner. She majors in AC/DC, strategic HRM, organisational transformation, leadership development and mentoring, executive coaching, cross-cultural management, and effective teams. She has worked in Europe (Belgium, Finland, France, Italy, Poland, Spain, the Netherlands, Turkey, UK) and APAC. Currently, she resides in Shanghai (China).
---
[1] Thornton, G.C., and Krause, D.E., Selection versus development assessment centers: an international survey of design, execution, and evaluation, The International Journal of Human Resource Management, vol. 20, no. 2, February 2009, pp. 478–498.
[2] Ibid.
[3] Carl Liang, Assessment Center Methods. Government Selection in China: Past, Present and Future, The 34th International Congress, 24th September 2008, Washington, DC.
[4] History of Assessment Centers, The International Congress on Assessment Center Methods, viewed 4th November 2019, <https://www.assessmentcenters.org/history>
[5] Spychalski, A.C., Quinones, M.A., Gaugler, B.B., & Pohley, K. (1997). A survey of assessment center practices in organizations in the United States, Personnel Psychology, vol. 50, pp. 71–90.
[6] Assessment Centres, Hays, viewed 4th November 2019, <https://www.hays.com.hk/employer-services/HAYS_373284>