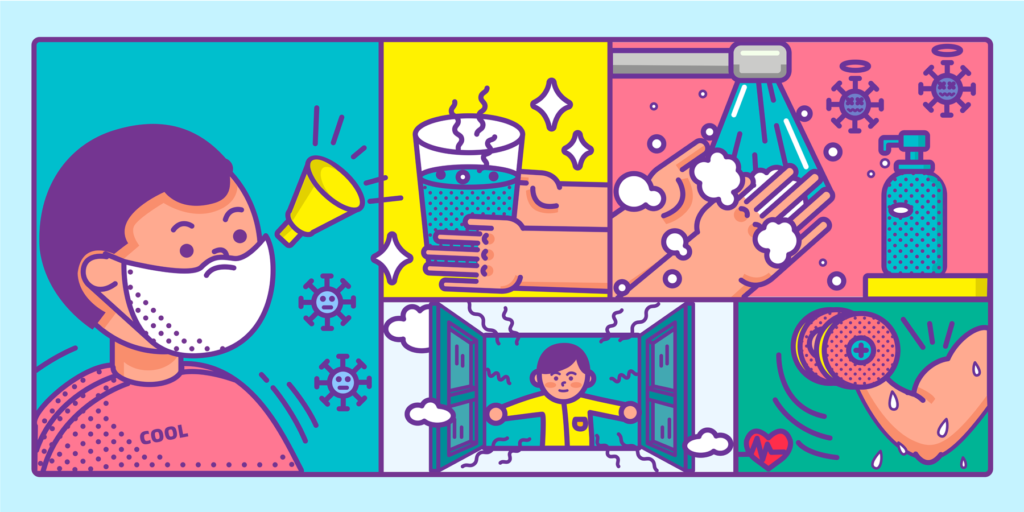 By Beijing United Family Hospital
The outbreak of COVID-19 has been the leading public health story since it was first identified a few months ago. Initially detected in China, cases have now been reported across the globe. While coronaviruses themselves make up a large family of viruses that are common in people and other species, this new strain, identified as SARS-CoV-2, is not fully understood. Although the majority of cases have been considered mild, older people and those with certain underlying health conditions, such as heart or lung diseases, diabetes and other chronic ailments are at increased risk of developing serious illness.
With offices now slowly returning to work, Beijing United Family Hospital's (BJU's) expert team of human resources professionals and managers share insights on how best to keep workflows operational and safe. This article provides guidance on how to protect those in healthcare settings during this time, supported by policies and regulations from the United States Centers for Disease Control and Prevention (US CDC) and other sources.
Despite the low risk of exposure in most job sectors, employees in some fields should take precautions when returning to work. Workers at increased risk of COVID-19 include those involved in healthcare (including pre-hospital and medical transport workers, healthcare providers, clinical laboratory personnel and support staff); coroners, medical examiners, and funeral directors; those involved in airline operations and waste management; and those traveling to areas with increasing numbers of identified cases. Therefore, ensuring an efficient healthcare system—one that is functioning and continually able to diagnose and treat patients—is paramount to the successful containment of the disease. It is vital that healthcare institutions continue to provide care for all patients, regardless of their COVID-19 infection status. This must be done at all levels (home-based care, outpatient or inpatient and emergency room). Generally, the goals of any response should be to reduce morbidity and mortality, minimise disease transmission, protect healthcare personnel and ensure the healthcare system remains effective.
Several major impacts that could affect the operational capacity of healthcare facilities can be expected during a severe outbreak such as COVID-19. These include: an influx in the number of patients seeking care; a potential increase in workforce absenteeism due to personal or family illness; and other measures, such as school closures, as we have seen throughout China and now overseas. In response, healthcare facilities can adjust the way they triage, assess and care for patients, particularly adapting measures that do not rely on face-to-face care, thereby reducing transmission of diseases and decreasing the burden on the healthcare system.
At hospitals, a temperature reading must be taken from any visitors. These could then be appropriately dealt with based on the results of their temperature scan and a further epidemiological screening assessment. In order to reduce the number of patients coming to the hospital and risking exposure, some facilities offer online consultations to the community, with a few hospitals providing this service for free. This step reduces the number of people physically present in the hospital, while also supporting those in the community. Other healthcare providers could consider similar protocols in order to stay engaged in the community while protecting staff and patients.
Additionally, as mentioned, healthcare personnel are at increased risk for COVID-19, as they are on the front line caring for patients. Healthcare providers (HCPs) can minimise their risk of exposure by following infection prevention and control guidelines, including the proper use of personal protective equipment (PPEs). They should use standard precautions, contact precautions, and airborne precautions and eye protection when caring for patients with confirmed or possible COVID-19. Performing proper hand hygiene with soap and water or alcohol-based hand rubs before and after all patient contact, contact with potentially infectious materials, and before putting on or removing PPE, including gloves, is essential. This will mean facilities will have to optimise their supply of PPEs, which can be done by identifying additional mechanisms and supply chains that can help procure such items.
Lastly, education is key to fighting any epidemic. It is prudent to keep healthcare staff informed and up-to-date on any new information regarding COVID-19. It is recommended to train all workers and educate staff on workplace protocols in place to prevent the likelihood of exposure. Training can include information about how to isolate individuals with suspected or confirm COVID-19 and how to report possible cases. Staff should be kept up-to-date on the most recent epidemiological information, government policies, infection control measures and PPEs. This is to ensure all staff are competent in dealing with patients who may have COVID-19, and to guarantee a safe environment for both staff and patients.
The true impact of COVID-19 across the globe still cannot be accurately estimated. As the disease continues to spread across borders, including back into China, we must unite together and support our communities to protect the health and wellbeing of all. All healthcare facilities can take the proper steps now to protect both patients, their families and staff. Be prepared, communicate with staff and patients, and protect your workforce and patients.
---
BJU is part of United Family Healthcare, a pioneering, international-standard health system providing comprehensive, integrated healthcare in China in a uniquely warm, caring, patient service-oriented environment since 1997.
To help support efforts in our hospital and in the community to combat the spread of COVID-19, we at BJU have posted online several knowledge-sharing posters about how to properly wear and dispose of masks, along with the proper way to wash hands. These can be found on our official WeChat channels and are available upon request. We at BJU are with you all the way.
Further reading:
https://www.cdc.gov/coronavirus/2019-ncov/hcp/caring-for-patients.html
https://www.cdc.gov/coronavirus/2019-ncov/healthcare-facilities/guidance-hcf.html
https://www.osha.gov/SLTC/covid-19/hazardrecognition.html
https://www.cdc.gov/coronavirus/2019-ncov/healthcare-facilities/steps-to-prepare.html