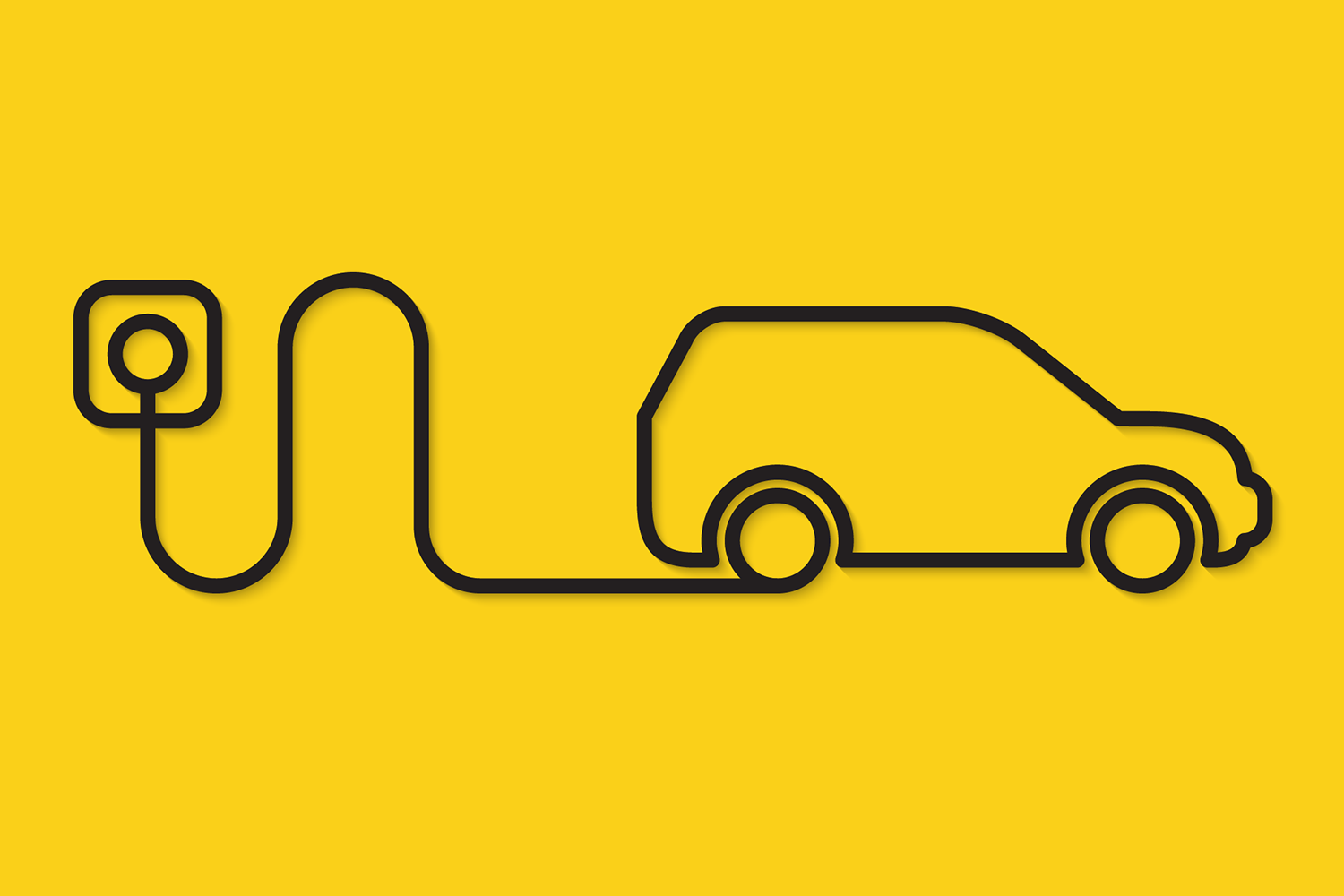 China's new energy vehicle (NEV) ownership had reached over 2.6 million (including both passenger and commercial vehicles) by the end of 2018, with a compound annual growth rate of 120 per cent over the past five years.However, the construction of charging facilities in China is not keeping pace, which is impeding further development of the NEV industry. Most owners of large NEVs in China rely on public charging stations. As a result, their charging experience is far from ideal and, unfortunately, also unlikely to improve significantly in the short term. Can original equipment manufacturers (OEMs) improve customer experiences through innovative business models, service offerings and app functionalities in order to continue driving NEV adoption? L.E.K.'s Yong Teng, Eric Wang, Yiru Lou and Dennis Ding compare mainstream approaches adopted by OEMs and propose corresponding strategies to improve customers' charging experiences.
Charging infrastructure Issues
China's charging infrastructure is severely lagging relative to the rapid growth of NEV ownership. Currently, each charging point needs to serve around three and a half NEVs.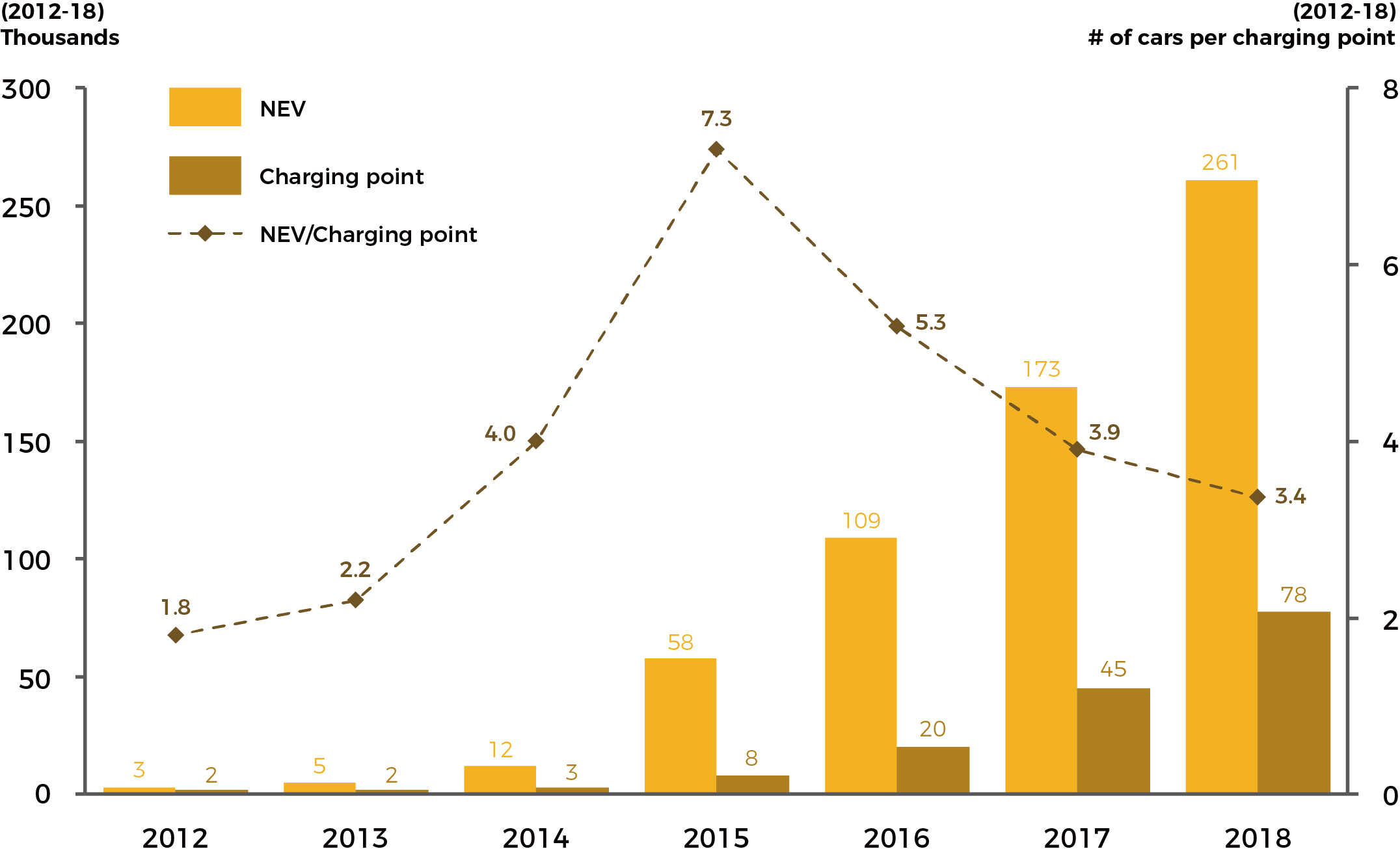 Due to infrastructure constraints, the penetration rate for private charging points is still low—at just 22 per cent—and is expected to remain so in the short term. The National Energy Administration set a target of building 700,000 private charging points by 2017, but only 40 per cent of that goal was realised. Two factors are restricting the establishment of private charging points: insufficient private parking spaces in which to build private charging points and insufficient power capacity at residential communities.
The public charging infrastructure market is still in an early 'cash burning' model, with low profitability posing a serious challenge to charging point operators (CPOs). This will make it difficult to achieve the government's target of 4.8 million charging points and a one-to-one NEV-to-charging-point ratio by 2020.
Therefore, despite most NEV owners relying on public charging points, they are facing significant pain points in the 'locate', 'charge' and 'pay' process of their charging journey.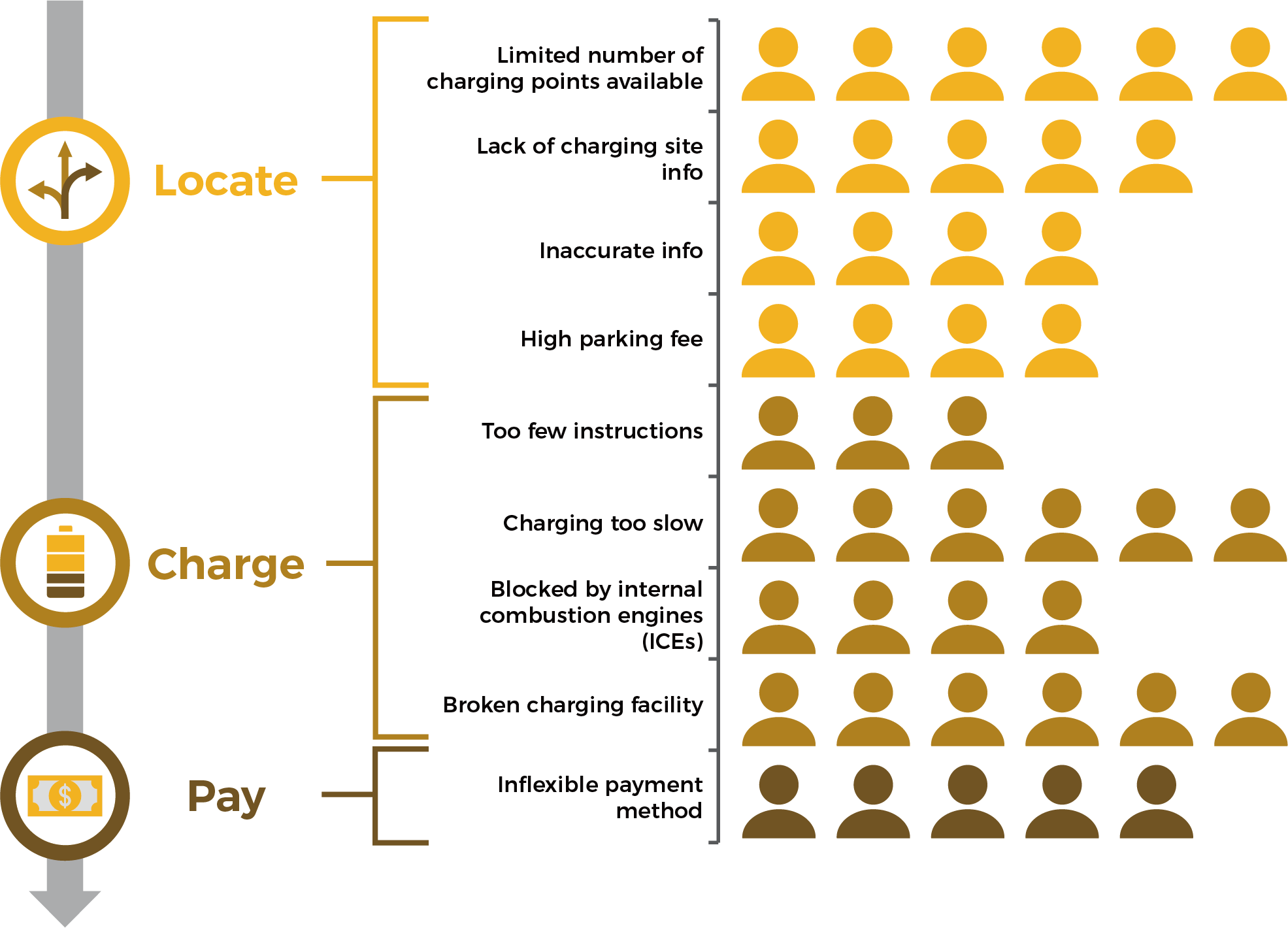 What's needed: a sustainable charging service model
Major market players adopt various strategies to improve charging experiences. Below is an analysis of their approaches from three aspects: business model, service offering and app functionalities.
In terms of business models, more and more OEMs choose a light-asset model and stay away from construction and operation of charging facilities.
Fewer and fewer OEMs choose to self-build a large-scale charging network. This is due to traditional OEMs facing sales and profitability challenges, and emerging NEV OEMs facing capital constraints in the current market.
Nevertheless, a light-asset model does not mean completely giving up all control of the physical charging network. Effectively leveraging third-party charging resources, obtaining real-time charging information, and launching innovative value-added services based on collected data will be key for OEMs.
In service offerings, some OEMs have made a few innovative attempts, from mobile charging vans, valet charging and battery swapping, to wireless charging and robotised charging solutions. However, the actual economics are rather questionable.
It is challenging for mobile charging vans and valet charging services to become mainstream. These services are more applicable to special use case scenarios such as emergency road assistance. Examples of the difficulties include:
They require high capital and labour investment. The cost of a single trip by a mobile charging van is Chinese yuan (CNY) 250 – 300, while customers usually pay less than CNY 200 at a charging station. A typical mobile charging van runs three cycles per day and can charge six cars per cycle. As the number of mobile charging vans increases, the total cost grows proportionally, making it difficult to achieve economies of scale. For OEMs that currently provide such services, the utilization rate is only 20 – 30 per cent.
Although unlikely to become mainstream services, mobile charging vans and valet charging services can be positioned as a marketing tool that alleviates customers' range anxieties. For example, a mobile charging van can deliver charging services across different geographical locations. It provides an alternative for NEV owners in emergency situations, easing range anxiety.
A battery-swapping service is more suitable for fleet owners, such as taxi or ride-hailing service providers. There are several challenges when applied to private vehicle owners:
Operation mode: Battery packs do not have a standard design, which means the battery-swapping machinery can be used for specific vehicle models only.
The investment is big, making it hard to realise a profit: The upfront investment includes CNY 1 million construction costs, CNY 80,000 – 100,000 per battery pack, CNY 20,000 – 30,000 per month site rental fee and CNY 8,000 – 9,000 per month in labor. A typical battery-swapping station also needs around 10 backup battery packs. Furthermore, training, R&D and security require large capital investment.
Opportunities exist for fleet owners, such as taxi, bus or ride-hailing service providers: Fleet operators use identical car models, providing economies of scale. For instance, BAIC has completed eight million battery-swapping services for taxi and ride-hailing fleets across four cities and 116 stations in China.
In-app functionalities all have rich features, but they lack a differentiating design.
Most available apps provide highly similar functions, concentrating on charging point searches, charging information collection, smart charging, multiuser management and remote payment to meet basic customer demands.
There are many innovative charging app functions recently launched in the market, including charging point locating, remote problem-solving, and intelligent time management of private charging points. Nevertheless, customers still want functions that directly address their pain points, such as a de-internal combustion engine (ICE) function, and operational public charging point recommendations and reservation (please refer to the last section of this article for more details). Although a few OEMs have made some attempts, such functionalities have not been widely promoted because they require close collaboration between the OEM, CPO and parking lot operator.
Recommendations for OEMs
Facing the long-term gap between the rapid growth of the NEV industry and sluggish construction of charging infrastructure, OEMs should identify their differentiated competitive advantages.
Whether to self-build physical charging infrastructure should depend on the OEM's strategy and investment appetite. Although the light-asset model is becoming predominant, OEMs can build their market premium brand image through selectively building their own charging points and investing in new technologies.
It is imperative to integrate public charging resources at the app level. OEMs can leverage NEV traffic data as a bargaining chip when negotiating with major CPOs to achieve better data integration.
OEMs should select from among various innovative charging modes, focusing on the ones that fit their branding image and target customers. If they are targeting the mass market, services such as mobile charging vans, valet charging and battery swapping will need detailed cost/benefit analysis.
OEMs should offer features that target specific pain points along the charging journey. Here are some examples.
OEMs should understand the strategic importance of building a seamless and differentiated charging experience to continue driving NEV adoption. It is imperative to have the business model, new technologies and service offerings, and app functionalities that match their overall strategy.
---
Company Introduction
L.E.K. Consulting is a world leading management consulting firm founded in Europe in 1983 and started business in China from 1998. L.E.K. Consulting now has 20 offices in Europe, USA, Asia and Australia, with over 1,200 employees and over 100 partners.