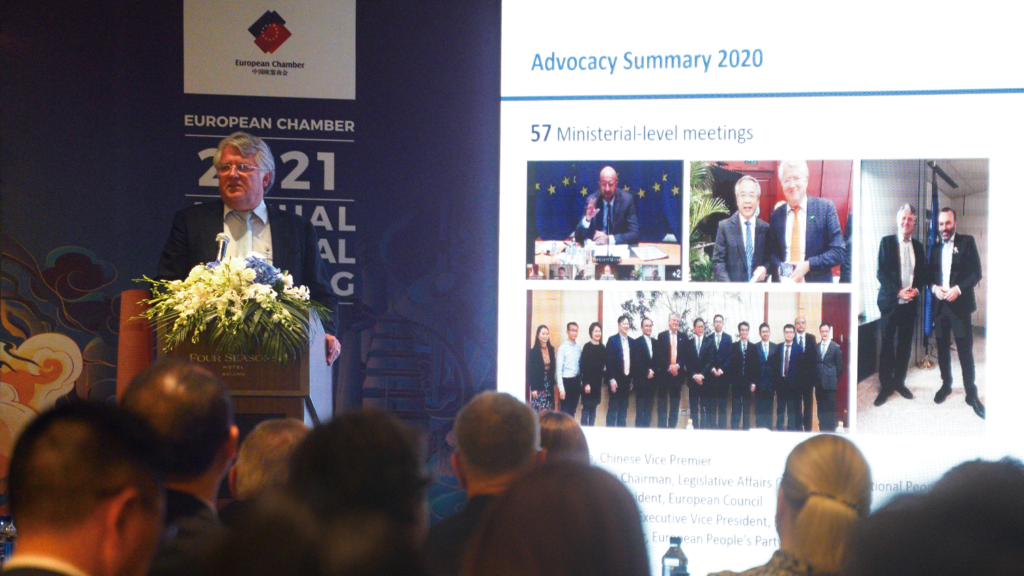 European Chamber Annual General Meeting
The European Chamber held elections for our Executive Committee and local chapter boards from 13th April to 28th May 2021.
Beijing
The elections for the European Chamber's president, three vice presidents and treasurer took place during the Annual General Meeting (AGM) in Beijing on 27th May.
We are pleased to announce that Jörg Wuttke was confirmed as president, with no other candidates for the role. He will chair the Executive Committee, which is responsible for providing strategic direction for the Chamber and representing our more than 1,700 member companies. Jörg is continuing his third stint as president, and has so far spent a total of eight years in the role; from 2007 to 2010, 2014 to 2017, and 2019 to now.
The three elected vice presidents—Bruno Weill, Carlo D'Andrea and Guido Giacconi—and a treasurer, Marko Tulus, will also be part of the Chamber's Executive Committee.
In the weeks leading up to the AGM in Beijing, local board elections were also held in the European Chamber's six other chapters across China (see opposite page). In their respective capacities as the elected chairs of the Shanghai, South China and Southwest China chapters, Bettina Schoen-Behanzin, Klaus Zenkel and Massimo Bagnasco, have also been appointed as vice presidents of the Executive Committee. Charlotte Roule has also been invited to remain as a board member until she leaves China later this year.
The States Representatives were selected by the Supervisory Board on 28th May, after presentations were given by seven potential candidates.
President
Jörg Wuttke, BASF
Vice Presidents
Carlo D'Andrea, D'Andrea & Partners
Guido Giacconi, In3act
Bruno Weill, BNP Paribas
Treasurer
Marko Tulus, Sandvik
States' Representatives
Matthias Goebel, Lufthansa
Peter Ling-Vannerus, SEB
Renata Pavlov, Fincantieri
Nanjing
The Nanjing Chapter board elections took place on 15th April, with the following results:
Chair
Andreas Risch, Fette Compacting (China) Co Ltd
Vice Chair:
Bernhard Weber, Baden-Wuerttemberg International Economic and Scientific Cooperation (Nanjing)
Board Members
Sofie Gielen, Epiroc Trading Co Ltd
Frank Redecker, REACH Talent Consulting (Xuzhou) Co Ltd
Jianhua Shan, BASF-YPC Co Ltd
Shanghai
The local board elections for the Shanghai Chapter took place on 11th May 2021, with the following taking the seats available:
Chair
Bettina Schoen-Behanzin, Freudenberg Group
Vice Chairs
Pius S. Hornstein, Sanofi China
Francis Liekens, Atlas Copco
Board Members
Roberto Donà, International Business School Suzhou, Xi'an Jiaotong-Liverpool University
Jens Ewert, Deloitte
Allan Gabor, Merck
Holly Lei, Covestro Polymers (China)
Shenyang
The Shenyang Chapter board elections took place on 13th April 2021, returning the following candidates:
Vice Chair
Harald Kumpfert, Dezhong Green City
Board Members
Franz Decker, BMW Brilliance Automotive
Stephane Gonnetand, Dalian ODC Marine Manufacture Co Ltd
Erich Kaiserseder, Conrad Shenyang
South China
The local board elections for the South China Chapter took place in Guangzhou on 28th April, when the following candidates were returned:
Chair
Klaus Zenkel, Imedco Technology (Shenzhen) Co Ltd
Vice Chairs
Fabian Blake, AMS Products Assembly (Foshan) Co Ltd
George Lau, TÜV Rheinland (Guangdong) Co Ltd
Board Members
Blandine Cressard, Residence G Shenzhen
Alessandro Fiorito, Autoneum Nittoku Guangzhou
Gianluca Giorgi, ES Automation Consulting
Joanna Ye, Mazars Guangzhou
Southwest China
The Southwest China Chapter held its AGM on 8th April 2021, and the following board members were elected at the meeting:
Chair
Massimo Bagnasco, Progetto CMR (Beijing) Architectural Design Consultants
Vice Chair
Paul Sives, Proton Products Chengdu Ltd
Vice Chair and Chongqing Representative
Dominik Widmer, SinoSwiss Holding
Board Members
Xavier Arnaud, ADEN Group
Jennifer Birdsong, Chengdu International School
Ali Sheikh, Vista
Dieter Vanonckelen, Md Business Management (Chengdu)
Tianjin
Taking place on 22nd April 2021, the local board elections for the Tiianjin Chapter saw a record-breaking nine candidates competing for five positions. Members chose the following:
Chair
Christoph Schrempp, Airbus (Tianjin) Delivery Centre
Vice Chair
Julian Jeffrey, Wellington International School
Board Members
Jürgen Hasenpusch, Volkswagen
Florian Thomas Mack, Airbus (Tianjin) Final Assembly
Zhu Xuejun, Leybold Vacuum (Tianjin) International Trade Co Ltd