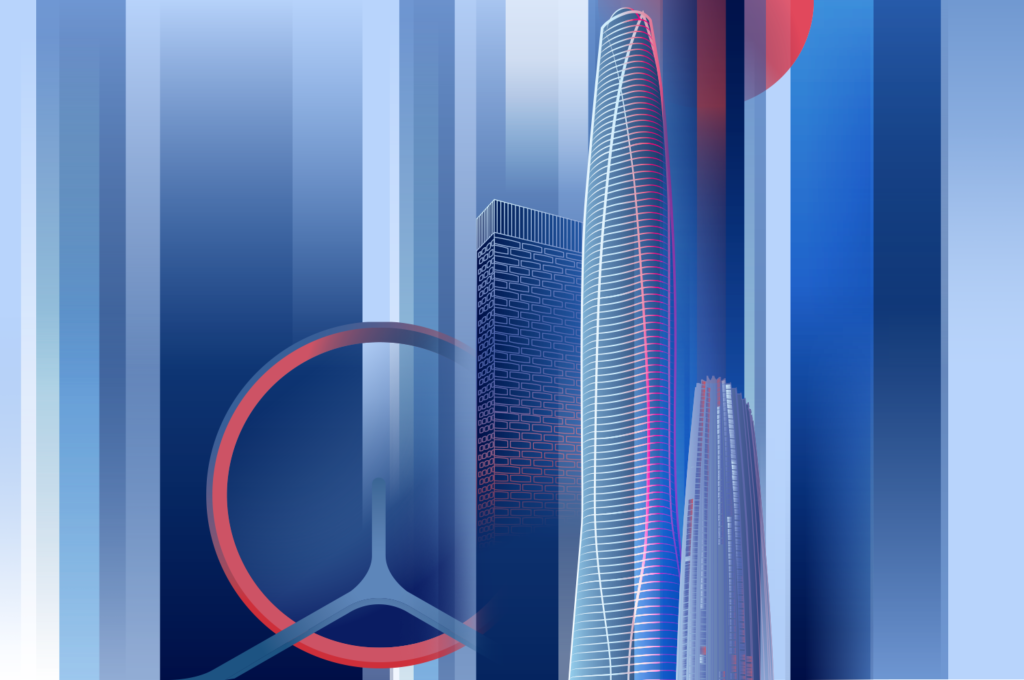 The impact of oversupply and COVID-19 on Tianjin's office rental business
Being only a half-hour train journey from the centre of Beijing, Tianjin often gets overshadowed by the neighbouring Chinese capital. Yet, the concession areas of this port city were where many foreign companies first established themselves in China at the turn of the 20th century, and, a hundred years later, Tianjin still hosts many regional headquarters of European enterprises that are leaders in their individual industries. However, as Housing China explains, this has had a knock-on effect on the local office building market.
In recent years, Tianjin's office building stock has increased sharply, but the demand growth rate is lagging behind, leaving the overall market in a state of oversupply. The vacancy rate of office buildings in some areas exceeded 40 per cent at the end of 2019 and early 2020, which allows tenants to occupy a dominant position in rental negotiations.
In such a situation, the elasticity of the price of grade A office buildings increases, as does the overlap between prices for grade A and grade B office buildings. Measures such as super long rent-free periods or reservations of areas, from one room to whole floors, have also started to appear in the Tianjin market, which further indirectly reduces costs for tenants.
Intermediary agencies account for 50 per cent of the total transaction volume of the Tianjin office building market. Therefore, in order to speed up the rental process, the managers of many new projects choose to cooperate with such agencies. Projects may host promotion events for an agency, convene small-scale project discussion activities and launch phased preferential housing sprint activities. The cooperation methods and incentive policies available are also more abundant. For example, as well as the basic commission, agents also often receive a personal extra cash reward or gift, in addition to rewards for first visit, second visit, intention-to-sign, formal contract signing, exceeding contracted area targets and so on.
New builds exert pressure on old projects through strategies such as low rent, high commission and cash-with-visit rewards. The vacancy rate of office buildings over five years old has increased, while overall market demand is insufficient. More than 60 per cent of transactions come from Tianjin's existing tenants' demand for cost evaluations of new offices.
New supply projects, equivalent to 36 per cent of the existing stock, are expected to enter the Tianjin office building market from 2020–2022, which will bring more choices to the rental market. With weak demand growth, the vacancy rate will rise further.
In order to adapt to the changes of the Tianjin office building market, more and more buildings have introduced more flexible rental products (logo + manager's office + finance room + conference room) on the basis of the traditional delivery standard of roughcast (ceiling + white wall + net floor); for example, a large open office area equipped with workstations designed for intensive information technology tasks or customised decoration. During the pandemic, as enterprises tried to greatly reduce their office expenses, they turned to direct check-in spaces; as this option reduced costs for enterprises, it also reduced the difficulty for operators of leasing out office space.
Consulting services and technology, media and telecommunications (TMT) industry clients make up over 50 per cent of the total turnover of the Tianjin office building market. Affected by the COVID-19 outbreak, traditional industries have gradually changed their business models. This has led to vigorous demand for artificial intelligence, big data, e-commerce, online education, biological medicine, epidemic prevention and so on. At the same time, the phenomenon of broken lease contracts is emerging in logistics, trade, cultural tourism and other personnel-intensive enterprises. It is expected that, in the next two to three years, the TMT industry will continue to drive new demand, while consulting services and financial industry demand will remain stable.
It is worth mentioning that, during the pandemic, some state-owned enterprises based in Tianjin were supported by the state rent reduction and exemption policy: rent was cancelled from 7th February to 6th May 2020, and halved from 7th May to 6th August 2020. For small and medium-sized enterprises (SMEs), buildings eligible for rent relief suddenly became very scarce, while the vacancy rate of SOE office buildings is falling, in contrast to the market norm.
As a result of the COVID-19 pandemic, the Tianjin office market will face new pressure, and operating office rental buildings will also encounter greater challenges. In the short-term, the market will continue to be in an adjustment period. In order to succeed, future office products should incorporate digital technology to create green, healthy, intelligent office buildings; plan business support facilities for the whole building while also meeting the needs of enterprises and employees; and clarify industrial positioning, import core enterprises and form clusters. Operators should provide a variety of delivery standards to meet the office needs of different types of enterprises. Only by creating differentiated office products can a service provider stand out from the market competition.
---
Housing is the largest comprehensive real estate operation service provider in Japan. The company was founded in 1958. In 1994, Housing China, a specialised comprehensive real estate operation service enterprise, was established. It was listed on the Tokyo Stock Exchange in 2002.
Housing has five regional business divisions and branches in northeast, north, east, southwest and south China, covering more than 20 major cities in China. It focusses on providing industrial planning, business leasing, property management, enterprise services, building renovation and intelligent building systems for industrial parks, commercial real estate and urban complexes Development, operation and other comprehensive real estate operation solutions. For more information, please contact Amy Jia at jiadan@housing-cn.com