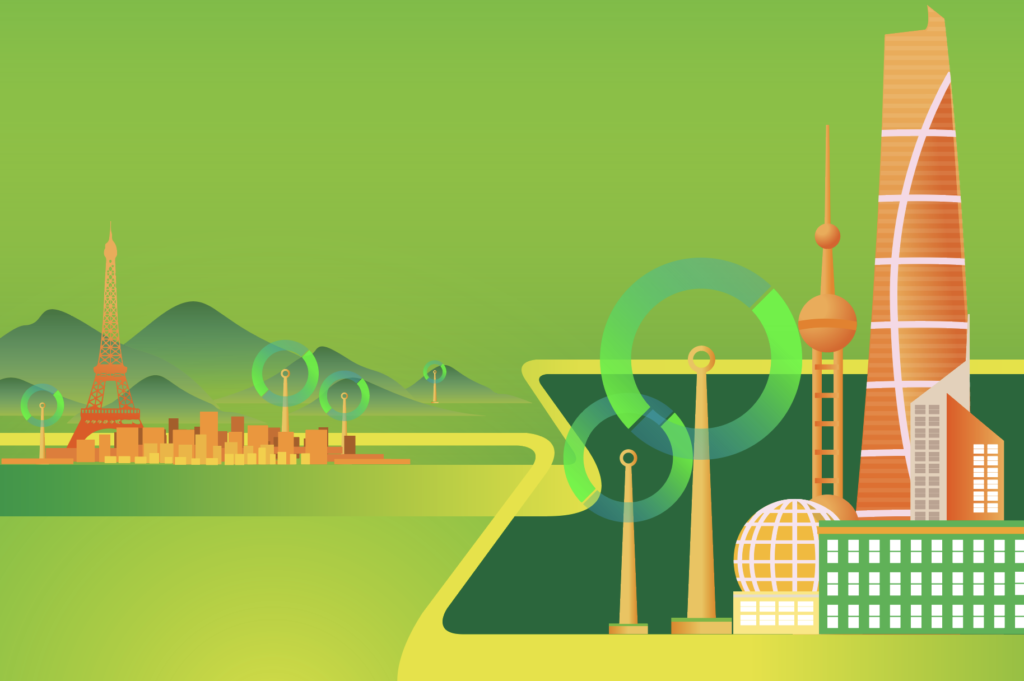 European and Chinese parties collaborate on sustainability
The inaugural China-Europe Energy Technology Innovation Cooperation Forum took place in Beijing on 28th October 2020, with leading industry figures from both Chinese and European enterprises, alongside representatives of Chinese institutions and European Union (EU) member state embassies, in attendance. The event was co-organised by the European Chamber and the China Electric Power Planning & Engineering Institute (EPPEI), and supported by the National Energy Administration (NEA).
The aim of the forum was to provide a platform for European and Chinese enterprises to exchange technical cooperation needs, match projects, and lay a foundation for joint demonstration projects and promoting commercialisation of advanced technology both in China and the EU.
The forum got underway with an opening address by Lin Shanqing, vice administrator at the National Energy Administration. This was followed by welcoming remarks from Xu Xiaodong, vice president (VP) of EPPEI, who also acted as compère for further opening speeches by representatives of the host organisations, including the following:
Jörg Wuttke, president, European Chamber;
Octavian Stamate, counselor, Energy Division, Delegation of the EU to China;
Yu Gang, deputy general manager, China Energy Engineering Group; and
Du Zhongming, president, EPPEI.
In his welcoming address, President Wuttke said China is facing an energy revolution, to which Chinese President Xi Jinping is key. President Wuttke noted that, in order to realise Xi's target of carbon neutrality by 2060, China would have to decarbonise while its energy demands are still growing – a very different situation to that faced by the EU. He pointed out that China will have to retire 660 gigawatts (GW) of carbon-producing power sources by 2050, which is enough to power the whole of Europe. He also said a key issue in developing sustainable sources of power will be energy storage, and ensuring sufficient resources to meet peak demand, while energy-intensive industries—such as information and communications technology, which relies on data centres that use a lot of power supplies—will have to be carbon-neutral in the future.
The main section of the forum was comprised of thematic speeches grouped under three topics: 'Energy Transition and Green Recovery Fuelled by EU-China Energy Technology Innovation Cooperation', moderated by Guido Giacconi, chair of the European Chamber's Energy Working Group; 'Practice and Experience-sharing on EU-China Energy Technology Innovation Cooperation', moderated by VP Xu; and 'Build Supporting Networks Together', moderated by Mr Giacconi.
The topic of 'Energy Transition and Green Recovery Fuelled by China-EU Energy Technology Innovation Cooperation' was examined from both a Chinese and European perspective. He Zhao, director of the International Business Department of the EPPEI, gave the Chinese side of the situation with a presentation entitled 'China-EU Energy Technology Innovation Cooperation Drives Energy Transition'. Director He first outlined the status quo of the energy transition in China, which he said had a total primary energy consumption of 4.86 billion tonnes of coal equivalent (tce) in 2019, of which non-fossil energy consumption accounted for 15.3 per cent. He said carbon emissions are expected to peak in China between now and 2030, during which time Chinese yuan (CNY) 25 trillion will be invested in the energy sector. Half of that investment will be dedicated to the power sector.
Director He then highlighted the key technical areas and their related challenges. He said that, in terms of consumption, low-carbon technology for long-distance transportation, such as shipping and sea transportation, is still immature. High energy-consuming sectors, such as steel production, still heavily rely on fossil fuels. And while new buildings can be designed to be carbon-neutral, it can be difficult and expensive to convert older buildings.
In terms of supply chains, Director He said the efficiency of renewable energy use is still low, while the control technology needs to be developed further. With transmission, wind and solar energy is quite volatile and may require new types of power grids, and Director He echoed the issues with storage mentioned previously by President Wuttke.
Director He said there is great potential for China-EU cooperation on alleviating or solving these problems and challenges. Following this forum, the EPPEI and the European Chamber will organise several technical exchange activities. The EPPEI will collect input from local governments and domestic enterprises, and release guidelines on key areas for cooperation. It will join forces with the Chamber again to explore the establishment of a China-Europe Energy Innovation Cooperation Fund to provide financial support for research, development and project incubation of new energy technologies.
From the European side, Mr Giacconi gave a presentation on 'European Energy Technology Innovation and Green Recovery Plan'. He noted that the issue is not just getting rid of fossil fuels, but also changing the energy grid; for instance, advanced economies mainly replace and digitalise existing grids while elsewhere the focus is on increasing grid intensity in order to meet growing demand.
Mr Giacconi said he believed that European Chamber/EPPEI cooperation could drive decarbonisation in both the EU and China. He pointed out that the 27 energy markets in the EU have the lowest energy intensity in the world—meaning that the amount of energy used to produce a given level of output or activity is lower—due to the technology and methods used in the bloc.
Mr Giacconi also said that Chinese companies have already invested in the Italian renewable energy market, leading to Italy now having the highest level of solar and wind power in the EU. He concluded by directing attendees to the recommendations made by the European Chamber Energy Working Group in its Position Paper 2020/2021.
The second topic 'Practice and Experience-sharing on China-EU Energy Technology Innovation Cooperation' was further divided into sub-topics. Presentations on each sub-topic were as follows:
Integrated Energy System

Technical Innovation and Engineering Practices of Integrated Energy System – Xu Yue, deputy director, Technology Innovation and Information Technology Department, China Huaneng Group

Urban Integrated Energy Solutions – Roland Schoorl, director, Energy Services Department, EDF Group

Zero-carbon and Carbon Capture Technology Innovation – Xu Zhonghua, vice president, Total

Regional Energy System Based on High Temperature Fuel Cells – Erkko Fontell, CEO, Convion.

Smart Energy

Development, Practice and International Cooperation of Integrated Smart Energy – Zhang Zhi, vice general manager, SPIC Integrated Smart Energy Science & Technology

Smart Energy Technology Innovation Promotes Zero-carbon and Low-carbon Development – Damien Dupont, head, Strategy and Business Development, ENGIE

Practice and Exploration of Smart Energy and Digital Grid of China Southern Power Grid – Liu Yuquan, vice general manager, Guangzhou Power Supply Bureau

Power Grid Digitalisation and Virtual Power Plant Technology – Ulrich Kaltenbach, director, International Affairs, Energy & Meteo Systems

Hydrogen

Mid- and Long-term Hydrogen Planning of Shandong Province – Zhao Nannan, deputy division director, New Energy and Renewable Energy, Shangdong Energy Administration

Innovation and Application of Hydrogen Production by Renewable Energy – Zhao Zuozhi, head of Asia-Pacific, New Energy Business, Siemens

Hydrogen Technology Innovation and Cooperation with Europe – Wan Yanming, general manager, Hydrogen Technology Research Institute, CHN Energy

Innovation and Application of Hydrogen Storage and Transportation – Mickael Naouri, director, Corporate Affairs, Air Liquide (China) Holding

Renewable Energy

Development of Renewable Energy and Application of Technology Innovation in China – Yan Bingzhong, director, International Department, China Renewable Energy Engineering Institute

European Offshore Wind Power Innovation Technology – Wattez Ambroise, SBM Netherlands

Experience-sharing on Smart Wind Power Cooperation with Europe – Liu Ye, deputy director, Product Marketing, Envision Technology Group

Offshore Wind Power Engineering Practices and Technical Cooperation Needs – Liu Donghua, deputy director, Wind Energy Technology Centre, China Energy Engineering Corporation (CEEC) Planning and Engineering

Energy Storage

Innovation and Application of Energy Storage System – Zhang Xianli, vice president, Solar Power Storage, SUNGROW

Technology Innovation of Advanced and Highly Secured Power Storage – Zhou Bo, vice president, Snam
The forum concluded with the topic 'Build Supporting Networks Together', with four speakers outlining ways in which the EU and China could cooperate on boosting sustainable energy. Zhao Lijian, chief representative of Carbon Trust, spoke of how collaboration could help share costs, drive development and spread learning, as well as maintaining a leading role in the market by pitching clients together. Alessio Petino of the EU SME Centre described the funding and support options available under the EU's H2020 Green Deal. Li Zhang, partner with Cathay Smart Energy Fund, outlined their plans to invest in areas such as energy start-ups, battery-charging/swapping facilities, and industrial internet services. And last but not least, Wang Fei, director of International Cooperation at TusStar, shared their best practices in global innovative high-speed rail networks.