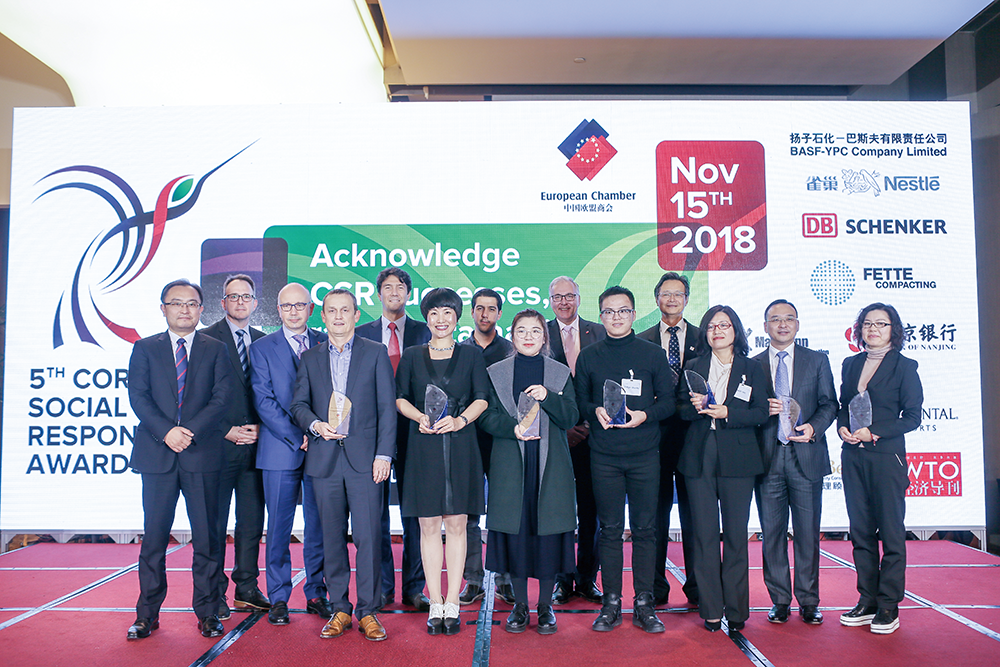 The European Chamber Presents Its 5th Corporate Social Responsibility (CSR)  Awards
On 15th November 2018, the European Chamber hosted its 5th CSR Awards & Conference in Nanjing. This event offered a rich platform for promoting the best practices in CSR, sustainability and innovation in China and the EU. Ilian Mihov, Dean of INSEAD, Professor of Economics and the Rausing Chaired Professor of Economic and Business Transformation, prepared the following remarks based on his identification with the values exemplified by the CSR Awards. He called his presentation A New Path to Prosperity: Business as a Force for Good.
Over the past 30 years, something happened that has never happened in the history of the world. In 1990, 66 per cent of the Chinese population—756 million people—lived in extreme poverty. By 2013, that number had fallen to 26 million, or less than two per cent of the population. This year, the percentage of people in China living in extreme poverty is set to drop below one per cent. For the first time since 1800, fewer than one billion people worldwide will live in extreme poverty. We are witnessing an economic miracle.
There is one overriding cause for this miracle.These dramatic improvements in living standards, healthcare, child mortality rates and other social gains were created fundamentally by one force – economic growth.
Over time, economic growth reduces poverty. Without companies building factories, providing services and hiring people, there is no output, no income, no growth. Business has been a force for good in a way we
have never seen before.
Yet over this period, tensions between business and society have risen. Trust in business is faltering. In some countries, only 30 per cent of people trust business. Globally, 60 per cent of people believe that
greed drives CEOs more than a desire to make a positive difference in the world.
In this same period, new challenges have emerged, such as environmental pressures, cybersecurity threats, economic strain and geopolitical tension around the world.
The idea that companies must focus solely on expansion and efficiency to create economic wellbeing is dated. It is a narrow definition of business as a force for good. For business to continue to contribute to
positive progress, leaders should explore more broad and holistic approaches to business and society.
Moving to the broad view
Practically speaking, this means we need a new kind of development with CSR principles at the core. Achieving this new kind of development will not happen without rethinking the relationship between business
and society. There are three fundamental ways the private sector can broaden this role of business as a force for good.
Consider the outcomes: In the process of value creation for any company, leaders must consider the effect of their economic activity on society. Minimising negative impacts and maximising positive outcomes must be fundamental to the business plan. It is not about working with civil society, it is about new beliefs regarding how business interacts with communities and the environment.
Invest in innovation: There are situations when neither private efforts, nor regulatory ones, can solve the problem. Society needs innovation to overcome these challenges. Businesses can tap into the global network
of researchers, experts and people with experience to identify the problem and seek solutions. Incredible opportunities are opening for those who innovate new approaches, new technologies and new business models.
Cooperate and collaborate: Sometimes market failures are so pervasive and deep that no single actor can solve the problem alone. Some market challenges are so vast and so complex that coordinated action by all is needed. Regulation certainly has a role to play, but collaboration among businesses, governments and civil society is the catalyst for real-world results.
Transition to a set of new norms
One such shortcoming is that markets tend to undersupply commodities that are valuable assets – clean air, clean water, disaster resilience and disease control, to name a few. Furthermore, there are social issues that business do not address because it is generally not profitable, such as electrification in remote areas, biodiversity and habitation protection, CO2 emission reduction, access to education and more.
The takeaway is clear. To be a force for good under a broad, holistic interpreta­tion of the term, business must integrate the social impact it creates into strategy and decision-making. We must change the fundamental norms and beliefs about the role of business if we are to create a sustainable path for the future of the world. We must consider CSR. It is now up to all of us to deliver equitable and sustainable growth that does not come at the expense of people or our planet.
China leading the way forward
China has been engaging in this conversa­tion for quite some time now. The formali­sation of ecological civilisation establishes a new policy framework that facilitates ecologically sound and sustainable devel­opment. China has also been active and engaged as a leading voice in multilateral processes that produced the Sustainable Development Goals, the Paris Climate Change, the International Strategy for Disaster Risk Reduction and a host of other agreements that shape global development in our challenging times.
This leadership in China is increasingly ap­parent, especially on environmental issues such as carbon pollution. We see it at the local level, with projects like the Shenzhen International Low Carbon City, a China-EU Partnership on Sustainable Urbanisation that shows how policy can point to innova­tive sustainability solutions. At the national level, carbon markets tested in cities across China are now expanding to put a price on carbon pollution in the world's second larg­est economy. These actions are inspiring, both in China and outside its borders.
Our global responsibility and opportunity
INSEAD takes this responsibility very seri­ously, which is why we support the Europe­an Chamber's 5th CSR Awards. Through our Hoffmann Global Institute for Business and Society, we articulate the need for more responsible and sustainable business mod­els and transformative change at a global scale. We congratulate the winners of the 5th CSR Awards and applaud their efforts to lead this transformation.
The Chamber gratefully acknowledges the support of our sponsors: BASF-YCP, Nestlé, DB Schenker, FETTE Compacting and Maverlinn.