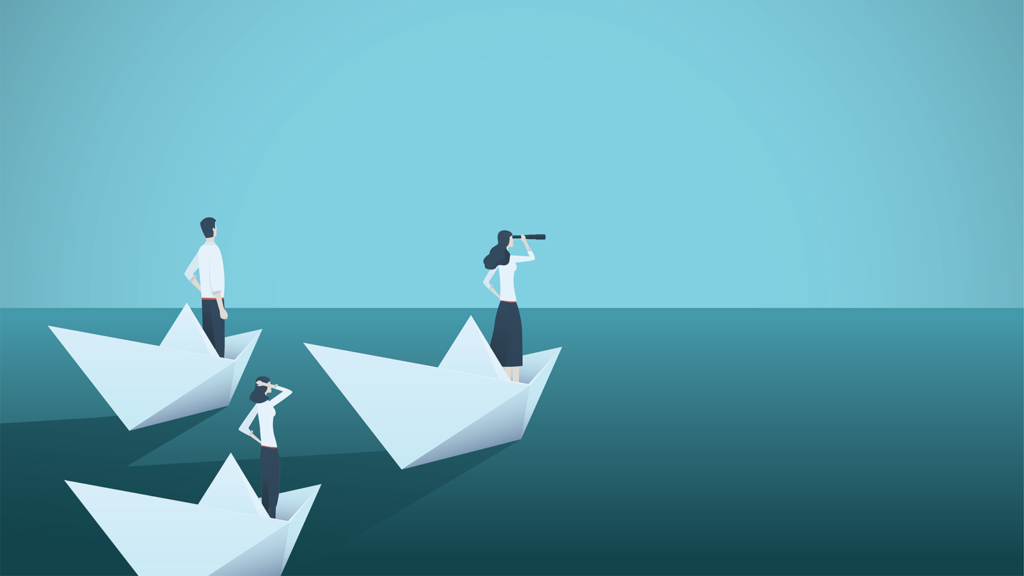 European Business in China Business Confidence Survey 2020
In February 2020, when European Chamber members had completed the Business Confidence Survey (BCS), the economic impact of the COVID-19 outbreak had just started to become apparent. Initially, many European companies expected one or two extra weeks to be added to the Chinese New Year holidays. Instead they faced weeks of near complete economic paralysis. Rachel Rapaport, Working Group and Communications Coordinator with the European Chamber, tells us how the comparatively rosy picture of China's business outlook painted by members in early February is now vastly different to the one today, just four months later.
China-based European companies now find themselves navigating in the dark, trying to find the best way forward. In February, nearly half of BCS respondents had reported optimism about growth over the next two years. When the virus hit, a patchwork of local fiefdoms sprang up throughout China, in which officials imposed their own rules, bringing the movement of goods and people to a standstill. National chambers noted that even towards the end of April, significant numbers of companies were still not fully staffed or back to full capacity. The situation is in constant flux, with uncertainty at levels not seen in generations. This has left companies, as one member put it, "not moving towards the light at the end of a tunnel, but feeling your way in the dark for an exit". Although the situation has improved in China, it has worsened in the rest of the world, and the fragility of global supply chains has been exposed as economy after economy is hit by rolling outbreaks.
Although many of these issues fall outside of the immediate control of the Chinese authorities, survey respondents have provided extensive data pinpointing underlying, structural issues in the domestic economy on which Beijing can act. So, while the government may not be able to do much to patch holes in global supply chains, it can accelerate its reform agenda and, by doing so, vastly improve business sentiment during this difficult period.
Even before the virus, financial reporting indicated significant downward trends, with year-on-year revenue growth hitting the lowest level in a decade. Less than half of Chamber members report that their earnings before interest and tax grew. These downward trends are reported disproportionately by small and medium-sized enterprises (SMEs). To offset the widespread economic shocks from COVID-19, China must boost the attractiveness of its markets by prioritising meaningful opening-up and reform, an area that has only seen modest progress in recent years.
That said, there has been some improvement in the sentiment of European businesses towards the China market. In 2019, 53% of members reported that doing business in China had become more difficult in the previous year. In 2020, this percentage dropped four points. Meanwhile, 30% of members feel more welcome in the Chinese market now than when they entered, the highest rate since 2017.
At the same time, market access barriers and regulatory obstacles continue to encumber European member companies. Nearly half face market access barriers; 15% are constrained by direct barriers such as the negative lists for foreign investment, and nearly twice that suffer from indirect barriers like licensing and other administrative issues. Although the revisions to the negative list that took place in June 2019 were trumpeted by China as a major advancement of its opening-up policy, only 41% of members report seeing any market opening in their sector, the same as a year ago. Such stagnancy calls into question the real value of these reforms.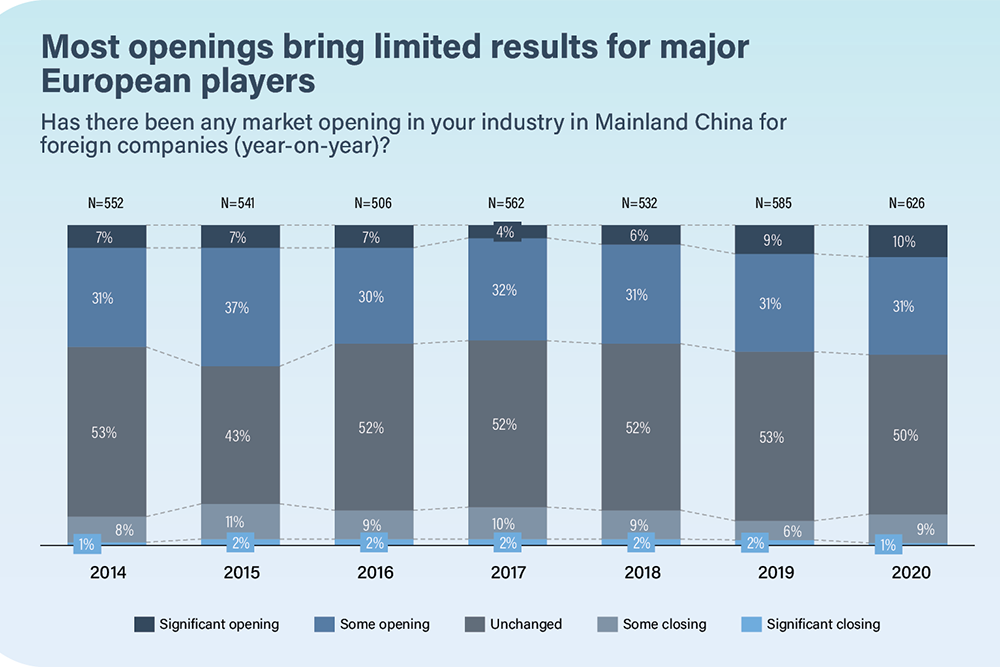 It is therefore no surprise that, even before the pandemic, European businesses were maintaining a cautious outlook. Almost half expected to see an increase in regulatory obstacles over the next year. More than a quarter don't expect to ever see a level playing field, and 40% report that they are treated unfairly compared to domestic companies.
As the global economy suffers, China's growth will depend on the development of a robust and liberalised market. Unfortunately, the data indicates that the Chinese Government has continued to favour state-owned enterprises (SOEs) at the expense of private business. Almost half of BCS respondents believe that SOEs will gain opportunities at the expense of the private sector in 2020, up seven percentage points from the previous year. It is from this divide that a 'one economy, two systems' model emerges. In one 'system', market forces and modern regulatory mechanisms look increasingly international; in the other, critical sectors are dominated by state-owned national champions, while private enterprises are at best stifled or at worst forced out of the market entirely.
The uncertainty of the pandemic means the Chinese Government may look to SOEs as a source of stability and economic growth. This would be the wrong choice. China has been the first country to emerge from the worst of the pandemic. To prove that it can be a leader in a global recovery, it must show its commitment to free and fair markets. Rather than draining more resources from the private sector, China should seize the opportunity to push on with concrete and meaningful market reforms that can reinvigorate business confidence and attract new investment. The strategy of responding to economic crises with reforms has been employed by the Chinese leadership many times before. This crisis should not be any different.
---
Download the European Business in China Business Confidence Survey 2020 from the European Chamber's website.