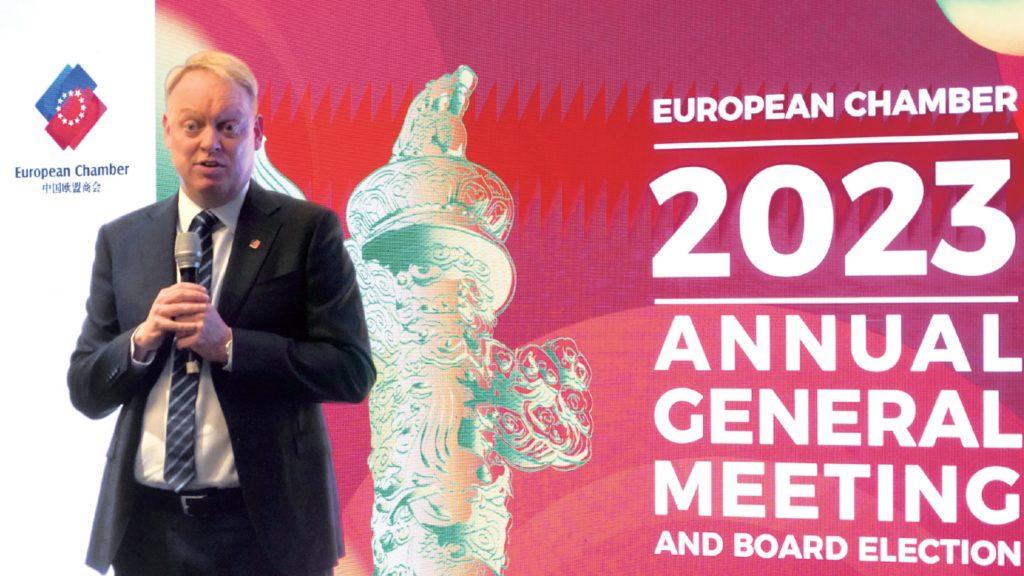 European Chamber 2023 election results
The European Chamber held elections for our Executive Committee and local chapter boards from 11th April to 24th May 2023.
The elections for the Chamber's president, three vice presidents and treasurer took place during the national Annual General Meeting (AGM), held in hybrid format in Beijing on 24th May. Jens Eskelund was elected to serve as president.
President Eskelund, who has lived and worked in China for 25 years, is chief representative for Maersk in Greater China and Northeast Asia. He has served two terms as vice president of the European Chamber—from 2019 to 2021 and from October 2021 to May 2023—as well as State Representative, and has also been actively involved with the Chamber's working groups since the Chamber's inception, including as chair of the International Liner Shipping Sub-working Group (formerly the Maritime Working Group). He has also served as both board member and chair of the Danish Chamber of Commerce in China.
Bruno Weill was re-elected as European Chamber vice president, with Miguel Montoya and Stefan Bernhart both being elected to serve as vice presidents for the first time. Xiaobo Zhang was re-elected as treasurer. Members of the Shanghai, South China and Southwest China chapters had previously elected Carlo D'Andrea, Klaus Zenkel and Massimo Bagnasco as their respective chairs, all of whom will also serve as national vice presidents.
The AGM also marked Jörg Wuttke's 10 years at the helm, in three separate stints, as president of the Chamber. Jorge Toledo Albinaña, ambassador of the European Union to China, delivered a speech on Mr Wuttke's legacy.
The States Representatives were selected by the Supervisory Board on 25th May, with Gianni Di Giovanni, Renato Roldão and Peter Ling-Vannerus the successful candidates.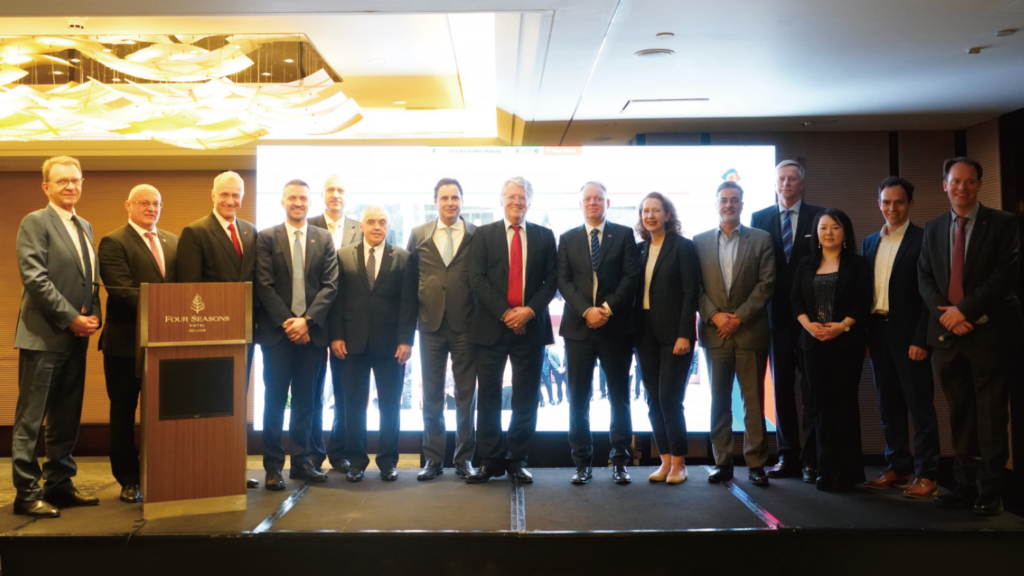 President
Jens Eskelund, Maersk
Vice Presidents
Stefan Bernhart, Volkswagen
Miguel Montoya, KPMG
Bruno Weill, BNP Paribas
Treasurer
Xiaobo Zhang, TotalEnergies
States Representatives
Gianni Di Giovanni, Eni
Peter Ling-Vannerus, SEB
Renato Roldão, ICF
Nanjing
The local board elections for the Nanjing Chapter were held on 27th April, with the following results.
Chair
Andreas Risch, Fette Compacting (China)
Vice Chair
Jianhua Shan, BASF-YPC Company Ltd
Board Members
Alessandro Brenda, Marposs (Nanjing) Automation Co Ltd
Florian Hobelsberger, Diehl Controls (Nanjing) Co Ltd
Frank Redecker, REACH Talent Consulting (Xuzhou) Co Ltd
Shanghai
The Shanghai AGM took place on 18th May, where the following candidates were elected to the board for the next two years:
Chair
Carlo Diego D'Andrea, D'Andrea & Partners
Vice Chairs
Jens Ewert, Deloitte China
Holly Lei, Covestro
Board Members
Charles Billard, Sanofi China
Roberto Donà, International Business School Suzhou, Xi'an Jiaotong-Liverpool University
Felix Hess, Siemens China
Francis Liekens, Atlas Copco China
Shenyang
Elections for the board of the Shenyang Chapter took place on 28th April, when the following were elected to serve for the next two years:
Chair
Erich Kaiserseder, Conrad Shenyang
Board Members
Sebastian Bittner, GG Cable
Diane Chen, Shenyang New World EXPO
Stephane Gonnetand, Dalian ODC Marine Manufacture Co Ltd
Robert Kuessel, BMW Brilliance Automotive
Matt Sullivan, Trench High Voltage Products
South China
The South China Chapter's AGM took place on 11th April in Guangzhou, where the chapter's leadership was elected for the next two years:
Chair
Klaus Zenkel, Imedco Technology (Shenzhen) Co Ltd
Vice Chairs
Fabian Blake AMS Products Assembly (Foshan) Co Ltd
Gianluca Giorgi, ES Automation Consulting Ltd
Board Members
Aaron Finley, Deloitte
Blandine Cressard, Residence G Shenzhen
Chris Gassner, SZMuri
Joanna Ye, Mazars Guangzhou
Southwest China
The local board elections for the Southwest Chapter took place on 13th April 2023 in Chengdu, returning the following results:
Chair
Massimo Bagnasco, Progetto CMR (Beijing) Architectural Design Consultants Co Ltd
Vice Chairs
He Donglin, Siemens Ltd China Chengdu Branch
Leo Zhang, Sika (China) Ltd
Board Members
Raquel Ramirez, RR Consulting
Paul Sives, Proton Products Chengdu Ltd
Dieter Vanonckelen, Md Business Management (Chengdu) Co Ltd
Jessica Wu, IvyU Limited
Tianjin
The Tianjin AGM was held on 12th May, where the following were elected to the board for the next two years:
Chair
Christoph Schrempp, Airbus (Tianjin) Delivery Centre Ltd
Vice Chair
Bernd Averes, Volkswagen Automatic Transmission (Tianjin) Co Ltd
Board Members
Massimo Dinelli, Weilburger Coatings (Tianjin) Ltd
Jiangang Gao, Schlote Automotive Parts (Tianjin) Co Ltd
Cindy Zheng, WAGO Electronic (Tianjin) Co Ltd