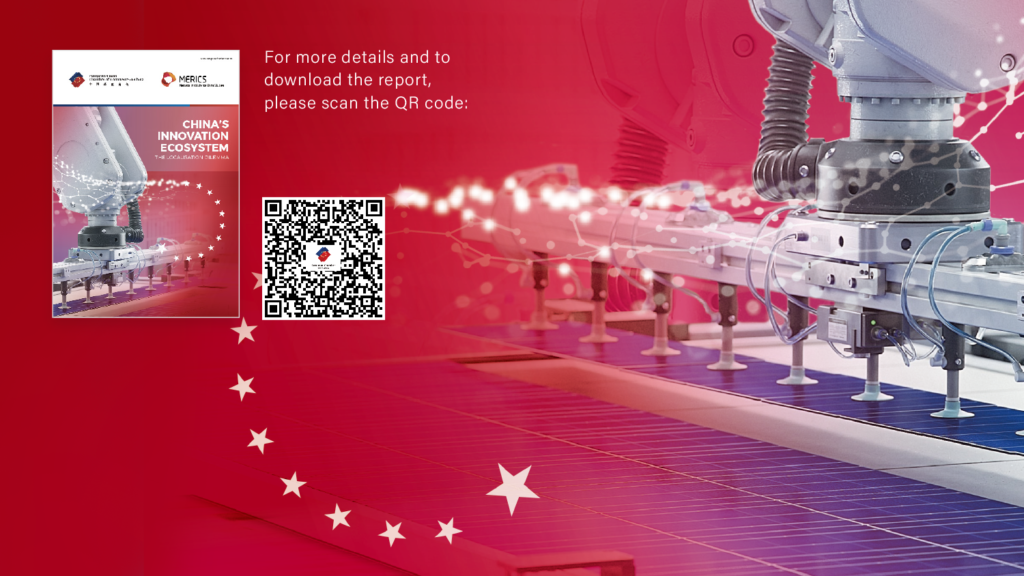 The localisation dilemma
As shown in the European Chamber/Mercator Institute of China Studies (MERICS) joint report China's Innovation Ecosystem: Right for many, but not for all, published in June 2022, many European companies see enormous value in doing research and development (R&D) in China for a number of reasons. The size of the market, the variety of available collaboration partners and the fast pace of commercialisation of R&D results drove some European companies to increasingly integrate their China R&D with their global efforts.
However, the risks of engaging in R&D in China, such as inadequate intellectual property rights (IPR) protection systems, an unlevel playing field for foreign companies and negative sentiment in their home markets towards R&D in China, acted as a deterrent to others. The 2022 report also revealed that the benefits of engaging in R&D in China were not universal: the related risks and challenges were found to be disproportionately larger for small and
medium-sized enterprises and those operating in industries in which investment is not encouraged in China, such as information and communication technology.
The second European Chamber/MERICS joint report, China's Innovation Ecosystem: The localisation dilemma, looks at the wide spectrum of R&D strategies European companies are deploying in China to mitigate risks and maximise their competitiveness. It comes at a time when optimism about business prospects in China is starting to reappear following the country's abandonment of its zero-COVID policy, and as face-to-face exchanges at all levels between Europe and China are gradually resuming.
However, it also comes against the backdrop of steady escalation of the United States-China struggle for technological supremacy, all while geopolitical factors—such as the war in Ukraine—are making the situation more complex. Companies across the board are now placing far greater importance on risk assessments when deciding their future R&D plans. It is therefore especially important for both businesses and policymakers to understand the role European companies play in China's innovation ecosystem, as well as the positive effects and potential liabilities of doing so.
Members of the European Chamber have provided unique insights into China's innovation ecosystem for this second report. A late 2022 survey of 107 members—with extensive follow-up interviews—portrays a complex environment that necessitates a wide range of localisation strategies to be deployed depending on the industry each company is in and the contribution they can make to China's strategic goals, as well as their size. Periodic adjustments to these strategies are also required to both better align with China's increasing innovation capacity and manage emerging political factors that are undermining long-term business confidence.
The main drivers for investing in China remain the same as in 2022. In addition, a number of regulatory factors are both positively and negatively influencing R&D strategies, with some incentivising companies to localise and others forcing companies to put strict limitations on their R&D operations. The cons of investing in China also remained similar: weak IPR protection (34 per cent), an unlevel playing field (32 per cent) and limited or non-existent government support (24 per cent). However, of those that can access R&D-related government support, policies reported as having had a positive impact on R&D activities include tax incentives (46 per cent), access to related subsidies (35 per cent), and those related to attainment of high- and new-technology enterprise status (32 per cent).
Further complicating the picture is the Chinese Government's ongoing advancement of its technological self-reliance campaign, aimed at creating completely localised supply chains insulated from external shocks, while expanding the country's access to foreign technology. This is resulting in increased pressure for certain companies to localise technology and onshore R&D into China. While demands to do so are coming primarily from state-owned enterprise and government customers, private business partners are increasingly exerting their own influence.
One of the core requirements for investing in R&D is a predictable and reliable business environment. While business confidence was deeply eroded by China's stringent zero-COVID policy and the subsequent lockdowns and travel restrictions, many European companies are optimistic and expect this to be restored over time.
On the other hand, the impact that geopolitics is having on the stability of China's business environment is only expected to worsen. Nearly half of respondents reported negative impacts on R&D strategies resulting from Russia's invasion of Ukraine, and many interviewees said the role that corporate risk assessments are now playing in strategy-making is unprecedented. A potential escalation of Russia's war in Ukraine or further frictions in the Taiwan Strait are scenarios that businesses are taking into account, and the potential risks they pose do not support a case for increasing R&D investments in China.
These factors, among others, pose a dilemma for European companies. The rewards of localising technology and R&D into China are considerable, but so are the potential hazards. The broad spectrum of strategies being employed by European companies are bookended by two opposing views: as one company noted, it is essential to do R&D in the China market to make the most of the innovation ecosystem and compete for market share with domestic rivals; the other posed that since China's system favours local competitors and because technology leakage risks are high, it makes more sense to secure and increase their share in other markets outside China; their logic being that there they only have to compete with their Chinese counterparts, and not the Chinese Government as well.
For more details and to download the report, please click on the link below: https://www.europeanchamber.com.cn/en/publications-innovation-report