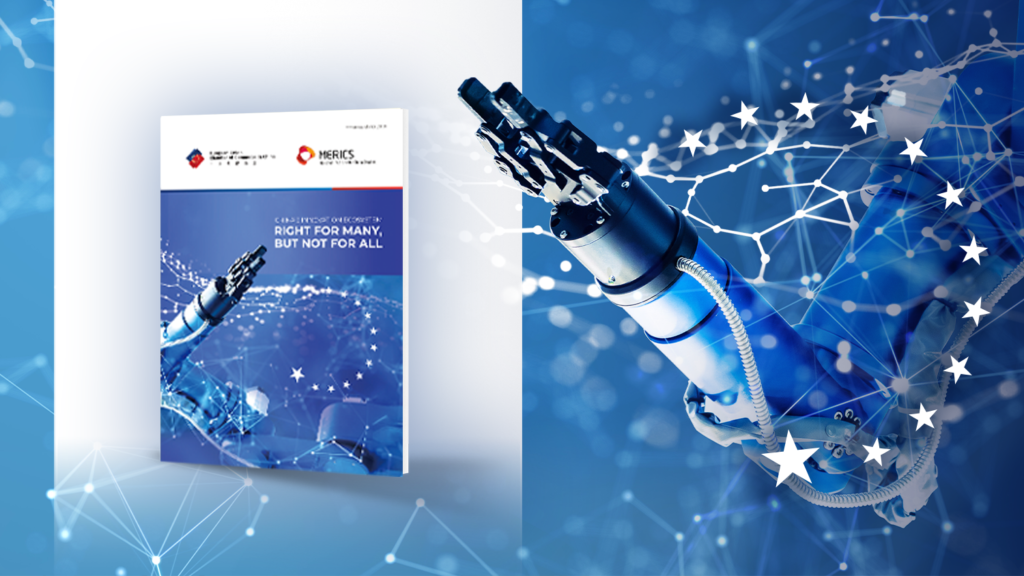 Right for many, but not for all
As technology becomes an increasingly central point of friction between the European Union (EU) and China, it is imperative to hone a sharp understanding of the role that European companies play in China's innovation ecosystem. For this reason, the This article is based on a report by the European Chamber of Commerce in collaboration with the Mercator Institute for China Studies (MERICS), which conducted a survey of Chamber member companies engaged in R&D in China to understand the opportunities and difficulties they encounter.[1]
---
European companies recognise that China's R&D ecosystem is increasingly vibrant and has many advantages over the rest of the world. Among the advantages most commonly cited by Chamber members during interviews for the report was the number and variety of collaboration partners, which ranged from established national champions to companies that are part of China's vibrant start-up ecosystem and inventive scientists and researchers. Survey respondents also widely praised the size of the market (68%) and the fast pace of commercial application of R&D results (68%). For many, this kind of R&D environment allows them to develop products in China that can then be rolled out globally.
Respondents report increasingly high integration between their China-based innovation work with their global efforts. Participating companies also noted the mature nature of their China-based R&D activities, with a majority using their local innovation capacity to refine existing products, as well as to create new goods and services alongside new business models and operational improvements. This stands in contrast to the early days of European companies doing innovation in China almost exclusively for localisation of products developed in home markets. In fact, some companies reported that they 'scout' for new innovative products/services in the Chinese market in order to develop similar products in their home country before the Chinese product expands overseas.
While positive factors were considerably more common among respondents, some negative aspects emerged as well, including: weak intellectual property rights (IPR) protection systems (32%); an unlevel playing field for foreign companies (27%); negative sentiment in companies' home markets towards R&D in China (23%); and insufficient local talent (18%), which specifically referred to challenges with hardware engineers, as reported by many of the interviewees.
Those that reported unequal access to government support (82% of respondents) noted several causes, including: opaque or unclear application information/processes for accessing grants and subsidies (58%); administrative challenges not faced by local companies (42%); support schemes that are not publicly announced, but communicated only to local companies (37%); and explicit rules preventing foreign companies from accessing support (26%).
However, while participants in both the survey and interviews held positive overall views on doing innovation work in China, the benefits that European companies can derive from it very much depends on the sector they are in. Therefore, the potential opportunities and rewards of participation must be soberly weighed against the associated risks. In other words, China's R&D environment is a microcosm of its overall market – it is not for everyone.
In that sense, the generally positive findings of the surveys and interviews must be viewed in the context of the industries that are the most represented in this study's limited sample size, which are chemicals (29% of total respondents), machinery (16%) and automotive(13%). These industries are ones in which European companies have experienced considerable success in the China market and enjoyed improved market access and increasingly favourable conditions in recent years.
In fact, these same industries were identified in the 2021 joint report by the European Chamber and MERICS, Decoupling: Severed Ties and Patchwork Globalisation, as falling into 'business class' and 'economy class' in China – i.e., those that receive the red-carpet treatment or are at least welcomed to contribute to China's economy.  Meanwhile, industries languishing in the 'cargo hold'—like information and communication technology (ICT), telecommunications and all things digital—find themselves increasingly squeezed out of the market, and are struggling with local R&D as a result. Companies from the 'cargo hold' are disproportionately underrepresented in this latest survey on innovation in China. One ICT member company explicitly refused to take part in the survey for fear it would attract negative government attention at a time they are attempting to negotiate on sensitive issues.
Conclusion
It is important that the complete findings of this report be understood in a broader context. Companies, especially MNCs, in business and economy classes are likely to be as optimistic about the R&D ecosystem as they are about the China's business environment in general. Meanwhile, those stuck in the cargo hold, or soon to be jettisoned mid-flight, are likely to be as pessimistic about the R&D ecosystem as they are about their overall prospects in a political economy that no longer wants them competing for market share against indigenous national champions.

---
[1] Please note: The survey and interviews were conducted throughout winter 2021/2022, and may not reflect changes in sentiment following the outbreak of the Russian war in Ukraine or the COVID lockdowns in Shanghai. The European Chamber's Flash Survey: COVID-19 and the War in Ukraine: Impact on European Business in China may provide more insights on these issues.