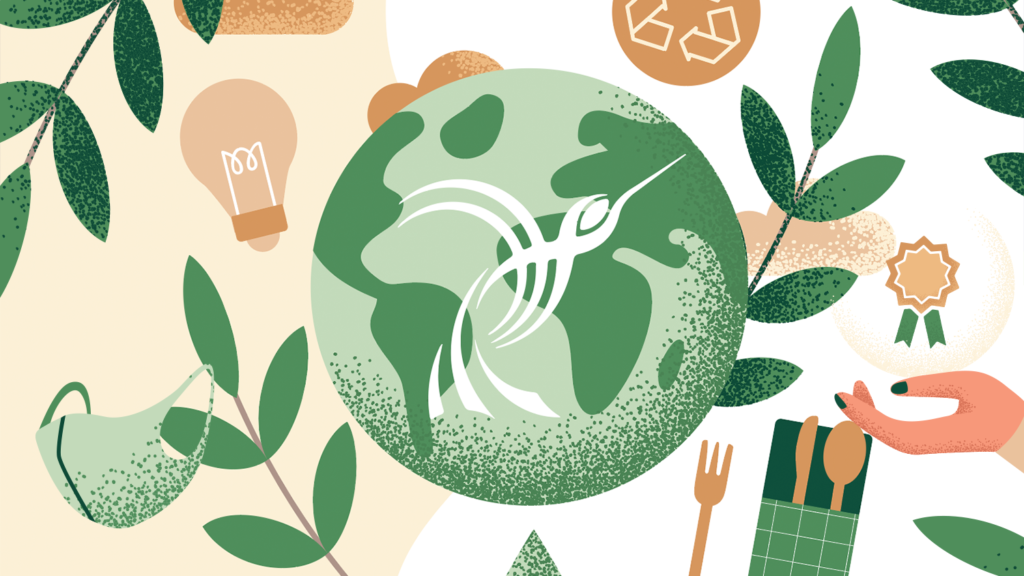 Business as a force for good in times of crisis
On 19th November 2020, the European Chamber hosted its 7th Corporate Social Responsibility (CSR) Awards and Forum in Nanjing. The event provided participants the opportunity to share viewpoints and case studies on the exercise of CSR in times of crisis. In this article, Chia-Lin Coispeau, partner at Maverlinn Impact Innovation and Yves Reymond, head of the Economic Department of the Swiss Embassy in China, share a synopsis of the keynote speeches and panel discussion.
---
The CSR Awards were initiated by the European Chamber's Nanjing Chapter in 2014, and have since become a yearly signature event that symbolises the engagement of local members in developing a healthy and sustainable society for future generations. If any lesson is to be drawn from 2020, it is that the health and sustainability of all societies are indeed vulnerable. When crises emerge in these areas, everybody is affected, which makes successful cooperation vital for recovery.
Challenges and hopes in times of crisis
The pandemic has dragged the world's economy into recession. Global gross domestic product (GDP) is forecasted to contract sharply by 4.1 per cent in 2020. China is the only major economy with growth prospects in 2020, with an anticipated rise of 1.8 per cent – its slowest pace on record. In the euro area, economic activity will decline by a record 7.9 per cent. More significantly, the economic impact of the pandemic is highly heterogeneous and exacerbates inequalities between and within countries. Global growth is projected to rebound to 5.2 per cent in 2021, on the assumption that the health situation will ease gradually. Despite this, the International Monetary Fund (IMF) expects the recession to have a long-lasting effect, with a cumulative loss in global output expanding from United States dollars (USD) 11 trillion in 2020/2021 to hit USD 28 trillion by 2025. This translates into a severe setback for living standards worldwide.
Partly as a result of the increased economic and geopolitical tensions in 2020, China's 14th Five-year Plan hints towards a significant strategic evolution. According to a Qiushi article by President Xi Jinping, the construction of "autonomous and controllable" domestic production systems in key areas has to be achieved.[1] Consequently, the Dual Circulation economic policy is now consensually seen as an announcement for more self-reliance. Likewise, the reinforcement of supply chains in third countries will lead to relocations of factories and businesses outside China. For example, when it comes to medical supplies, it is clear that no country will continue to accept that a large part of its paracetamol supply depends on a single factory in China.
Against this backdrop, we Europeans have to review the opportunities and challenges ahead. It is encouraging to note an increased sense of unity. In recent months, Europe showed its strength, and its institutions decided on an ambitious response. It also worked efficiently with its closest neighbours, like Switzerland. The European Union (EU)'s long-term budget, coupled with the NextGenerationEU initiative, has allocated euro (EUR) 1.8 trillion to help create a post-COVID-19 Europe that will be greener, more digital, more resilient and more innovative.
Sustainability is a global concern and a global challenge. Instruments like the 2015 Paris Climate Agreement and the United Nations (UN) Sustainable Goals have been created to shape a global response. It is now important to implement this response and European countries have a leading role to play. For example, Switzerland is leveraging the financial sector through the International Network of Financial Centres for Sustainability. In the 2019 Beijing Call for Biodiversity Conservation and Climate Change, France and China emphasised the need for green trade agreements. It is through concrete achievements and de facto solidarity that we can better face the many challenges ahead. Businesses' actions and engagement will be fundamental to our success.
How to make CSR strategic?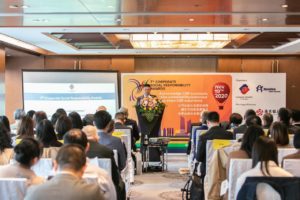 The force of CSR lies in making it strategic. CSR is not about prioritising environmental and social concerns over shareholder interests; it is about finding solutions to those problems in a way that serves shareholder interests. It is not just marketing; it is a market opportunity. Ideally, CSR should be related to a company's core activity and be used to create a strategic advantage.
To achieve this, empirical evidence has demonstrated that client and customer engagement is a key factor. Such engagement helps companies re-evaluate their products and better meet consumers' needs. For example, textile producers have been developing clean manufacturing procedures following pressure to do so from end-consumers.
Enabling the development of cross-sector clusters is also a powerful way to achieve shared value: partners, suppliers and employees are on the frontlines of operations and can—if given the chance—identify important avenues for sustainability. For example:
A multinational committed to plastic neutrality partnering with suppliers from different sectors to develop alternative packaging;
A leading certification company partnering with a software producer to develop a platform for responsible sourcing; or
An academic partnership with a Swiss Polytechnic school facilitating the development of a new form of environmentally friendly cement that can reduce the material's carbon footprint by up to 40 per cent.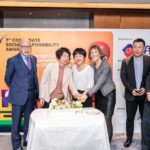 Finally, leadership commitment is needed to encourage organisations to rethink their value chain. In multinational companies as well as in small and medium-sized enterprises, a clear goal needs to be set. Here, the aim is to achieve a company culture that empowers people to find real solutions to the problems they are dealing with. For example, to face the challenge of underage workers, a clothing company decided not to lay them off—which would have not solved the underlying issues—but rather to develop a local vocational education system. This approach also allowed the company to build up the skillsets of its future employees.
European companies in the context of today's China
During the UN General Assembly in September, President Xi Jinping announced China's target of achieving carbon neutrality by 2060. European and Swiss companies have the competence to contribute strongly and help China achieve this goal. This is particularly true in the energy, construction and automotive sectors, which will be essential players in the transition to a low-carbon and renewable energy economy.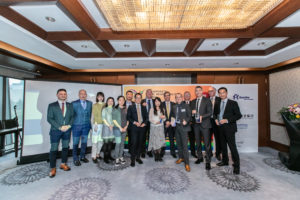 There are also enormous opportunities for companies in various other sectors, including finance. Indeed, European and Swiss financial institutions are the most advanced in the world in terms of green financing, green bonds or environmental, social and governance-fund management. A large part of China's ability to transition to a greener, low-carbon economy will require creating a set of rules and regulations, as well as a set of banking and investment services, that will ensure the huge pool of Chinese and international capital and funds are primarily directed towards financing green and sustainable projects and companies in China.
While innovation will continue to be a significant driver for the success of companies, it is important to keep in mind gender and diversity. In fact, research has shown that diverse teams can develop more innovative ideas.[2] The Women's Empowerment Principles, initiated in 2010 by UN Women and UN Global Compact, provide a useful framework to help companies promote gender equality.
In conclusion, the COVID-19 crisis has provided a unique opportunity for companies to invent new and more resilient economic models. Tomorrow's winning business models will be developed around a three-Ps trilogy, focussing on people, planet and profits. To be successful, corporate perceptions of those three issues might require paradigm shifts.
—————————–
The authors take this opportunity to thank the European Chamber, the judges, the winners and all the applicants, and the speakers of the 7th CSR awards for providing such an enriching platform for exchanges and discussion. In particular, this article includes elements raised in the keynote speeches of Jean-Marc Fenet, minister counsellor of the French Embassy in China and Bruno Weill, state representative of the European Chamber in China and BNP Paribas Group representative in China, as well as from experiences shared by panelists from Arkema, GRE Investments, Nestlé, Netspring and UN Women China.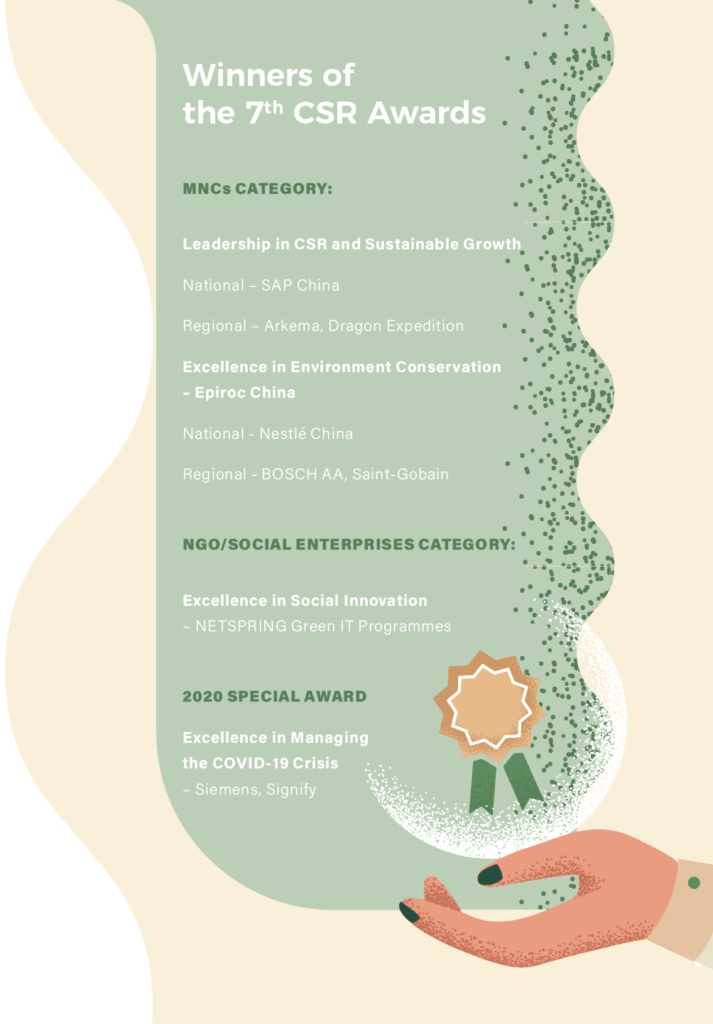 ---
[1] President Xi Jinping, The country's medium- and long-term economic and social development strategy has a number of major issues, Qiushi, 31st October 2020, viewed 31st December 2020, <http://www.qstheory.cn/dukan/qs/2020-10/31/c_1126680390.htm> (link in Chinese)
[2] Chamorro-Premuzic, Thomas, Does Diversity Actually Increase Creativity?, Harvard Business Review,  28th June 2017, viewed 31st December 2020, <https://hbr.org/2017/06/does-diversity-actually-increase-creativity>