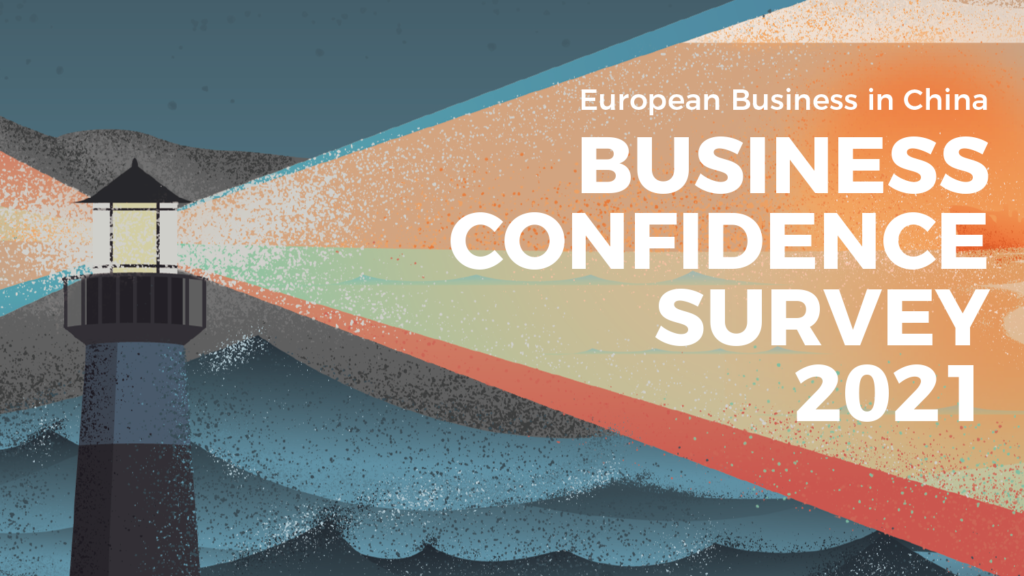 European Business in China Business Confidence Survey 2021
The European Business in China Business Confidence Survey 2020 reported that European companies found themselves "navigating in the dark," as the COVID-19 pandemic upended economic norms. In a separate February 2020 survey, half of respondents expected a year-on-year (y-o-y) decrease in revenue, with a paltry 0.5% expecting an increase. Companies spoke extensively of making their global supply chains more resilient and diversifying into other markets.
Contrary to those expectations, European companies in China found themselves in a resurgent market, after production went back online far quicker than had been initially anticipated. Although y-o-y revenue shifts were the worst in a decade, 42% of respondents actually saw revenues increase in 2020, with the biggest surges in business-to-consumer industries like retail and automotive.
Yet, despite the notable downward shift in revenues y-o-y, three out of four companies ended the year with positive earnings before interest and tax (EBIT), the same share as have been profitable for the last five years. China became a critical pillar in the global operations of many European multinationals, with 51% of companies reporting that their EBIT margins in China were higher than their worldwide average, a 13-percentage point increase from the previous year. Looking forward, 68% of European companies in China are now optimistic on growth, a 20-percentage point increase y-o-y.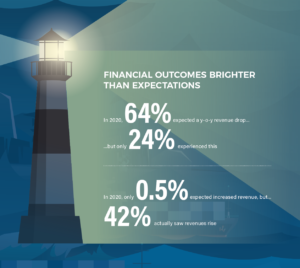 Unfortunately, the pandemic took a dramatic toll on the foreign employees of European companies in China. COVID-related travel restrictions negatively impacted 73% of respondents, a large number of whom still have foreign experts stranded outside of the country.
Having successfully navigated those dark times, European companies are keeping one eye on the horizon, and are preparing to shift strategies to address the coming storms.
Over a quarter of manufacturers are onshoring their supply chains, five times as many as are offshoring. Meanwhile, 27% of companies in a joint venture (JV) increased their positions, with 18% taking a controlling share and 2% buying their partner out and forming a wholly foreign-owned enterprise. Importantly, this is not just chasing the growth potential of China's economic recovery, this is long-term thinking on how to remain and build scale in this critical market.
To be successful, European companies will need to chart a precarious course between a growing number of obstacles. Those now regularly stem from the increasingly politicised business environment, as reported by the 41% that thought business had become more political. Significantly, as this was before the mid-March 2021 European Union-China sanctions and the coordinated social media attack on European clothing brands, it is reasonable to assume that the percentage of members reporting this may well have increased.
As political tensions rise, European companies are attempting to gauge their exposure to decoupling and technology divergence and prepare accordingly, but many simply cannot. A worrying third of manufacturers report that they have at least one imported component or piece of equipment for which there are no viable alternatives, and about half note that alternatives will come with higher costs, lower quality and/or compatibility issues. Despite their best efforts, it is highly probable that a fully onshored supply chain will remain elusive for most.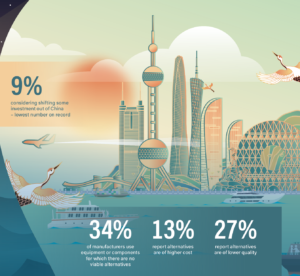 It is becoming apparent that a type of decoupling is indeed happening, though not the one that was intended by those seeking to drive foreign companies out of China. Instead, European companies are exploring ways to decouple their China operations from their global ones, with the goal being local self-reliance to avoid cross-border ties in supply chains, technology, data flows and digital systems.
As they batten down the hatches, European companies note that many of the obstacles ahead of them are long-standing:
Market access continues to improve, but only marginally. Barriers are reported by 45% of members, with 12% noting that they are direct, like the negative lists, and 33% reporting that they are indirect, like opaque licensing procedures and administrative approvals.
Unequal treatment persists for 44% of respondents. A small share of members believe that foreign companies receive better treatment than local firms, a problem that must be dealt with as urgently as favouritism towards local players.
SOE 'reform' continued to disappoint. Only 15% of respondents expect that the private sector will gain opportunities at the expense of the state-owned sector, with 48% expecting the opposite.
Compelled technology transfers persisted for 16% of respondents, the same number as last year, despite the Foreign Investment Lawprohibiting this practice being conducted through administrative measures. This is unsurprising to European companies, as they have long argued that it is China's market access regime forcing them into JVs that sees them being compelled to transfer their technology.
New regulatory challenges emerged. A third of respondents have been negatively impacted by the regulatory requirements surrounding the vague and broadly-defined concepts of "critical information infrastructure" and "autonomous and controllable technology".
Intellectual property rights (IPR) enforcement continues to steadily progress, and 2021 marks the first time that a majority of respondents found IPR enforcement to be adequate or excellent.
The journey ahead will be precarious, and European companies are bracing for more challenges. While the importance of the China market has perhaps never been clearer, it is going to become increasingly difficult for companies to manage the long-standing, internal regulatory challenges of doing business within the strict boundaries of China's state-directed economy alongside the external risks emanating from unwanted political confrontations and technology divergence. As the voyage becomes riskier, the end-rewards must grow commensurately. This would be best achieved through a resurgent reform agenda that completes China's market opening story and provides European companies with a level playing field.