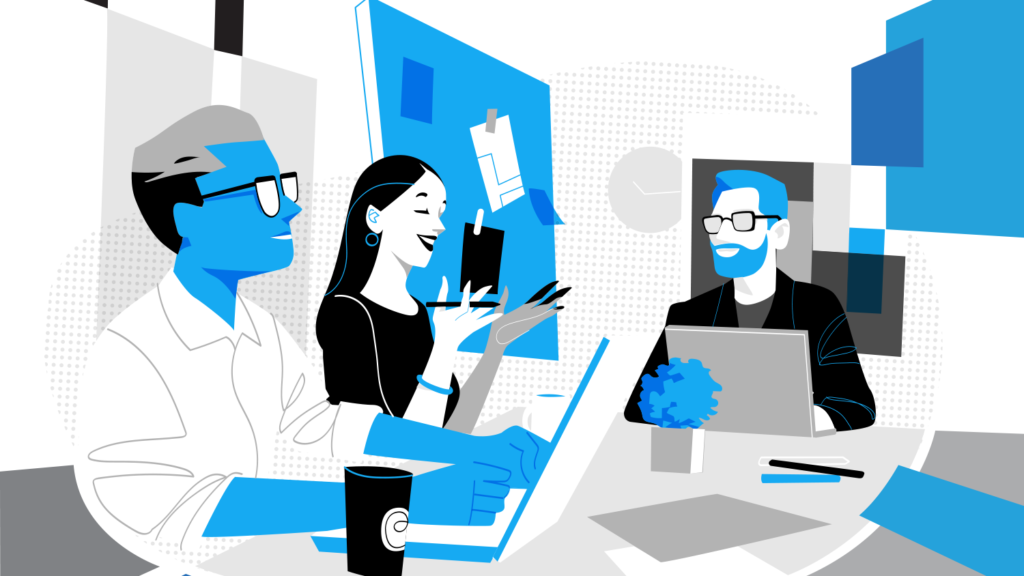 China-for-China strategies still need leaders with multinational mindsets
Multinational executives crafting 'in China, for China' strategies usually focus on the long-term benefits: reduced risk by easier local compliance and integration, access to indigenous talent and better response to local markets. But localised strategies will also inevitably create new risks and hurdles. Gabor Holch, East-West leadership coach and author of a new book on expat executives in China, explains how to prepare for these challenges.
---
'China-for-China', sometimes dubbed 'in China, for China' has become more than just a strategic crisis management tool for foreign firms caught in successive crossfires of trade wars, and political and technology showdowns, between China and its trade partners. For many companies, the strategy is becoming a corporate nirvana where foreign firms in China can finally forget politics and combine the benefits of their foreign-invested status with local business practices. It is possible to see where this positivity comes from: in a struggling world economy, China's vast market represents a rare ecosystem of growth. Foreign firms have fought hard for their shares, and may pull half of their global profit from China, as German car-makers, European luxury brands and many others currently do.
But executives plotting China-for-China strategies at multinational companies (MNCs), in China and abroad, expats and locals, must realise the fleeting nature of the present situation. A few years ago, the pressure on foreign firms to localise their legal status serendipitously aligned with ongoing management localisation, a pandemic-time expat exodus, and finally a post-COVID business boost. This created a temporary sweet spot of local talent managing operations still strongly connected to global networks. In most China-based MNCs today, most managers are either locals or settled expats with long experience, assets, families and plans in China. Meanwhile, global supply chains stir from their beauty sleep, hoping to make profit in China before their governments interfere in the name of 'de-risking'.
However, 'China-for-China' will not last in its current form. As MNC leaders move assets and operations into locally incorporated entities, separate their finances from headquarters, reduce transparency into Chinese branches and entrust key responsibilities to local managers, they must face the inevitable risks as well as the expected benefits. "It is hard to out-local local companies," the McKinsey Institute wrote in a recent paper. "Furthermore, MNCs should be wary of losing the advantages that come from being global."[1] In simpler words, being an MNC in China makes sense only if its managers maintain the ability to engage international networks of supply, demand, know-how and talent the way bona fide local firms cannot.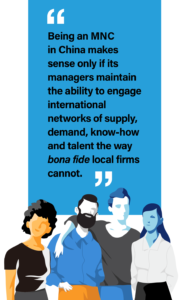 Many MNCs have worked on identifying the risks associated with localisation strategies. They understandably struggle to see some less obvious hazards, as critical times encourage short-term thinking. Some risks are eclipsed by China' s emergence from self-imposed 'zero-COVID' isolation, and resulting investment and trade booms. Others will only become evident as China branches drift away from headquarters, thinning out the exchange of people, ideas, money and assets, and even blurring China from the mental maps of investors, expats and entrepreneurs with worldwide options.
To enhance clarity on the potential fall-out, imagine an unfolding risk timeline, from more immediate to longer-term factors, as 'China-for-China' evolves from new fad to lasting reality.
Almost immediately, information flows between China branches and the outside world decrease. Digital data exchange decelerates. Worldwide, auditors and experts struggle to understand what happens in a China they haven' t visited for years, partly due to reporting switching to Mandarin and partly due to dramatically different standards.
Problems with know-how mobility emerge a bit slower. Localised data management, compliance and operative work discourages communication, visits and relocation between China and worldwide branches. People on either side have less in common and consequently less to discuss.
In the medium-term, less communication results in talent succession problems. Local managers fluent in multiple languages, with international experience and willingness to travel, are scarce, so MNCs always need selected foreigners. But with separation from global operations, the supply of foreign talent will suffer.
In parallel, foreign firms will lose attractiveness for talented locals as well. Many Asian managers at global firms want to work for MNCs for their international vibe and travel prospects. Localised operations cannot offer the same benefits.
In the longer term, China branches gradually fade from strategy discussions at headquarters, as do headquarters from meetings in China: branches in the People's Republic of China and worldwide operations operate under one brand but drift apart in goals, values and practices. Since discussion is minimal, the other's choices often seem irrational from either side.
Consequently, the respective other loses attractiveness for talented managers. Unwillingness by global candidates to relocate to China is already tangible, and will increase. Chinese managers will be equally reluctant to move abroad, depriving headquarters and worldwide branches of essential country-specific knowledge.
Such downward spirals can become irreversible, undermining motivation to remain in China. Of course, companies will differ. The European Chamber's business confidence surveys have uncovered a major theme in the saga of foreign firms in China: the widening gap between those that thrive and those that merely survive. Champions typically maintain a careful balance between a global identity and seizing local opportunities. "Munich is where we come from, but China is where we are at home," said a senior executive of a German car manufacturer at this year' s Shanghai Auto fair.[2] Multinational managers with similarly versatile ambitions must develop the skills and attention span that a new, riskier but highly lucrative era demands from them. Here are a few ways how.
However proud they are of their local teams, processes, networks, family ties, property and perhaps fluent Mandarin, expat executives must remain conscious intermediaries between an isolating China and foreign locations increasingly clueless about it. This must manifest in daily communication such as calls and emails, the choice of apps like WeChat versus WhatsApp, and choice of working languages.
They must nourish the supply of talent, skills and know-how necessary for operating a multinational business in China. Recent research shows that Chinese managers with foreign degrees, language skills and networks rise higher and perform better at MNCs than those without. Foreign managers must nurture local potential by integrating their teams into global networks of knowledge, acquaintances and opportunities.
Preventing China branches from full management localisation is an unenviable yet essential task. As McKinsey pointed out, full localisation deprives foreign firms of vital competitive advantages. Polls show that home talent for many top MNCs (for example, American for GE, French for L' Oreal, Japanese for Toyota) is getting scarcer in China, so executives must learn to spot talent from third countries and second-generation Chinese from overseas.
By creating a diverse environment that differs from local firms, MNC bosses can attract critical local talent. 'China-for-China' forces executives to operate in a complex and toughening environment, with less help from headquarters and local expat networks than before. Cosmopolitan local colleagues, if they choose to join the team, can save projects, bosses and brands.
Ironically, the same managers must play the reverse role and represent the Chinese perspective at headquarters and international branches. That is because few others will: localisation reduces China's physical and digital presence at global forums. Expats and globally connected local managers must ensure that the world' s most dynamic market does not become an enigma elsewhere.
If operations and talent both become localised at the current rate, global and Chinese branches inevitably develop separate identities. Remaining expats are essential in managing expectations. Foreign firms must accept that while localisation is an essential part of their China strategy, expats play key roles in keeping their fundamentally global character. After all, as an automotive HRD told me in an interview for my book, American firms also retain American bosses in Europe.[3]
---
[1] The China imperative for multinational companies, McKinsey Global Institute, 15th January 2023, viewed 17th July 2023, <https://www.mckinsey.com/mgi/our-research/the-china-imperative-for-multinational-companies
[2] BMW Presentation at Auto Shanghai 2023, DPCcars, YouTube, 18th April 2023, viewed 21st July 2023, <https://www.youtube.com/watch?v=eF4iG6XlPfQ>
[3] Gabor Holch, Dragon Suit: The golden age of expatriate executives in China, Business Expert Press, August 2023, <https://amzn.to/41WjhWe>
---
Gabor Holch coaches and advises multinational executives on upgrading their skills from competent managers to corporate leaders with global mindsets. An expat since age four, China-based since 2002 and working globally, Gabor is a Certified Management Consultant (CMC) in English and Mandarin and licensed in major assessment tools including DISC, the Predictive Index and MBTI. His book Dragon Suit: The golden age of expatriate executives in China is published in the summer of 2023.