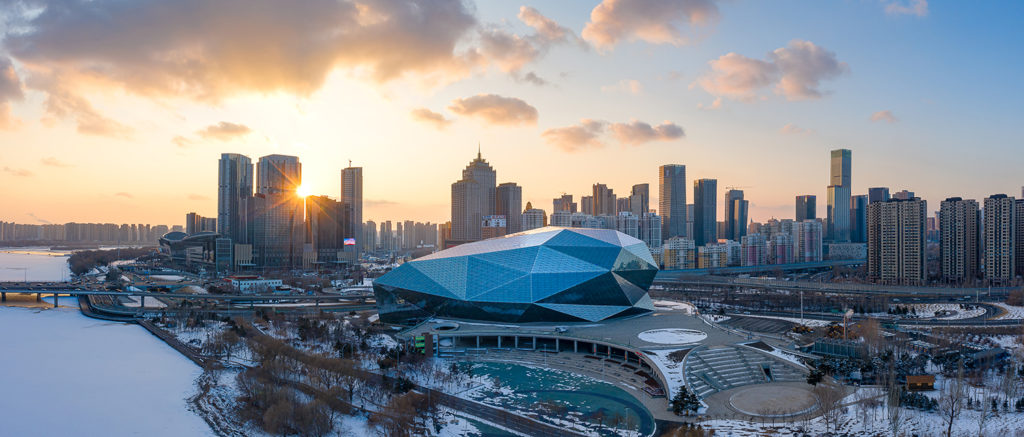 Creation of the Shenyang Chapter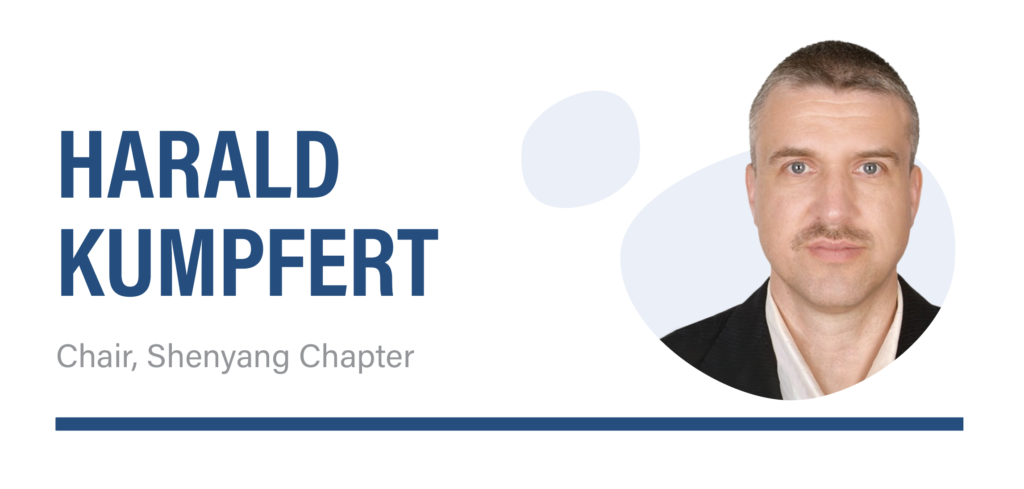 Harald Kumpfert
During the 20 years of the European Union Chamber of Commerce in China's existence, it has played a positive and proactive role during China's transformation into an economic powerhouse. As a critical voice, the European Chamber was a vital player in influencing the regulatory framework and policy implementation that shaped this economic landscape, and therefore became a respected counterpart for the central and local governments. This fact also made the European Chamber invaluable for our members and is one of the main reasons for our successful development.
I feel privileged leading the Shenyang Chapter during the challenging transformation of Northeast China from the epicentre of China's heavy industry, dominated by state-owned enterprises, into a versatile and diversified economic engine governed by transparent market-based principles leading to an ecological and sustainable future.
During these testing times, further amplified by the current pandemic, our Shenyang Chapter will continue to act as a solid bridge between the European business community, the local governments and society in order to unlock the vast potential of this region, thereby creating numerous opportunities for our members.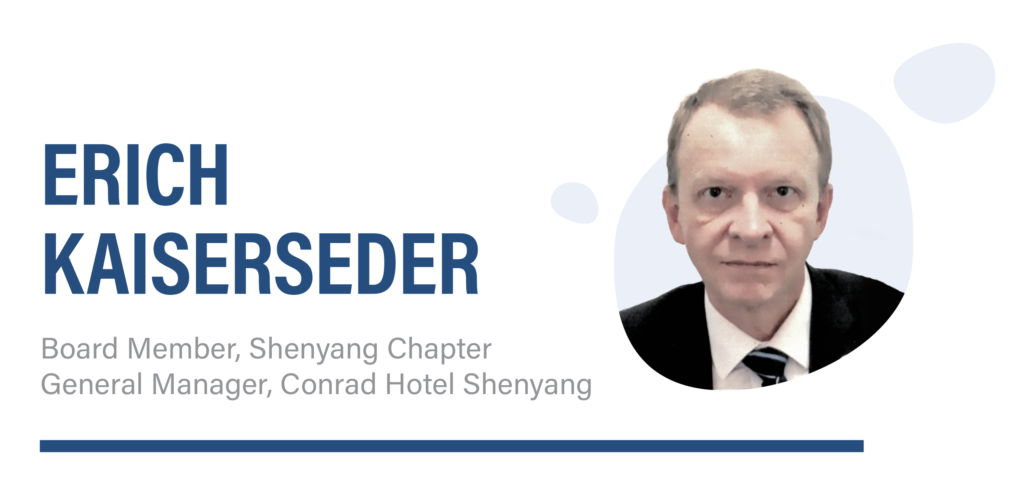 Erich Kaiserseder
My first experience of China was back in 1992 when working in Beijing. Over the course of the past three decades, I accepted assignments within the rest of Asia and globally, but repeatedly returned to China on assignments as well. This allowed me to note the enormous progress China made almost as if by timelapse.
Upon arrival in Shenyang and while preparing for the opening of the Conrad Hotel, I noticed that there are many European businesses located in and around the city. The European Union Chamber of Commerce in China, Shenyang Chapter, founded 14 years ago, impressed me with the number and quality of events it hosted. I partook in one of the social events and the launch of the 2019 Position Paper prior to joining the Chamber. After I observed the efficiency and professionalism of the Shenyang Chapter, I decided to become a member with our company.
I have since been honoured to be selected as a board member of the Shenyang Chapter and the head of the focus group to improve the attractiveness and tourism of Shenyang. We have had several very positive and productive meetings with the local government since then, and it is remarkable to see the excellent cooperation between the local government and the Chamber.
Launch of Shenyang Branch
15th MAY 2006
"Regional policy Commissioner Danuta Hübner signed today in Beijing a memorandum of understanding setting up an official forum where the European Commission and China will discuss regional policy issues. The Commission's Directorate General for Regional Policy and the Chinese National Development and Reform Commission will aim to promote bilateral cooperation and to exchange information on policies contributing to growth, competitiveness and employment.
During her visit to China today and tomorrow, Commissioner Hübner is meeting with Chinese national and regional authorities' officials, including Vice Minister for National Development and Reform Commission, Du Ying. The Commissioner opened today in Beijing the high level 'European Union (EU)-China Regional Development Policy Seminar' where she presented the aim, resources and governance of the EU cohesion policy. She is visiting tomorrow the Shenyang development zone in Liaoning Province where she will be received by Governor Zhang Wenyue and will open the Liaoning Branch of the European Chamber of Commerce in China."
Shenyang Local Position Paper
The European Chamber Shenyang Chapter is the youngest of the Chamber's chapters, having been set up in 2006 to cater for European businesses operating in what used to be the industrial heartland of China. As Harald Kumpfert, chair of the Shenyang Chapter, said in his foreword to the Shenyang Position Paper 2017/2018: "It is no secret that Shenyang is going through a difficult transition period as it tries to transform itself into a dynamic, innovation-driven region that can attract investment and talent. However, the Shenyang Chapter strongly believes in the potential of the city to revitalise itself while also providing a high-quality of life for all of its citizens."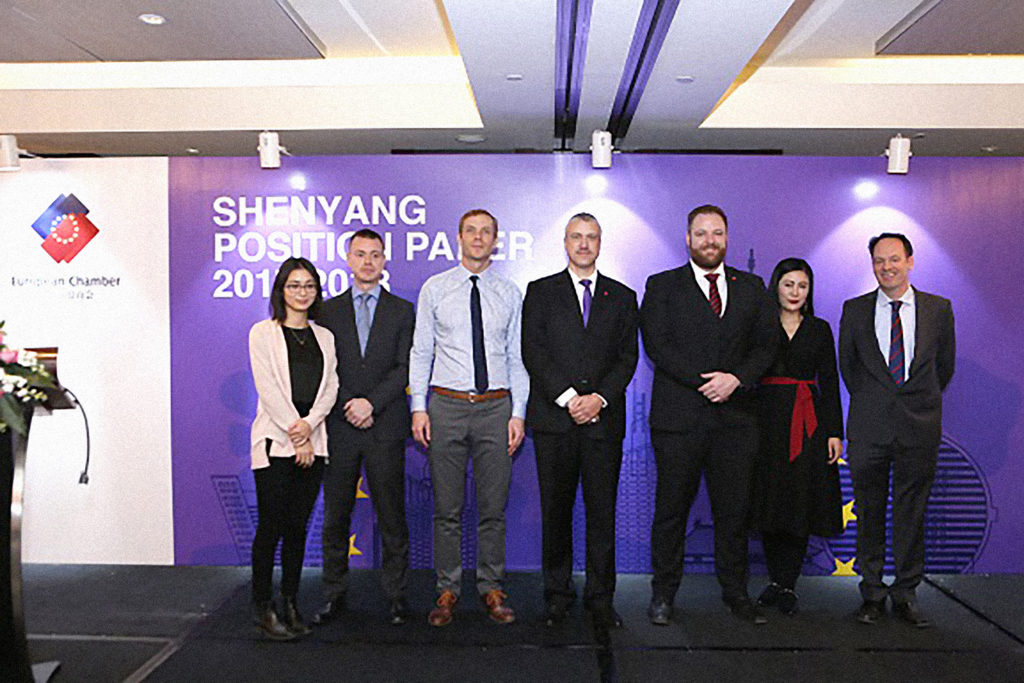 The Shenyang Position Paper 2017/2018 was published in December 2017 and completed the set of position papers from all the European Chamber's regional chapters. The position paper recommended improving administrative transparency, creating a level playing field for all investors—both local and foreign-invested—improving local human resources policies, and working to combat pollution and boost the 'liveability' of Shenyang. One media report on the position paper used the report's recommendations to paint a very negative picture of the Shenyang business environment. The South China Morning Post article was entitled 'Is Shenyang in China's industrial heartland the worst place in the world to start a business?', going on to state:
"An influential business lobby group says a lack of clarity in policy as just one of several obstacles that can deter foreign companies from operating in Shenyang, a major industrial hub in China's northeast struggling to reverse economic stagnation and attract investment…In its first position paper for Shenyang, the capital of Liaoning Province, the European Union Chamber of Commerce also said heavy governance, a loss of skilled workers, an uncompetitive work visa and permit system, limited options for international education and poor air quality had reduced the city's ability to attract foreign investment."
This report fed into an initially challenging response from local government to the Position Paper. As a follow-up, the European Chamber managed to get the journalist to agree that the article had been quite unbalanced, and further articles on the Shenyang Position Paper were promised to portray the Chamber's positive comments on Shenyang and the local authorities. The paper played a fundamental role in improving the chapter's dialogue with local officials. Since then, the Shenyang Chapter has been pursuing multiple opportunities for deeper government engagement