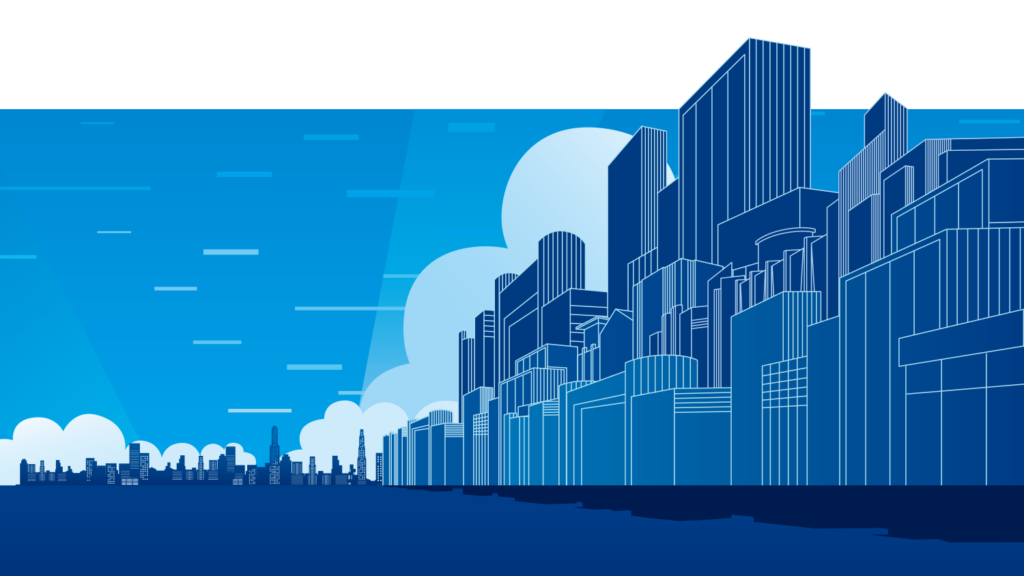 The almighty fall of Evergrande
As one of China's largest property developers, the announcement at the end of 2021 of Evergrande's debt default sparked an unexpected property crisis after years of optimism in the real estate sector. Since China first started opening up its economy in the 1980s, the real estate market has been a key driver of economic growth. However, with sales in October plummeting 28 per cent from a year earlier,[1] the recent volatility of the real estate market has exacerbated other instabilities in the social fabric of the country, particularly following COVID-19 lockdowns across more than 70 cities across China in 2022.[2] With homes and existing inventory currently valued at an estimated United States dollars (USD) 52 trillion,[3] and the accelerating property debt crisis spilling over into other areas of the economy, the stakes remain higher than ever. Stephanie Sam, communications and business manager with the European Chamber, asks how China's property market spiralled out of control in the first place and, more importantly, what sort of domino effect will it have on the country's economic outlook and the wider global economy?
---
The fall of Evergrande
While at least 18 other real estate giants also faced severe liquidity issues,[4] none have faced as much media scrutiny as the posterchild of China's current property crisis: Evergrande. Once a core pillar of the country's economic growth, Evergrande became the highest-profile casualty as the most indebted developer, crushed under the weight of debts of over USD 300 billion – which include around USD 20 billion owed to overseas investors.[5] Although the unfolding debt crisis took many by surprise at the end of 2021, real estate developers had been grappling with mounting financial stress for months – the culmination of excessive borrowing and unsustainable growth strategies. Evergrande in particular had pursued a risky diversification strategy and aggressive expansion into many new sectors, including energy and electric vehicles. After struggling to repay its debt obligations, Evergrande began one of China's biggest government-supervised debt restructuring processes to ease its liquidity challenges. As the saga unravelled, two international credit rating agencies, Fitch and Moody's, withdrew their respective ratings of Evergrande due to insufficient information being provided by the property giant,[6] highlighting the lack of investor confidence in the Chinese property market.
Growth-driving ghost cities
To understand how the property sector spiralled out of control, it is crucial to see the bigger picture of where real estate fits into China's development ambitions. The country's emerging middle class has long had a cultural propensity to favour property investments. Over the past 15 years, as the middle class expanded, housing prices surged sixfold, which led to the speculative buying of pre-sold new homes—housing sold before being built or completed—by property developers.[7] As a result, by October 2022, the real estate sector accounted for almost 40 per cent of household assets and a quarter of domestic output.[8]
This speculation in real estate prices has resulted in the phenomenon of many 'ghost towns' cropping up in China – a misnomer applying to newly developed cities left unoccupied due to supply outweighing demand, rather than being abandoned.[9] Current estimates suggest around 65 million homes, or one fifth of all apartments, sit empty in China – "enough to house the population of France".[10] Further fuelling the property boom is the ingrained societal pressure for Chinese men to own property as a prerequisite before marriage,[11] as well as China's aim of reaching 65 per cent urbanisation by 2025 under the 14th Five-year Plan.[12]
A systemic issue
This overreliance on the real estate sector has been touted as 'a systemic problem'.[13] Several elements bind the real estate market to China's financial system: the first that comes to mind is the dominance of property in Chinese households' asset portfolios due to the lack of other investment vehicles for consumers to explore in addition to underdeveloped domestic financial markets.[14]
The Chinese real estate market is not only a key driver of China's economic growth, but also an integral component of the country's constitution, given that all land is owned by the state. The billions of dollars of revenue generated by land auctions and property market earnings meant that the government had incentive to drive up supply and encourage property investments. Local governments in particular rely heavily on revenues from land and future land sales as collateral for debt financing through local government financing vehicles.[15] Meanwhile, the provision of overzealous loans to households, developers and local governments has left banks heavily exposed to the real estate crisis – making the sector systemically entrenched in the Chinese financial system.
Property crackdowns
While many issues had been simmering underneath the surface, it was the August 2020 crackdown on excessive borrowing that first revealed the cracks in Evergrande and other real estate giants. In a bid to rein in high debt and curb soaring housing prices, Beijing implemented the 'Three Red Lines' policy – three requirements aimed at restricting property developers' abilities to raise financing unless their debt ratios were below specified thresholds.[16] While the curbs were intended to reduce leverage and mitigate financial risks associated with debt refinancing strategies, the tighter regulatory restraints have made for a painful transition process – especially for heavily leveraged Evergrande.
'Pay now, own never'
As the property sector crashed, and work on pre-sold housing projects was delayed or suspended, over 340 mortgage strikes took place in over 100 Chinese cities.[17] Initially encouraged by the government policies and the steadily rising prices of the property market, the real victims of China's property pyramid are from its emerging middle class, now caught between a rock and a hard place where construction work has been paused indefinitely while mortgage payments pile up. Despite threats of legal action, punishment and negative repercussions for their social credit scores, many homebuyers felt they were left with no other option but to refuse to pay their mortgages for property that might never materialise – which in turn put as much as USD 365 billion worth of bank loans at risk.[18] Coupled with mounting expenses and steep salary cuts due to the COVID-induced economic slowdown, ordinary citizens who bet on the certainty of price rises by taking out private high-interest loans or borrowed from friends and family, face a less than ideal situation of 'pay now, own never'. [19]
House of cards
China's crumbling real estate sector has the world watching carefully; the supply chain challenges caused by its COVID-induced lockdowns in spring 2022 served as a good reminder of how interconnected the global economy is. Given the impending global recession and the significant proportion of overseas investors in the Chinese property market, there will be worrying implications if Evergrande or other real estate giants default.
Recent relief measures to assist banks in extending loans and reducing down payments and mortgage rates, as well as to ensure the delivery of pre-sold homes, have been called a 'turning point' in the property crackdown.[20] Others take a more realistic view, stating that China's central government is unlikely to bail out the property developers.[21] Surges in Chinese real estate stocks in November 2022 also rang warning bells of a "weak reality vs high expectations".[22]
The stakes remain too high for a Lehman Brothers-esque collapse in China; the real estate sector is too intrinsically tied to the economy for the Chinese Government to let Evergrande, and the wider real estate sector fail. However, the crisis illustrates the systemic pitfalls of the sector, with the prospects for China's real estate sector likely to remain gloomy for years to come.

---
[1] China Home Sales Drop 28% as Covid Flare-Up Adds to Risks, Bloomberg, 31st October 2022, viewed 14th December 2022, <https://www.bloomberg.com/news/articles/2022-10-31/china-home-sales-drop-28-as-covid-flare-up-adds-to-risks?leadSource=uverify%20wall>
[2] Gan, Nectar, Chinese Cities Rush To Lockdown In Show of Loyalty To Xi's 'Zero-Covid' Strategy, CNN, 5th September 2022, viewed 10th December 2022, < https://www.cnn.com/2022/09/05/china/china-covid-lockdown-74-cities-intl-hnk/index.html>
[3] China's Bursting Housing Bubble Will Rock the Economy for Years, Bloomberg, 13th October 2022, viewed 4th December 2022, <https://www.bloomberg.com/news/articles/2022-10-12/china-s-billions-in-stimulus-failing-to-spark-demand-for-housing#xj4y7vzkg>
[4] Ouyang, Iris, China bond defaults hit US$20 billion in 2022, more than double last year's total, as property developers teeter, South China Morning Post, 19th July 2022, viewed 14th December 2022, <https://www.scmp.com/business/china-business/article/3185718/china-bond-defaults-hit-us20-billion-2022-more-double-last>
[5] He, Laura, Evergrande has failed to deliver the debt restructuring plan it promised, CNN, 1st August 2022, viewed 4th December 2022, <https://www.cnn.com/2022/08/01/economy/china-evergrande-miss-deadline-restructuring-plan-intl-hnk/index.html>
[6] Fitch withdraws ratings on debt-laden China Evergrande, subsidiaries, Reuters, 2nd June 2022, viewed 14th December 2022, <https://www.reuters.com/business/fitch-withdraws-ratings-debt-laden-china-evergrande-subsidiaries-2022-06-02/>
[7] Curran, Enda, How China's Property Developers Got Into Such a Mess, The Washington Post, 3rd November 2022, viewed 14th December 2022, <https://www.washingtonpost.com/business/how-chinas-property-developers-got-into-such-a-mess/2022/11/03/2842fbca-5b61-11ed-bc40-b5a130f95ee7_story.html>
[8] China's Bursting Housing Bubble Will Rock the Economy for Years, Bloomberg, 13th October 2022, viewed 4th December 2022, <https://www.bloomberg.com/news/articles/2022-10-12/china-s-billions-in-stimulus-failing-to-spark-demand-for-housing#xj4y7vzkg>
[9] Concrete 'Ghost Towns' Make China's Real Estate Bubble Visible, Nikkei Asia, 9th February 2022, viewed 9th December 2022, <https://asia.nikkei.com/Spotlight/The-age-of-Great-China/Concrete-ghost-towns-make-China-s-real-estate-bubble-visible>
[10] Batarags, Lina, China has at least 65 million empty homes — enough to house the population of France. It offers a glimpse into the country's massive housing-market problem, Business Insider, 14th October 2021. viewed 5th December 2022, <https://www.businessinsider.com/china-empty-homes-real-estate-evergrande-housing-market-problem-2021-10>
[11] Pitt, Juliette, China's Property Crisis: Is Owning a Home Before Marriage Still Attainable?, Dao Insights, 25th August 2022, viewed 14th December 2022, <https://daoinsights.com/opinions/chinas-property-crisis-is-owning-a-home-before-marriage-still-attainable/>
[12] China Outlines Major Tasks On Urbanization, Urban-rural Development, Xinhua, 29th March 2022, viewed 11th December 2022, <https://en.ndrc.gov.cn/news/pressreleases/202203/t20220329_1321397.html>
[13] Michael Pettis, China's Overextended Real Estate Sector Is a Systemic Problem, Carnegie Endowment for International Peace, 24th August 2022, viewed 14th December 2022, <https://carnegieendowment.org/chinafinancialmarkets/87751>
[14] Liu, Chang and Xiong, Wei, China's Real Estate Market, National Bureau of Economic Research, November 2018, viewed 12th December 2022, < https://www.nber.org/papers/w25297>
[15] Ibid
[16] Wong, Jacky, China Throws Developers a Lifeline, but Homebuyers Might Stay Cautious, Wall Street Journal, 14th November 2022, viewed 11th November 2022, < https://www.wsj.com/articles/china-throws-developers-a-lifeline-but-buyers-might-stay-cautious-11668430831>
[17] Zhou, Wei, Pay Now, Own Never: China's Failing Developers Leave Buyers in Debt, Sixth Tone, 30th November 2022, viewed 3rd December 2022, <https://www.sixthtone.com/news/1009090/pay-now%2C-own-never-chinas-failing-developers-leave-buyers-in-debt>
[18] Wang,Yue, Evergrande Creditors Left With Few Options as Beijing Sets the Agendda, Forbes, 2nd August 2022, viewed 14th December 2022, < https://www.forbes.com/sites/ywang/2022/08/02/evergrande-creditors-left-with-few-options-as-beijing-sets-the-agenda/?sh=1cbae8f85624 >
[19] Zhou, Wei, Pay Now, Own Never: China's Failing Developers Leave Buyers in Debt, Sixth Tone, 30th November 2022, viewed 3rd December 2022, <https://www.sixthtone.com/news/1009090/pay-now%2C-own-never-chinas-failing-developers-leave-buyers-in-debt>
[20] He, Laura, China's real estate crisis could be over. Property stocks are soaring, CNN, 14th November 2022, <https://edition.cnn.com/2022/11/14/investing/china-real-estate-crisis-over-rescue-plan-intl-hnk/index.htm>
[21] Cheng, Evelyn, Why China Won't Bail Out its Real Estate Sector, CNBC, 24th October 2022, viewed 13th December 2022, < https://www.cnbc.com/2022/10/25/china-property-why-beijing-wont-bail-out-its-real-estate-sector.html>
[22] Cheng, Evelyn, Chinese real estate stocks surged this month. But analyst warns of 'weak reality' vs. high expectations, CNBC, 20th November 2022, viewed 5th December 2022, <https://www.cnbc.com/2022/11/21/chinese-real-estate-stocks-surge-but-analyst-warns-of-weak-reality.html