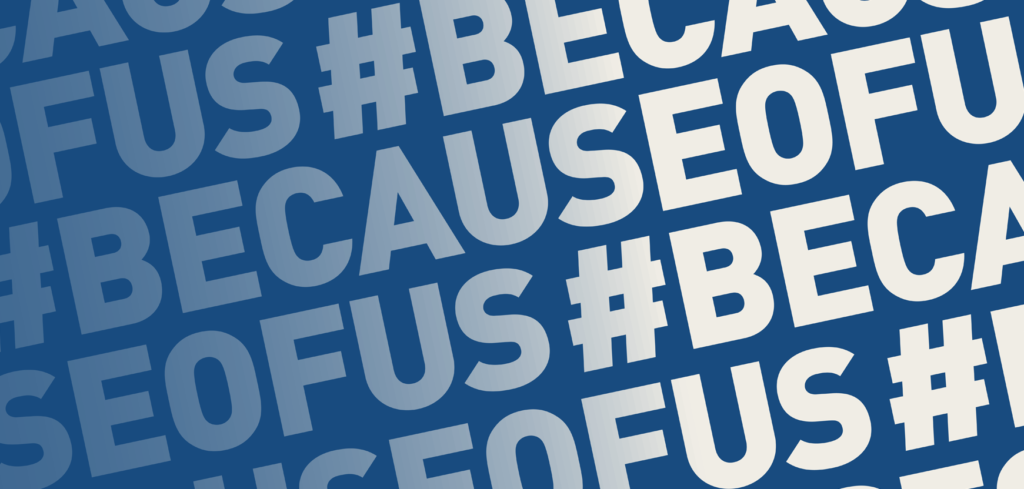 Advocacy successes of the European Chamber's working groups
As the independent voice of European business in China since 2000, the European Chamber actively participates in China's legislative process. Our advocacy activities are widely recognised by the Chinese authorities and maintained through the efforts of our working groups (WGs) and desks.
In 2019, we launched our #becauseofus campaign to show our gratitude for the joint efforts by all stakeholders: governments, think tanks, member companies and our own WG and desk managers. In EURObiz in 2020, we present four examples of our successful advocacy work, one of which will be selected as the winner of the 2020 #becauseofus campaign.
For this edition, we look at the Healthcare Equipment Working Group's efforts to create a level playing field in the Chinese market for medical devices.
Promote equal procurement of medical devices, eliminate discriminatory local policies
The medical devices industry has become one of the best performing and important in China's high-tech sector. With the resulting improvements in quality and innovative emerging products, the Chinese population is able to benefit at the most vital moments of their lives from medical devices produced with cutting-edge technology. Foreign-invested medical device enterprises' continuous support and active participation in the domestic industry is indispensable – introducing advanced technology, investing in research and development and production, and promoting market competition.
According to government statements, opening-up is China's basic state policy. In recent years, the central government has taken certain steps to develop a more open economy. As part of this, the Foreign Investment Law was passed on 15th March 2019 and became effective on 1st January 2020. Article 9 and 16 stipulate that the various government policies for supporting enterprise development shall equally apply to foreign-invested enterprises (FIEs) and domestic companies. The State also vowed that any government procurement activity would involve FIEs through fair competition and treat FiEs' products and services equally in accordance with the law. In addition, Article 1 of the Notice by the Ministry of Finance of Promoting Fair Competition in Government Procurement and Optimising Business Environment,published on 30th July 2019, also stipulates that FIEs should be treated equally in any government procurement activity.
However, procurement policies promulgated in many regions encourage hospitals to purchase devices, and clearly stipulate or in practice require the purchase of 'domestic brands'. For instance, when Guangxi Zhuang Autonomous Region approved 57 local hospitals to source Type-B large medical equipment in July 2019, the licence clearly required them to purchase domestic brand equipment.[1]
In a series of communications with the State Administration for Market Regulation, relevant departments of the Guangxi Provincial Government and Delegation of the European Union to China, the European Chamber emphasised that:
the stipulation to purchase 'domestic brand' medical devices violated the principles of fair competition and equal treatment of enterprises registered in China, and indicated that products produced by FIEs in China were excluded in practice, which clearly indicates discriminatory treatment towards FIEs and Sino-foreign joint ventures; and
the allocation and use of medical consumables and medical devices in public hospitals should be based on market competition, the needs of medical service providers and ensuring the effectiveness of clinical treatment for patients rather than blindly emphasising the country of origin of the brand.
On 29th November 2019, Guangxi Zhuang Autonomous Region Department of Commerce replied and clarified that:
"In the allocation licence of the Guangxi Health Commission, 'domestic brand' refers to products domestically made in China. Products invested in and produced by foreign investors or Sino-foreign joint ventures within the territory of China and products produced by wholly domestic-owned enterprises are equally qualified to participate in the competition. No discriminative policy is implemented."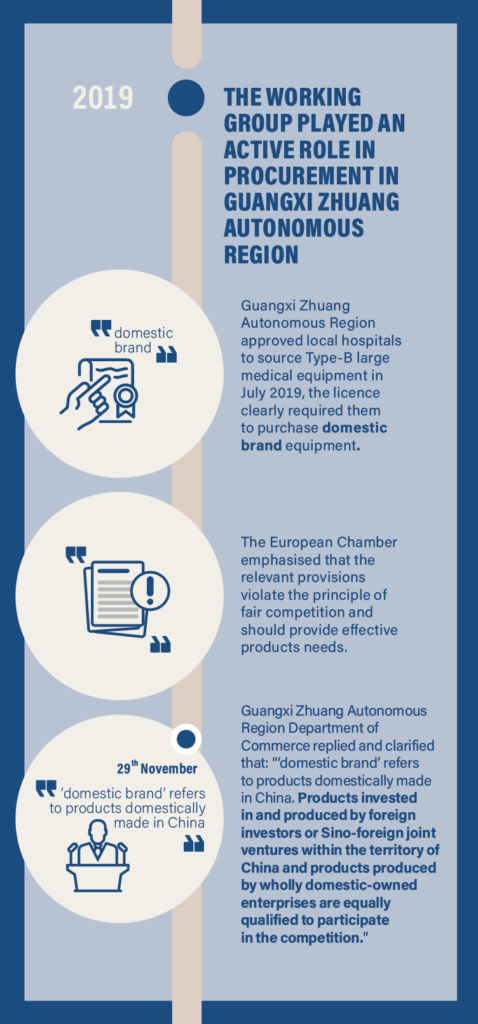 The European Chamber's Healthcare Equipment Working Group has noticed that, in addition to Guangxi, several other local governments have released similar policies that in practice require hospitals to purchase made in China or domestic brand medical devices, or even target a single company for procurement. For instance, in Guangdong and Shanghai, only 'domestic brands' will be covered by the Type-B Large Medical Device licence; and in Sichuan, hospitals are required to purchase a certain percentage of domestically-made products. The working group will continue to follow up and communicate with local governments and relevant national departments on this issue.
At a critical moment of the COVID-19 outbreak, when a large number of medical supplies were in short supply, members of the European Chamber fully supported and gave priority to China's medical supplies needs. With attracting foreign investment now a priority for countries around the world, such unequal procurement policies by local governments have heavily weakened China's attractiveness as a destination for foreign investment. The European Chamber's Healthcare Equipment Working Group will continue to promote fair competition between domestic and foreign enterprises in order to provide more diverse and advanced medical devices for patients in China.

---
[1] The Class B large medical equipment is under the administration of provincial-level health departments. The allocation processes include medical institution applying to local health administrations followed by examination and approval by the provincial health administration. A medical institution may purchase large medical equipment only after it has obtained the allocation licence.