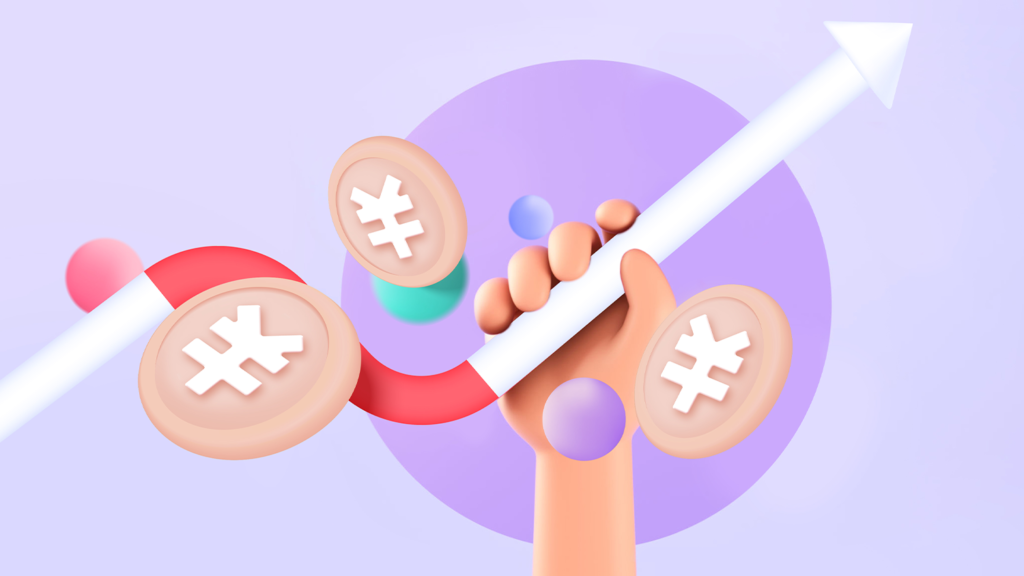 The outlook for the Chinese economy in 2023
Even though the unexpectedly quick end of the 'zero-COVID' policy in December 2022 has improved China's growth outlook for 2023, the country's economy still faces three major headwinds – shrinking demand, supply shocks and weakening expectations. Furthermore, a massive and fast surge in domestic COVID-19 infections, alongside the global economic downturn, will pose additional challenges to China's economic recovery. Lu Yang and Nina Zholudeva of APCO Worldwide analyse the Chinese Government's strategies to get growth back on track in 2023, and ways European companies can benefit from them.
---
Stabilising growth as the key priority
In December, the annual Central Economic Work Conference (CEWC), which outlines the government's economic policy priorities for the following year, stressed stabilising economic growth as the main objective in 2023.[1] To achieve this, the authorities vowed to support expanding domestic consumption, attracting foreign investment, accelerating technological innovation, and ensuing stability of the property market among other measures. Notably, the CEWC omitted mentioning high-profile policies such as the anti-monopoly campaign, also indicating the government's willingness to ensure stability.
While the official 2023 gross domestic product (GDP) growth target will be made public only at the Two Sessions in March, it is likely to be around five per cent. However, the economic recovery will be uneven throughout the year. Despite mass COVID infections affecting economic activities in early 2023, the economy will stabilise towards the end of the first quarter, with growth accelerating in the second half of the year as the country achieves herd immunity and fully reopens.
Consumption to start recovering but exports to continue facing challenges
After the long-awaited end of the 'zero-COVID' policy in December, domestic consumption will begin a slow but steady recovery in 2023. Retail sales, which were heavily affected by COVID-19-related restrictions in 2022, will start picking up towards the second half of 2023 once the initial waves of infections pass. China's current lacklustre job market may slow down the recovery, but the government will actively encourage spending, as proven by the recently released plan to bring consumption to a new level by 2035.[2] This will benefit European consumer goods companies, especially those offering high-quality goods and services accommodating the evolving demands of Chinese consumers.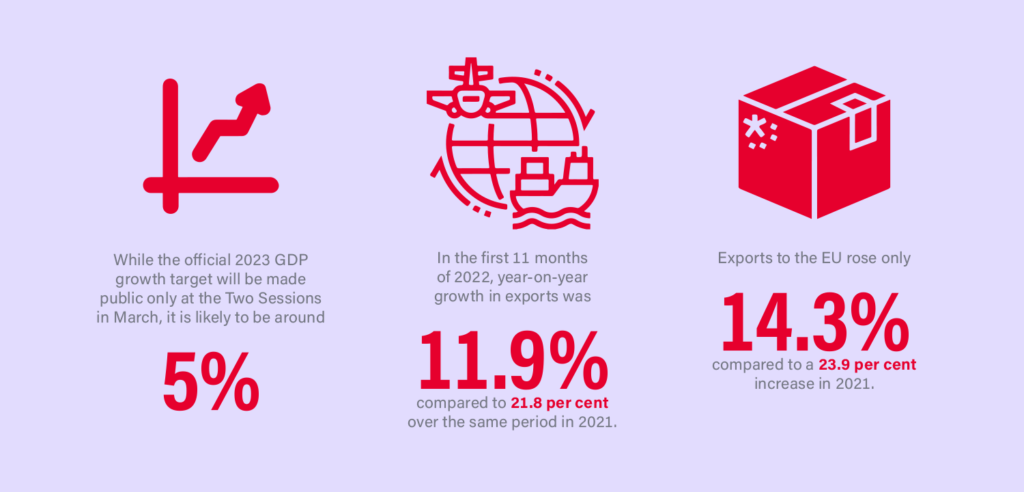 On the other hand, exports that have driven China's economic growth in recent years might continue to stagnate following the global economic slowdown. In the first 11 months of 2022, year-on-year growth in exports was 11.9 per cent, compared to 21.8 per cent over the same period in 2021, with exports to the European Union rising only 14.3 per cent compared to a 23.9 per cent increase in 2021.[3]&[4] As a result, China will continue its course to rebalance the economy towards a model driven more by domestic demand than by external growth factors.
Restoring business confidence to support growth
Importantly, the CEWC highlighted restoring private business confidence—among foreign enterprises in particular—as paramount after multiple foreign chamber surveys in 2022 showed dwindling levels. Unsurprisingly, policymakers are concerned that low confidence may lead to a reduction in investment and consequently stifle recovery. Therefore, the government is expected to implement policies aimed at further improving the business operating environment, expanding market access and completely reopening the country to guarantee unimpeded business exchanges in 2023.
Taken with the government's promise to adjust domestic regulations to become eligible to join more multilateral economic and trade agreements, such as the Comprehensive and Progressive Agreement for Trans-Pacific Partnership, this presents a positive development for European businesses in China. Benefitting from an improved business environment, they can use it as an opportunity to strengthen their footprint in China.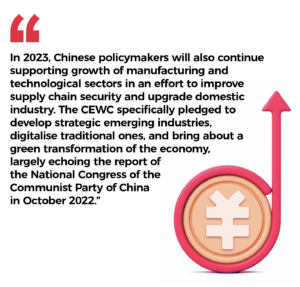 Creating new long-term engines of growth
In 2023, Chinese policymakers will also continue supporting growth of manufacturing and technological sectors in an effort to improve supply chain security and upgrade domestic industry. The CEWC specifically pledged to develop strategic emerging industries, digitalise traditional ones, and bring about a green transformation of the economy, largely echoing the report of the National Congress of the Communist Party of China in October 2022.
While this transformation will take time, the government is clearly aiming to cultivate new engines of economic growth in 2023 and beyond to make the domestic economy more sustainable, resilient and able to withstand geopolitical tensions and the resulting technology sales restrictions. Localising research and development and talent may be one of the ways for European businesses to benefit from these initiatives.
Real estate downturn to start to ease but impacts to linger
A key vulnerability in the economy going into 2023 will continue to be real estate. The severe consequences of the property market slowdown have prompted the government to relax the overly stringent restrictions on real estate financing that have been in place since 2020. Following the release of the People's Bank of China's plan to support real estate-related financing, the CEWC also encouraged investment into construction and home upgrading as potential sources of growth.
These reinforced supportive measures will help the struggling real estate sector, but its growth may be still weak in 2023. An ageing population and a declining marriage rate will also weigh on the sector's recovery in the long term. Nevertheless, a normalisation in house sales in 2023 could be beneficial for European businesses that provide associated goods and services, such as furniture and home appliances.
Conclusion
After a difficult 2022 marked by economic disruptions brought on by stringent COVID-19 control measures, 2023 offers a brighter outlook for European businesses in China. Despite certain challenges, the government's pro-growth stance and active support will likely ensure a more stable economic growth in the year ahead.
---
APCO Worldwide is an advisory and advocacy communications consultancy. We partner with public and private sector organisations to help them catalyse progress, act with agility and build organisational reputations, brands, relationships and solutions to succeed. APCO is an independent and majority women-owned business. In China, our team possesses the local wisdom to advise our clients on issues critical to their success. We provide one-stop solutions that integrate business intelligence, political insight and strategic communications.

---
[1] China holds Central Economic Work Conference to plan for 2023, Xinhua, 16th December 2022, viewed 28th December 2022, <https://english.news.cn/20221216/8b12bef08e5849a0ad25ff6fd5e150e6/c.html>
[2] The Central Committee of the Communist Party of China and the State Council issued the "Strategic Planning Outline for Expanding Domestic Demand (2022-2035)" (in Chinese), Xinhua, 15th December 2022, viewed 28th December 2022, <http://www.news.cn/mrdx/2022-12/15/c_1310684180.htm>
[3] In the first 11 months of this year, China's import and export increased by 8.6% year-on-year (in Chinese), General Administration of Customs (GAC), 7th December 2022, viewed 28th December 2022, <http://www.gov.cn/xinwen/2022-12/07/content_5730408.htm>
[4] In the first 11 months of this year, China's import and export increased by 22% year-on-year (in Chinese), GAC, 7th December 2021, viewed 28th December 2022, <http://www.gov.cn/xinwen/2021-12/07/content_5659087.htm>